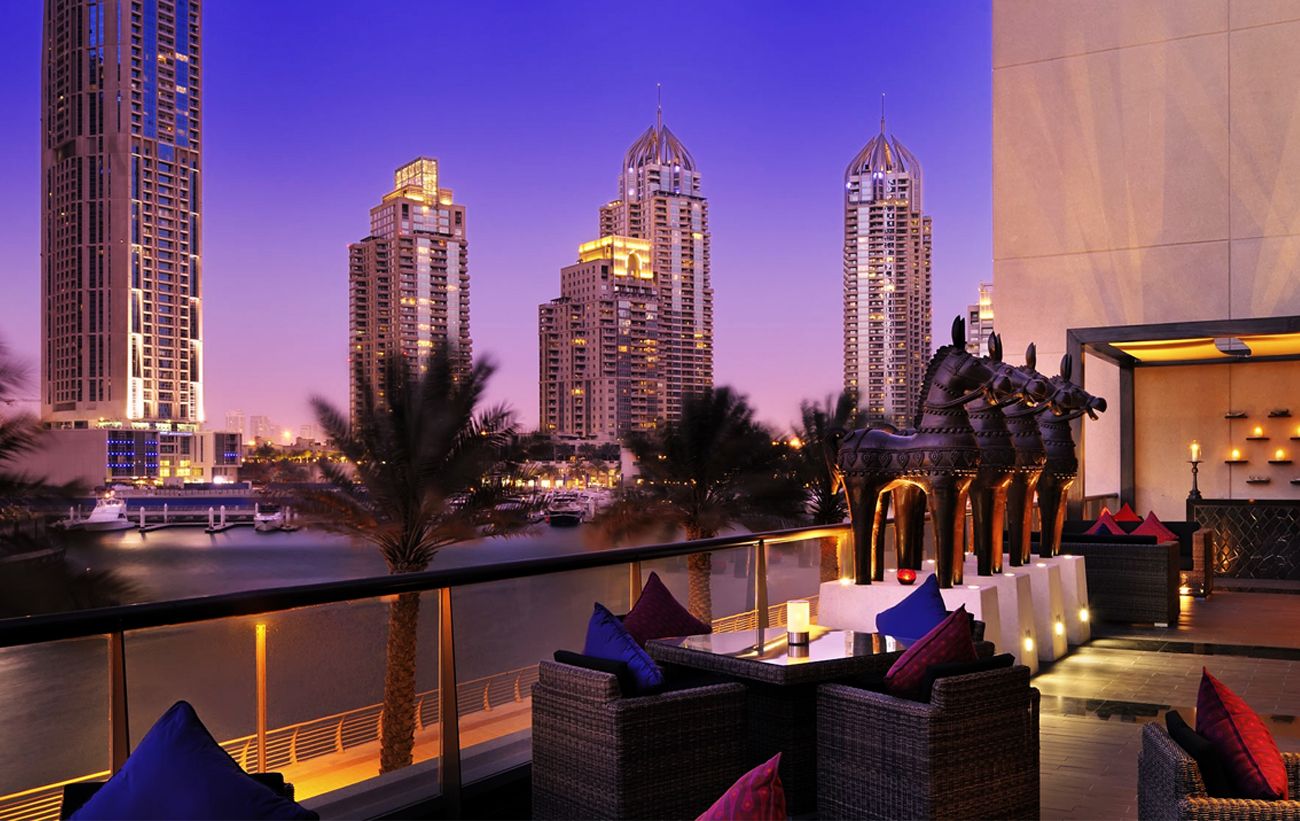 Photo Credit: Indego
A slew of increasingly sophisticated Indian restaurants have conquered the City of Gold's gastronomic imagination. The presence of nearly 170 nationalities can only mean one thing: you're never spoiled for choice when it comes to food. Dubai's food cravings run the gamut: from cheap, street-side stalls where meat is skewered and whipped into perfect parcels of the Lebanese shawarma to diamond-encrusted, Michelin-starred affairs where getting a table might just involve bartering an organ or two. In this hotpot of nationalities, flavors and aromas, Indian food is an enduring favorite whose appeal has only deepened thanks to a chic influx of fine-dining gems.
Photo Credit: Junoon Dubai
Junoon
Junoon is the Hindi word for passion, and the term finds appropriately passionate expression in celebrity darling Vikas Khanna's Dubai companion to his acclaimed New York classic. Helmed by restaurateur Rajesh Bhardwaj with Executive Chef Steven Hubbell in the kitchen, Junoon is Indian contemporary with a fine garnish of classic- complex yet minimal, soothing and at the same time, bustling. This refined experience takes its cue from the diversity of Indian culture and brings it into a realm where a curated wine list merges perfectly with a chosen meal. The Gala Menu with wine pairing, for instance, offers up the black tiger shrimp and coconut puree bliss of the Piri Piri Shrimp, Kadak Seekh, which is crispy lamb and green chili paneer, chicken tikka and a delicious roasted arctic char in the Macchi Hara Masala. Each of these dishes are complemented by a singular vintage of bold, deep red Shiraz.
Photo Credit: Armani Hotel
Amal
There's style, and then there's style, as done by Armani. Amal, snug in the exquisite comfort of the Armani Hotel within the Burj Khalifa, is one of Dubai's most stylish affairs without having to try too hard. You're welcomed with a mini mocktail in the bar quadrant, before being ushered beneath one of the blossoming lamps within. On cool nights, though, ask for one of the terrace canopies affording you beautiful views of the Dubai Fountains. The sumptuous menu offers rich Indian fare with elegance, delivered by an excellent wait staff that's always present without being right in your face. The Ayurveda Flavors experience, available only on Saturdays, has a prix fixe menu featuring clove-smoked, lemon-stuffed paneer and spiced Amritsari chargrilled chicken thigh. The Tasting Menu is a pleasure with seared scallops in coconut onion sauce, mustard and honey glazed salmon tandoor, and the unmissable Valrhona Chocolate Finger, which will perfectly round out this exquisite meal.
Photo Credit: La Porte des Indes
La Porte des Indes
This "Gateway to India" is a much-celebrated London favorite, and Executive Chef Mehernosh Mody's Dubai outpost, under the sturdy hand of Chef Vishal Rane, has proven to be no different. The crème de la crème affair showcases Gallic influenced cuisine characteristic of Pondicherry, the perpetually dreamy French colony in southern India. The décor is a glitzy, moody parade dominated by overflowing blues—think sleek, seductive and very hush-hush, with the intimate bar taking that seductive vibe a few notches higher. All that neon blue can start to get a bit 1990s, though, so settle in for the succulent tandoori charred lamb chop right away. Another standout is Cassoulet de Fruits de Mer, a rich seafood stew of scallops, prawns and crabs, simmered in the feisty notes of vindai spices. Kari de Mouton excels in the robust flavors of goat meat and tomato-based curry. This dish encapsulates La Porte's philosophy of fusion with finesse. Now, if they could just get around to toning down those overwhelming blues, there'd be nothing but bliss here.
Photo Credit: Grosvenor Dubai
Indego
One of Dubai's earliest Indian fine-dining addresses (and still one of the best), Michelin-starred stalwart Vineet Bhatia's Indego is a feast in every sense. Minimalistic, rich tones of beige and brown calm your mood while the plush décor, accented with stunning art pieces, arouses the senses, allowing the food to gradually take over. If all this choice feels a bit too intimidating, opt for Bhatia's excellent Sharing Suggestions. The frail delicacy of coconut and lemongrass lime leaves elevates the Coconut Lime Prawns, while potent black peppercorns and vigorous spices do much the same with the Murg Kalimirch. The Lamb Gucci Korma lives up to its extravagant name with a sensational pairing of lamb and morel stew with curry leaves and truffle oil. This is fusion with rare intelligence, but as the goat cheese samosa shows, Bhatia isn't afraid to let his hair down, either. Finish your meal with the decadent Indi Indego—an experimental assemblage of the classic Indian rasmalai, gulab jamun and seviyan—before heading out onto the stunning porch to savor this sumptuous classic.
Photo Credit: JW Marriott Marquis
Rang Mahal
A common denominator to the recent slew of Indian fine eateries in Dubai is that they're all associated under the halo of a celebrity chef. Rang Mahal is no different, with Indian-born, UK-based Atul Kochhar bringing his award-winning acumen to the dining table. This standout culinary draw of the towering JW Marriott Marquis is part style, part seduction, part sensuality, culminating in an explosion of deep reds and oranges laying credence to the restaurant's "Palace of Colors" moniker. As the hostess guides you through the narrow corridor into the plush bar area peopled with cushioned spaces and Dubai's hedonistic set, you know you're in for some drama. The main dining space delivers, prospering into a larger-than-life medley of Indian art and carved wooden columns. Kochhar delivers with élan too: for vegetarians, the saffron-infused spinach and cottage cheese confluence of the Saag Paneer Kofta is a delicate delight, as is his signature Meen Moilley: pan-seared sea bass swimming in a sublime turmeric and coconut curry, all of which goes just about perfectly with the lemon, ginger and curry leaf connivance of the Mumbai Martini. Cheers.
Photo Credit: One&Only Royal Mirage
Nina
There's something about true elegance that lingers. Safely cocooned within the tastefully sculpted horizons of One&Only Royal Mirage, Nina has been around for a while and only appears to have gotten better with age. You're by the beach, descending a staircase, and voila, Nina's allure takes over. She's adorned with flickering candles, absorbing nooks and exotic tunes. There's aroma, seduction and spice at play—and despite the air of intrigue, she welcomes you with warmth and vibrancy.
Nina does few dishes, but does them exceptionally well. Expertly spiced curries are yours in small and large portions, while the Sharing Experience offers a fine selection of Indian breads, Salmon Tandoori and Black Dal. Or you could spread your palate and try the Spiced Duck Breast swimming in cinnamon polenta and caramelized apple puree or the Butter-Poached Half Lobster, which is divine in its impossibly fragrant coconut tamarind sauce reverie. One Reduced Milk Saffron Ice Cream later, all you're left with is those proximate waves, memories of a great meal, and Nina's persistent charms.
Photo Credit: Mint Leaf
Mint Leaf
Rousingly popular with the expatriate Indian, British, European, and American crowd, Mint Leaf delivers the holy trifecta: a bar, restaurant and lounge experience oozing with style. That it's located on the 15th level of the iconic Emirates Towers certainly helps, as the address brings with it floor-to-ceiling windows, sparkling views of the city beneath, and many of its towering treasures therein. Its sexy moodiness is presided over by Head Chef Vivek Kashiwale.
Photo Credit: Mint Leaf
The built-for-flirtation bar, its sky walk bridge, and the contemporary plushness of the lounge give way to the dark slate sexiness of the restaurant. It's in here, at one of those aforementioned window tables, the kafir lime and lemongrass medley of a Fisherman's Black Tiger Prawns or the regal splendor of yellow chicken breast stuffed with crushed spices will nearly have you forgetting all about the impeccable vibe and those remarkable views. Nearly.