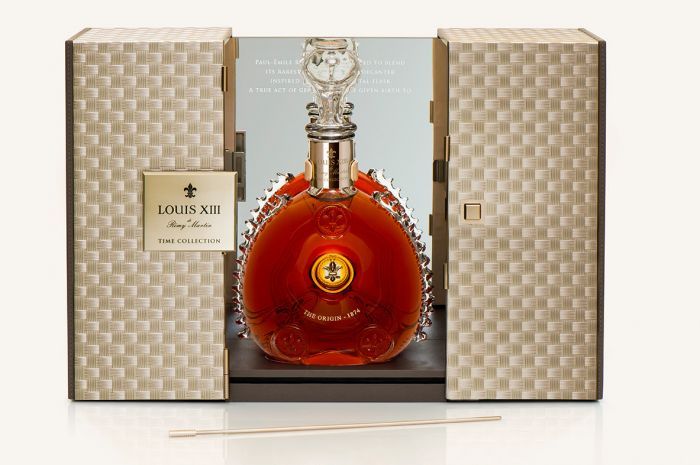 Photo Credit: Rémy Martin
Wondering what to give the person that has everything? How about a unique, ultra-premium spirit that has been carefully crafted over many years, with the best ingredients from around the world? Highly sought after, these bottles are especially valued for their rarity. From the intricacies of a fine aged Cognac to the warmth of a single malt Scotch, here are five impressive expressions that will impress anyone this holiday season.
Rémy Martin Louis XIII Time Collection Origin 1874
From the family-owned house of Rémy Martin, just in time for the holidays, a limited edition tribute to the original decanter from 1874.
The Origin – 1874 is the first of this series in the brand's history and will be released every two years. This first edition, honoring the 1874 first release date of LOUIS XIII, is a true act of genius dreamed up by Paul-Émile Rémy Martin. The bottle is engraved, created as a replica of the very first decanters used 142 years ago. Designers modeled the bottle after a royal flask that was unearthed by a farmer in a field, near a Jarnac battlefield. Made of pure Saint-Louis crystal, the decanter's distinctive features include 13 dentelle spikes, housed in an elegant metal case and topped with a unique stopper in the form of an upturned decanter. Thesleek woven texture is a modern reinterpretation of the wicker baskets in which the original bottles of LOUIS XIII were delivered.
Philippe Vasilescu, LOUIS XIII Ambassador for New York and the Northeast says, "We are very proud of transcending time and honoring the legacy of LOUIS XIII with this new special edition collection. With each edition related to a special chapter of the unique LOUIS XIII journey, this series of key milestones has been warmly welcomed by our LOUIS XIII aficionados and collectors all over the world."
The cognac offered in this special edition is the classic LOUIS XIII, a blend of up to 1200 eaux-de-vie from Grande Champagne, the youngest of which is at least 40 years old.
You can find this new piece of art in New York at LOUIS XIII Certified Retailers Sherry Lehmann, Crush and Morrell. $5,000.00.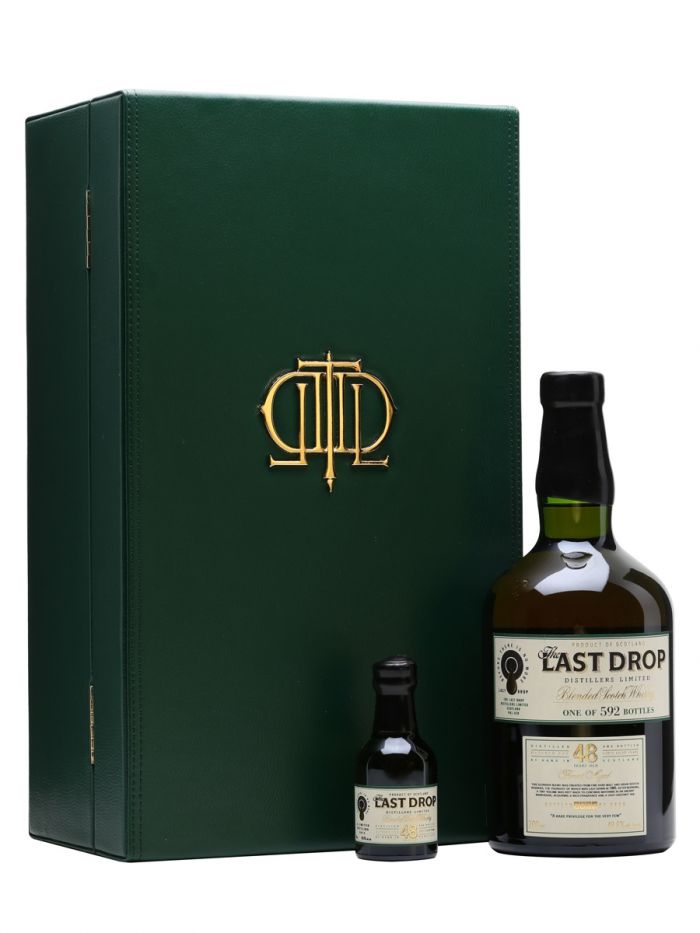 Photo Credit: Last Drop
Last Drop 48-Year-Old Blended Whisky
With only 592 bottles in existence, this is a prize for any collector. Every bottle has been meticulously bottled and wax-dipped by hand, and is presented in a signature Last Drop Distillers leather case. Each case includes a generous 50ml miniature as well as leather-bound booklet that certifies your bottle and leaves room for personal tasting notes as you explore this exceptional blend. The color: golden chestnut. On the nose, ripe peach is layered with pear and cinnamon-spiced orange. The first taste is both complex and smooth with a slow release of ripened peaches, pear brandy and toasted oak wood. Secondary notes include dark chocolate, almond and peach. Available from The Whiskey Exchange for £2,600.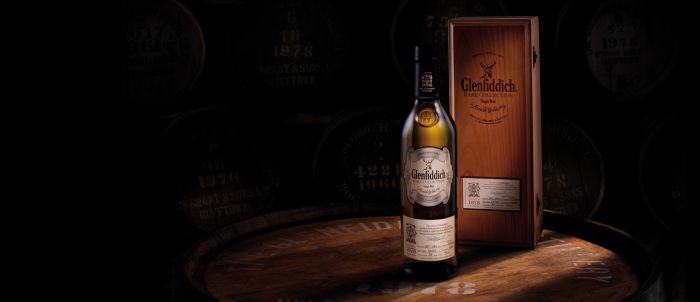 Photo Credit: Glenfiddich
Glenfiddich Rare Cask Single Malt 1978
Glenfiddich has established a reputation for being a leader in Speyside single malt Scotch whisky, and the Glenfiddich Rare Cask Single Malt is no exception. Glenfiddich, which means 'Valley of the Deer' in Scottish Gaelic, is represented by a stag symbol on the elegant Glenfiddich bottles. The Rare Cask Single Malt 1978 is gold in color, with hues reminiscent of autumn straw, the notes are beautifully balanced with hints of oak, pear, fruit, summer grass, red summer berries, hints of orange marmalade, green bananas, thyme and bay leaf. Over time a carefully balanced spiciness emerges. $3,950.00.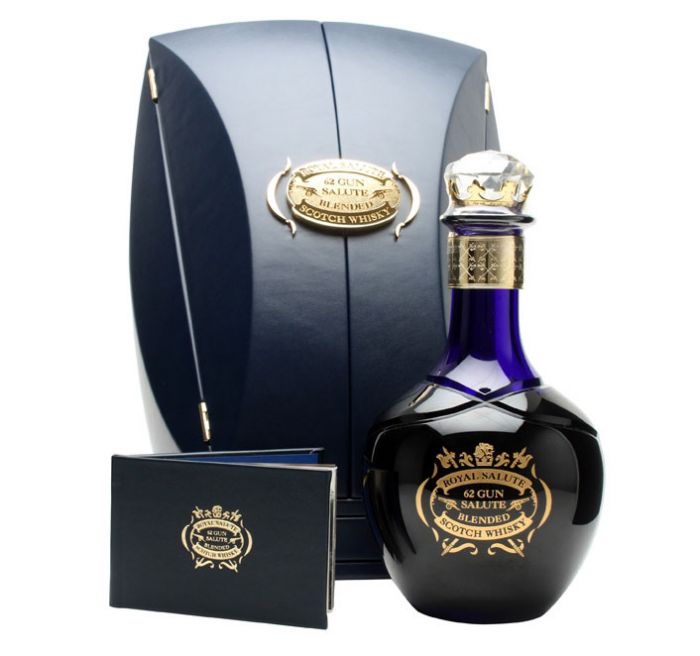 Photo Credit: Royal Salute
Royal Salute 62 Gun Salute
Chivas Regal Royal Salute "62 Gun Salute" is named after the salute which took place at the Tower of London to honor the Queen's anniversary on the throne. Indulge in the aromas of malt, hazelnut and soft chocolate on the nose. On the palate, sensual flavors of dried fruit, sandalwood, pepper and spice with a smoky, yet understated finish. Each bottle is beautifully crafted in glass with 24-karat gold accents. The Whiskey Exchange carries it for £2,000.00.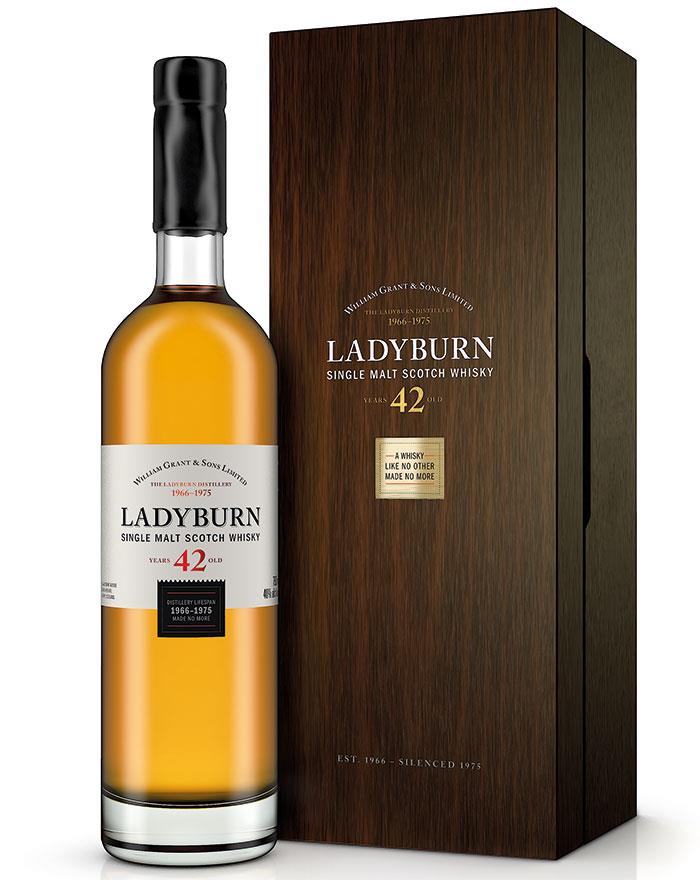 Photo Credit: LadyBurn
Ladyburn 41-Year Single Malt Scotch
According to TheWhiskeyWash.com, "Among Scotch collectors few Lowland distilleries are held in the same regard as the long shuttered Ladyburn. It was open only between the years of 1966 and 1975, and few bottlings of what was produced there as standalone single malts exist. William Grant & Sons, which owns what's left of the few casks of this by now quite old whisky still in existence, recently brought to American shores one such offering in the form of a 41 year old release pricing for around $2,000 a bottle." Available at Beverly Hills Liquor and Wine for $1,999.00.