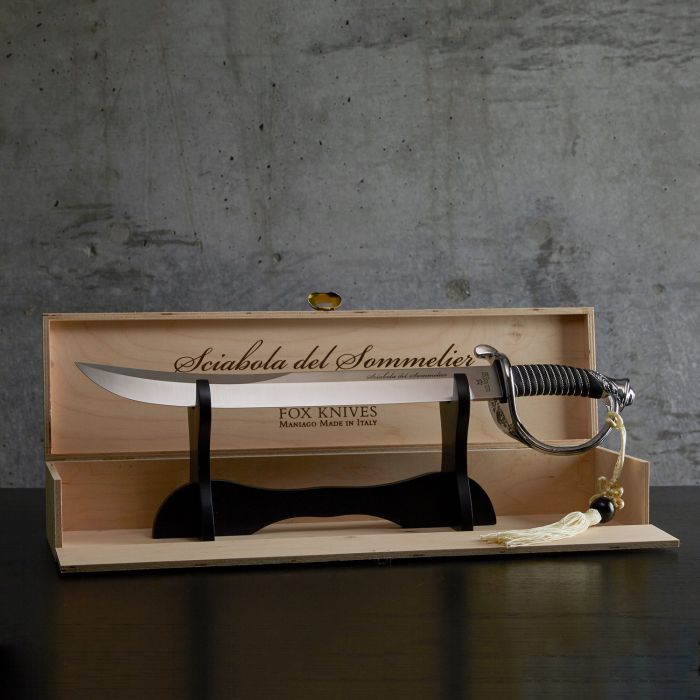 Photo Credit: Fox Knives
After winning a major battle, Napoleon unknowingly began an international tradition when he sliced the top off of a bottle of champagne with a sword. The rest, as they say, is history. These days, sabrage is less about winning battles and more about being one of the easiest and fastest ways to impress a room full of people at a dinner party.
This sabre, manufactured by Fox Knives, in Mangiano, Italy, is made of the highest quality rust-proof T5MOV stainless steel. Each piece comes with an intricate, hand-crafted handle that makes it perfect for any festive event you might have coming up. Despite being good-looking on its own, the makers thought ahead and included the piece with an elegant box and sabre-holder so that it can be put on display. To successfully sabre a bottle of champagne, first ensure that the champagne is chilled, and that the foil and wire hood are removed. Holding the sabre in your dominant hand and cradling the bottle at a 20-degree angle in your other, use the dull side of the blade to swiftly slice upwards towards the cork. Be sure to watch where you aim, and enjoy the spoils of your efforts! You can find this sabre for purchase online now at Touch of Modern for $109.99.
OWN IT | $109.99