Photo Credit: T photography / Shutterstock.com
No other spirit has evolved in quite the way tequila has in such a short time span, from a drink favored by college students hell bent on inebriation to a treasured tipple enjoyed and savored by connoisseurs the world over. While the transition has taken place over the past three decades, in recent years the ultra-premium end of the category was created and immediately flourished, imbuing tequila with a new dimension and adding to its appeal.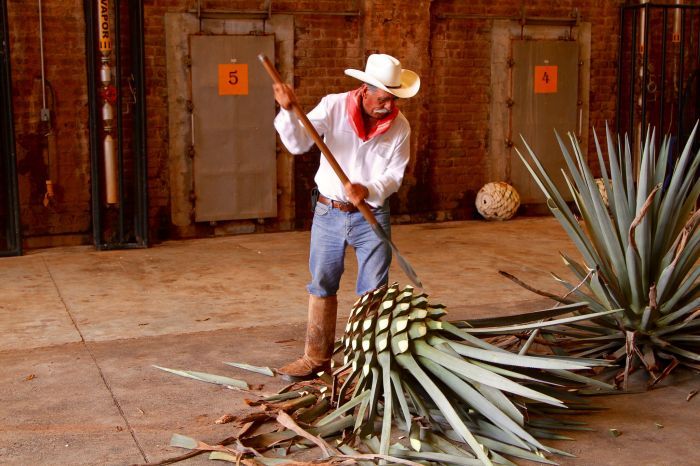 Photo Credit: Jared Paul Stern
Tequila was first produced in the 16th century near the location of the modern city of Tequila, Mexico, which was officially established in 1666, though the drink was known by other names until fairly recently. But it was not until it was first exported that it began to mature as a spirit, and to accommodate the tastes of the wide audience of the rest of the world, with an ever-increasing array of expressions pleasing to even the most sophisticated palate.
Lately demand for tequila has outpaced all expectations. Since 2002, Tequila volumes have grown 121 percent, at an average rate of 5.8 percent, per year. In 2016 alone, 15.9 million 9-liter cases were sold. High end brands have been especially buoyant, growing 292 percent in volume since 2002. And, to the disbelief of most Mexicans, the U.S. market has now outstripped Mexico's own to become the leading consumer of tequila, fueled in part by the booming tequila cocktail trend.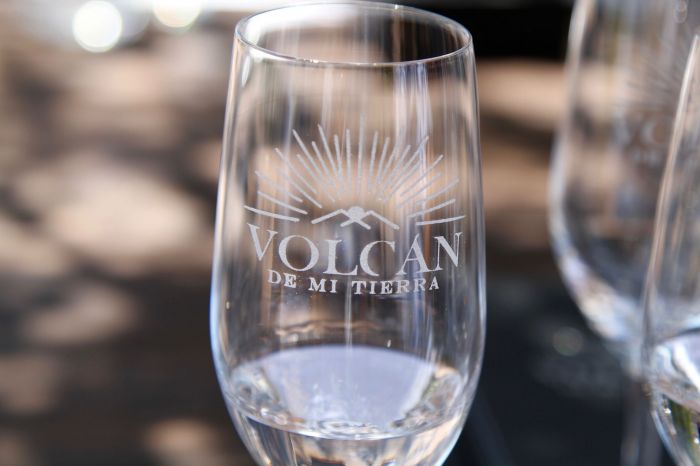 Photo Credit: Jared Paul Stern
Virtually unknown in 2002, super premium tequila volumes have skyrocketed 706 percent and today account for 2.9 million 9-liter cases. Which is no doubt why LVMH's spirits division, Möet Hennessy, is getting into the game, with the launch of Volcan De Mi Tierra, a new super premium brand, this month. Which also makes it the perfect time to visit Jalisco, the Mexican state where tequila is produced—beautiful, safe, and modern in many ways, but also mindful of its incredibly valuable heritage.
Despite all the bluster emanating from the White House, there's never been a better time make the trip. Wrapped up in the production of tequila is a rich tradition of Mexican culture and cuisine, which can be best experienced in the birthplace of the spirit. Added to the traditional tequila categories of blanco, reposado and añejo, reflecting different intervals of aging, you can now find extra and "super" añejo as well as cristallino, an añejo expression with the color extracted, to enjoy. Sampling them in the places where they're made enriches them immeasurably.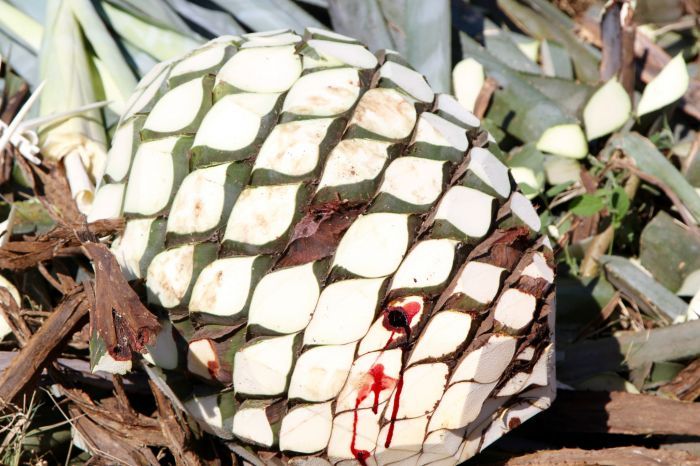 Photo Credit: Jared Paul Stern
Every tequila starts with Blue Weber Agave, distinctive-looking spiky plants which take seven years to mature. Every agave plant is harvested by hand; the plant is first cut from its roots and then the spear-like leaves are trimmed off with a sharp, round blade. Some tequila houses do this in the fields, others at the distillery. The core that remains, called a piña, is the raw material used for the making of tequila. There are different ways of processing and cooking it, but it typically takes about eight pounds of blue agave to produce one bottle of tequila.
The exact method is different in nearly every distillery, but after the agave is harvested and cooked it is fermented, distilled in steel or copper stills (the more traditional process), and matured in oak or other casks. Some prefer virgin oak while others use second-fill or seasoned casks that bring with them notes of the sherry, bourbon, port or other spirits that were the original occupants. As with Champagne or Cognac, only tequila that is made from agave grown in the state of Jalisco can properly be called tequila.
Here are the highlights from our tour: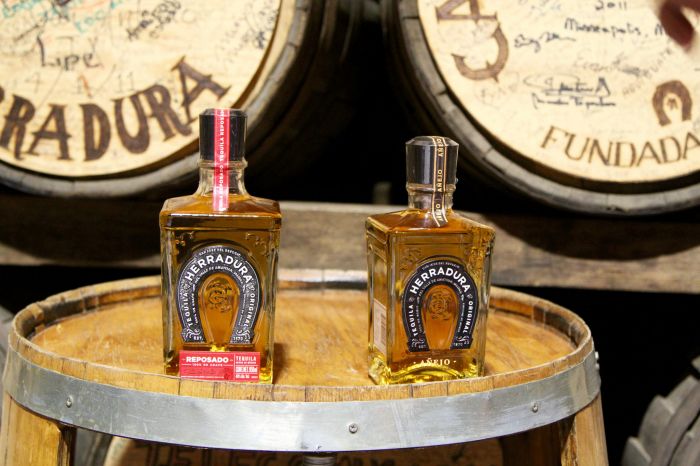 Photo Credit: Jared Paul Stern
One of Mexico's most historic and renowned tequila producers, Casa Herradura has been operating at the Hacienda San José del Refugio, in the village of Amatitán, since 1870. Its horseshoe logo—herradura in Spanish—is an ancient symbol of good fortune and protection. Herradura carries on with traditional methods, such as slowly cooking the piñas in traditional clay ovens, to produce a truly "sip-worthy" spirit.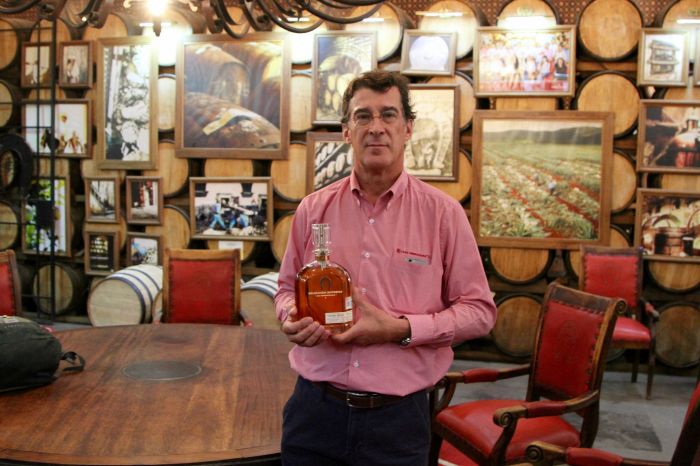 Photo Credit: Jared Paul Stern
Herradura also uses natural fermentation with airborne wild yeast. Credited with the introduction of the world's first-ever reposado and extra-añejo tequilas in 1974 and 1995, respectively, Herradura has always been respected as an innovator in the tequila world. Its spirit is distilled twice and aged to perfection in American white oak barrels for 45 days to four years depending on the expression. Herradura lays claim to being the "last true tequila-producing Hacienda on the planet."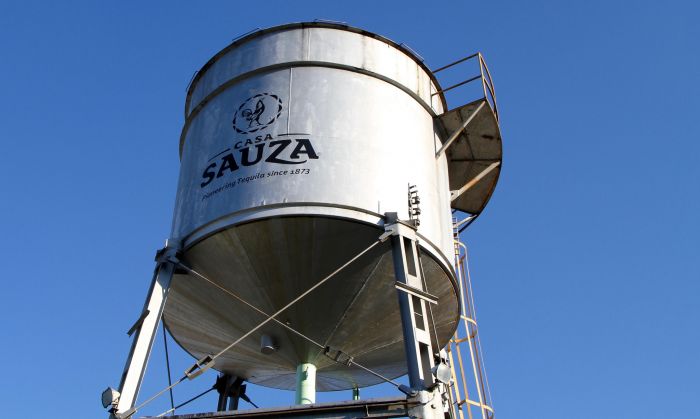 Photo Credit: Jared Paul Stern
Casa Sauza produces all its tequila in the same location since 1873. It was the first brand to export tequila to the rest of the world, when it was known as "Mezcal wine." In 1931, when the founder's grandson, Don Francisco Javier Sauza, took over the business, the modern tequila industry was born. Don Francisco was the first to argue that "Tequila cannot be produced where the plant that originates it does not exist," leading to the creation of the "Denomination of Origin" for tequila production and its regional requirements and legal standards.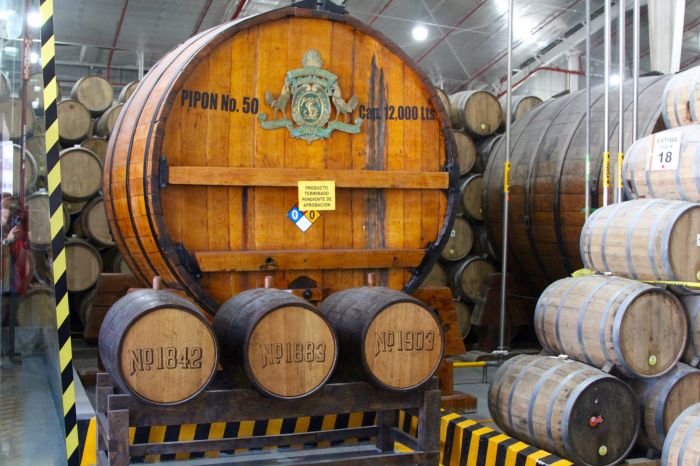 Photo Credit: Jared Paul Stern
Sauza practices a unique "gentle extraction" method for processing the agave, different from the other distilleries. At Sauza, the juice from the piñas is separated before they are cooked to "take maximum advantage" of the agave sugars, which, the distillery says, creates the distinctive herbal and fresh agave flavor profile that can be discerned in all of Casa Sauza's creations. Sauza was also one of the first to experiment with wholly "organic" expressions, in response to the growing demand for responsibly produced spirits.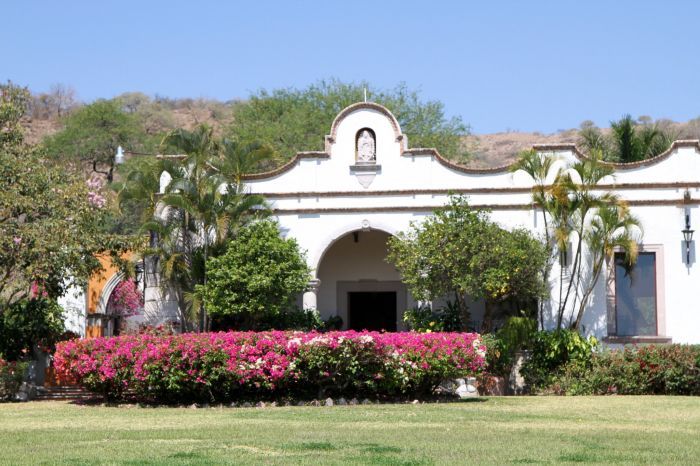 Photo Credit: Jared Paul Stern
LVMH's spirits division Moët Hennessy, in partnership with Mexico's aristocratic Gallardo family, has just made history with the launch Volcan De Mi Tierra tequila. The name, which translates to the "land of the volcano," pays homage to the unique terroir where the distillery is located next to the Gallardo family's historic hacienda and a volcano, appropriately named Tequila, now home to the brand, which by all indications is set to be a smashing success.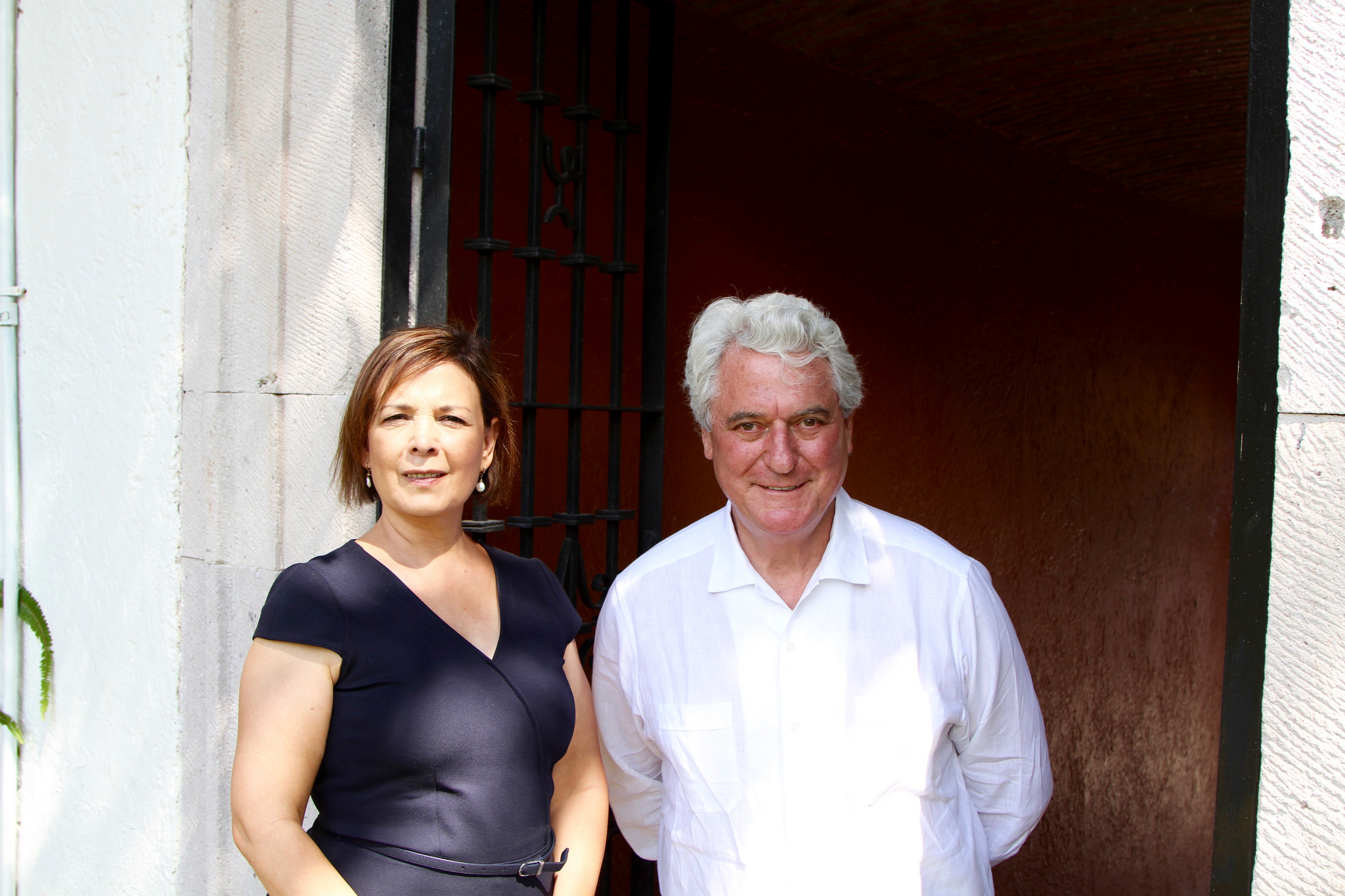 Photo Credit: Jared Paul Stern
Volcan De Mi Tierra's distillery sits in the lowlands, at the foot of the volcano, where 100% blue agave from both the low- and highlands is grown and used to produce its first two expressions, Blanco and Cristalino, developed by Maestra de Tequila Anna Maria Romero Mena. "It was my hope to create a spirit that is truly committed to expressing the heart of the agave and terroir from which it came," she notes. "This is why—unlike many distilleries—we combine agave from the low- and highlands and embrace the nuances from each region to create a unique style." The result is an authentically complex yet elegant and balanced liquid.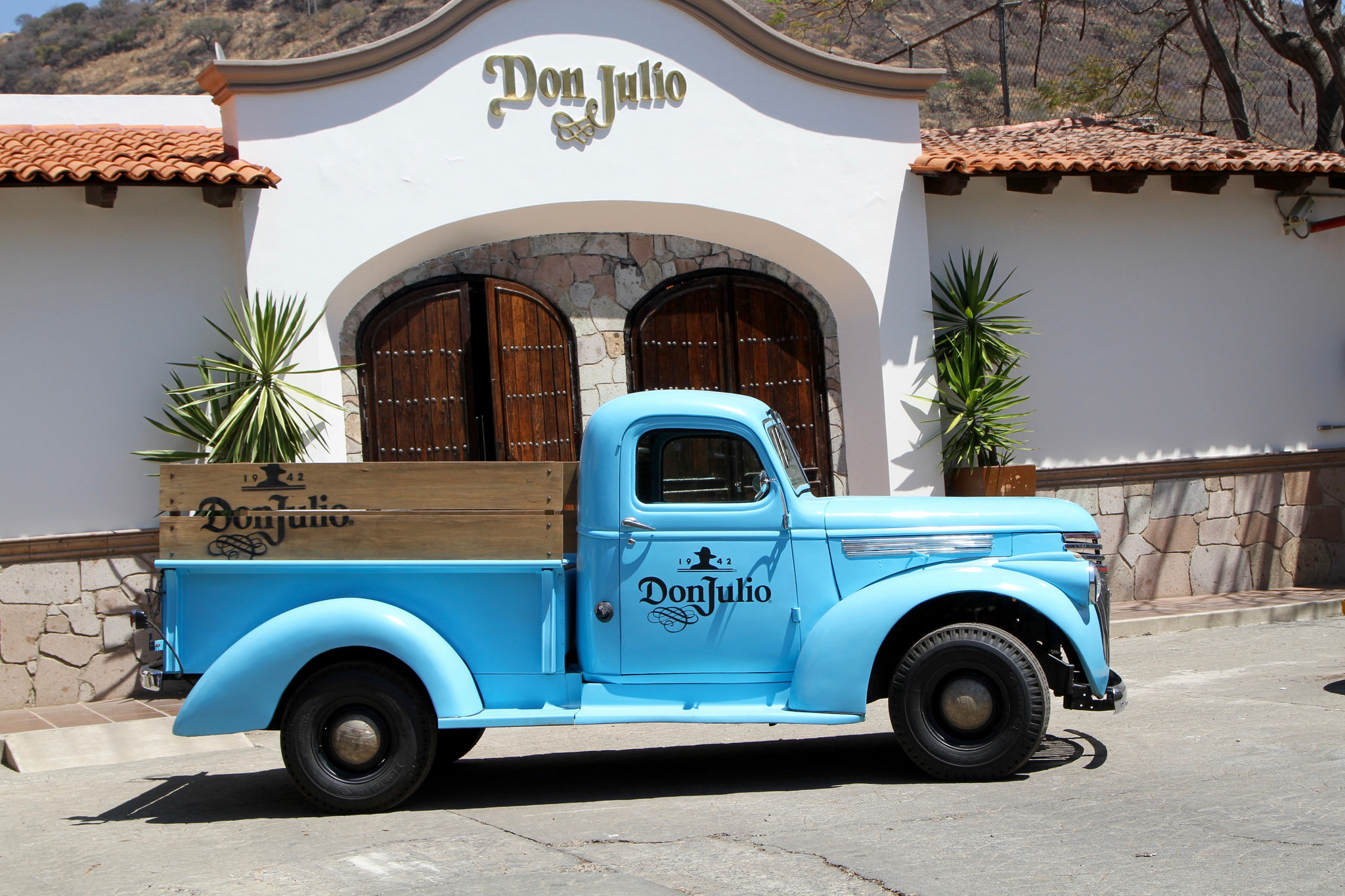 Photo Credit: Jared Paul Stern
Don Julio, which dates back to 1942, is considered by many to be the world's first luxury tequila, and has been widely imitated. Founder Don Julio Gonzales, who innovated many of the distilling and aging methods considered de rigeur today, initially produced it for his own family and friends, and wasn't made commercially available until the 1980s. It is produced in the highlands of Jalisco, where the microclimate and mineral-rich clay soil allow the blue agave plant to thrive best.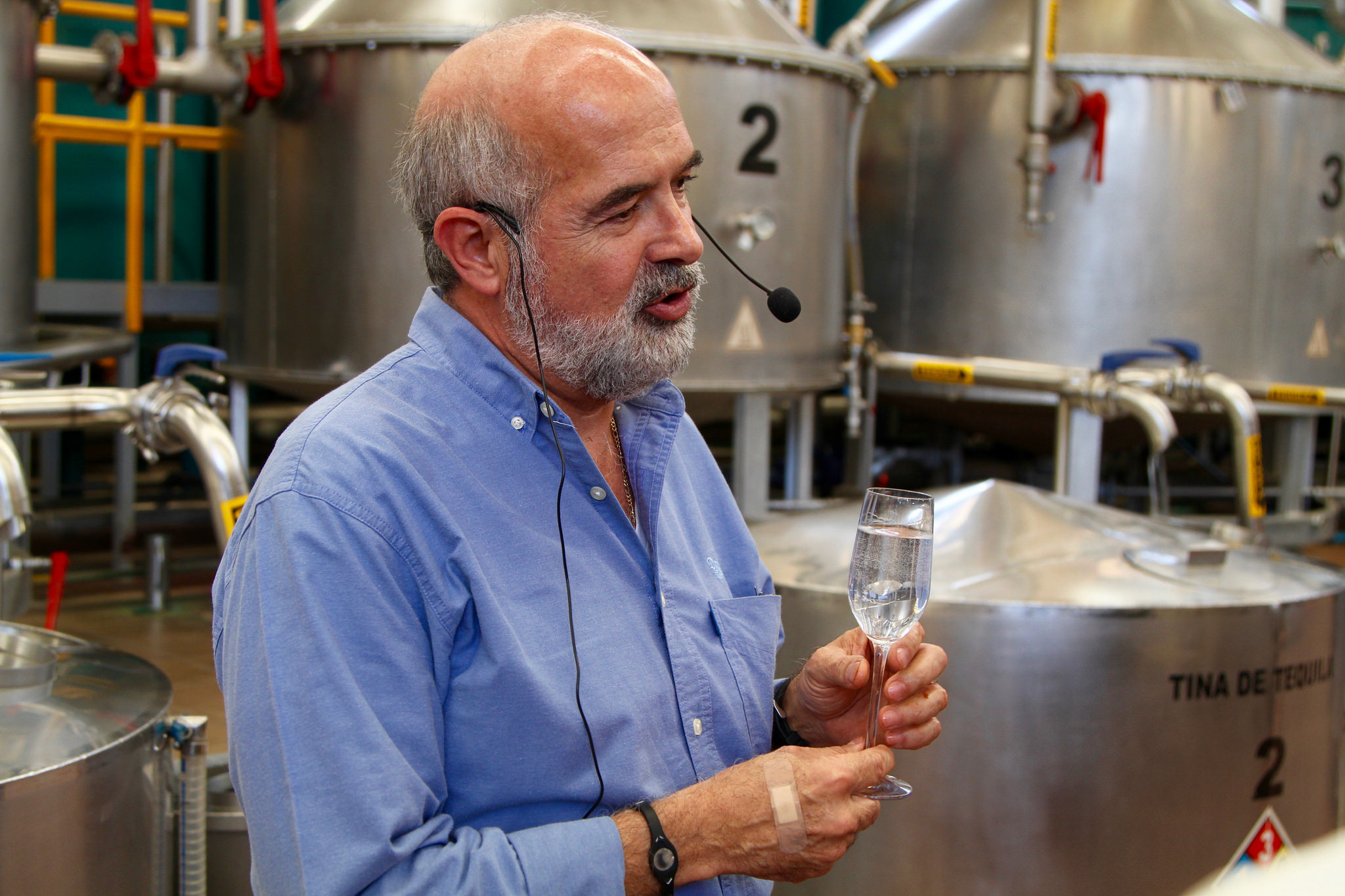 Photo Credit: Jared Paul Stern
To make Don Julio, the agave piñas are cut by hand into thirds or quarters and then slowly steam-cooked in traditional masonry ovens for three days to release the sweet agave juice. Each of the distillery's offerings is aged for a different amount of time in white oak barrels kept in a our temperature-and-humidity-controlled warehouse. One of its newest expressions is also its most coveted; Don Julio 1942, paying homage to the year the distillery was founded, is aged for at least two-and-a-half years and is exceptionally rich and smooth.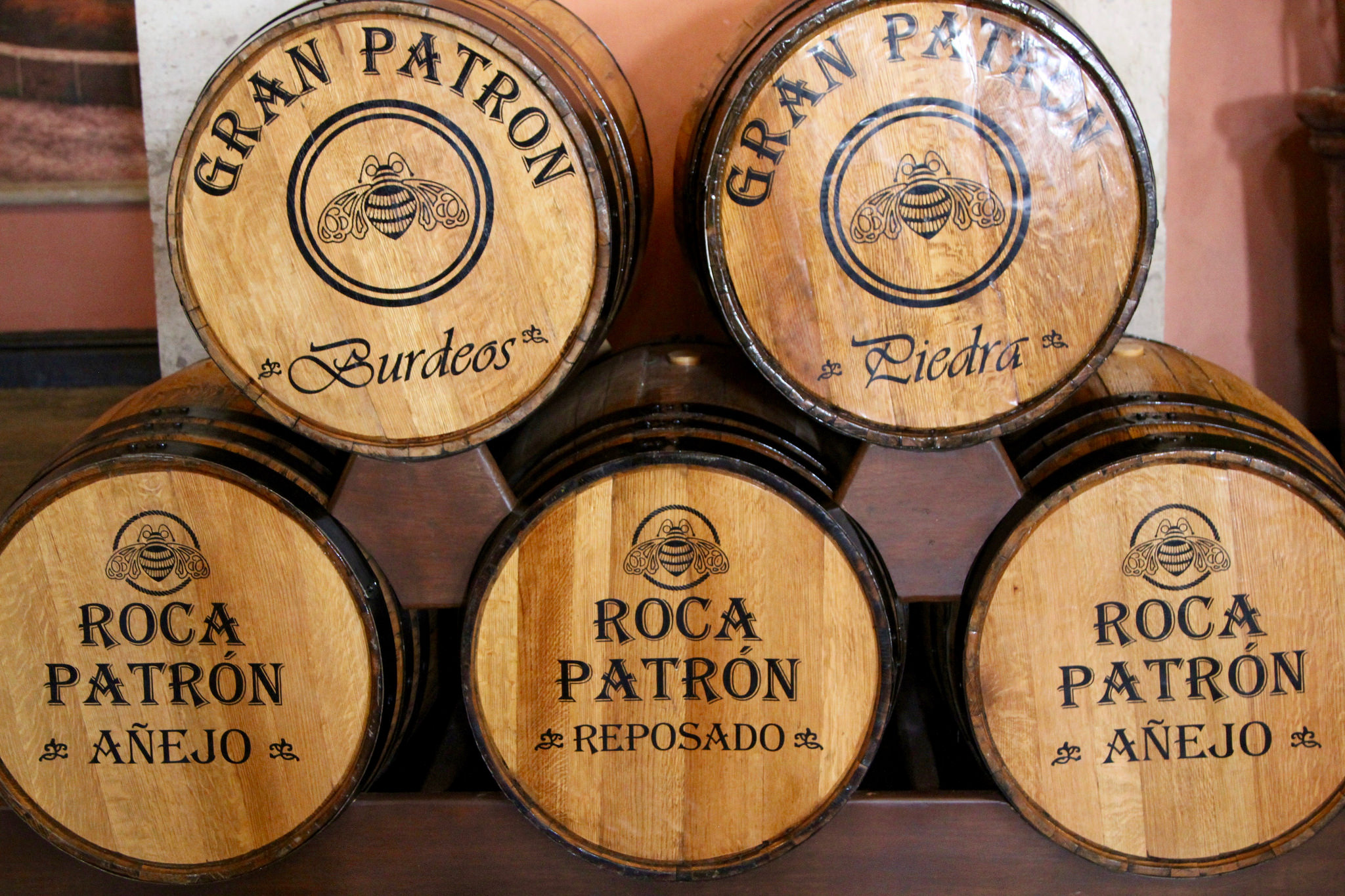 Photo Credit: Jared Paul Stern
Patrón, widely recognized as the world's highest-quality ultra-premium tequila, is meticulously crafted, and the brand has not allowed the astonishing growth of its business to alter the traditional methods which first garnered it international acclaim. "Instead of building bigger stone ovens, or bigger fermentation vats and pot stills, we've actually replicated the original small batch process many times over, essentially creating a dozen little distilleries under our one roof," notes Patrón master distiller Francisco Alcaraz, who developed its unique recipe and process. "That's how we've been able to maintain our consistent high quality."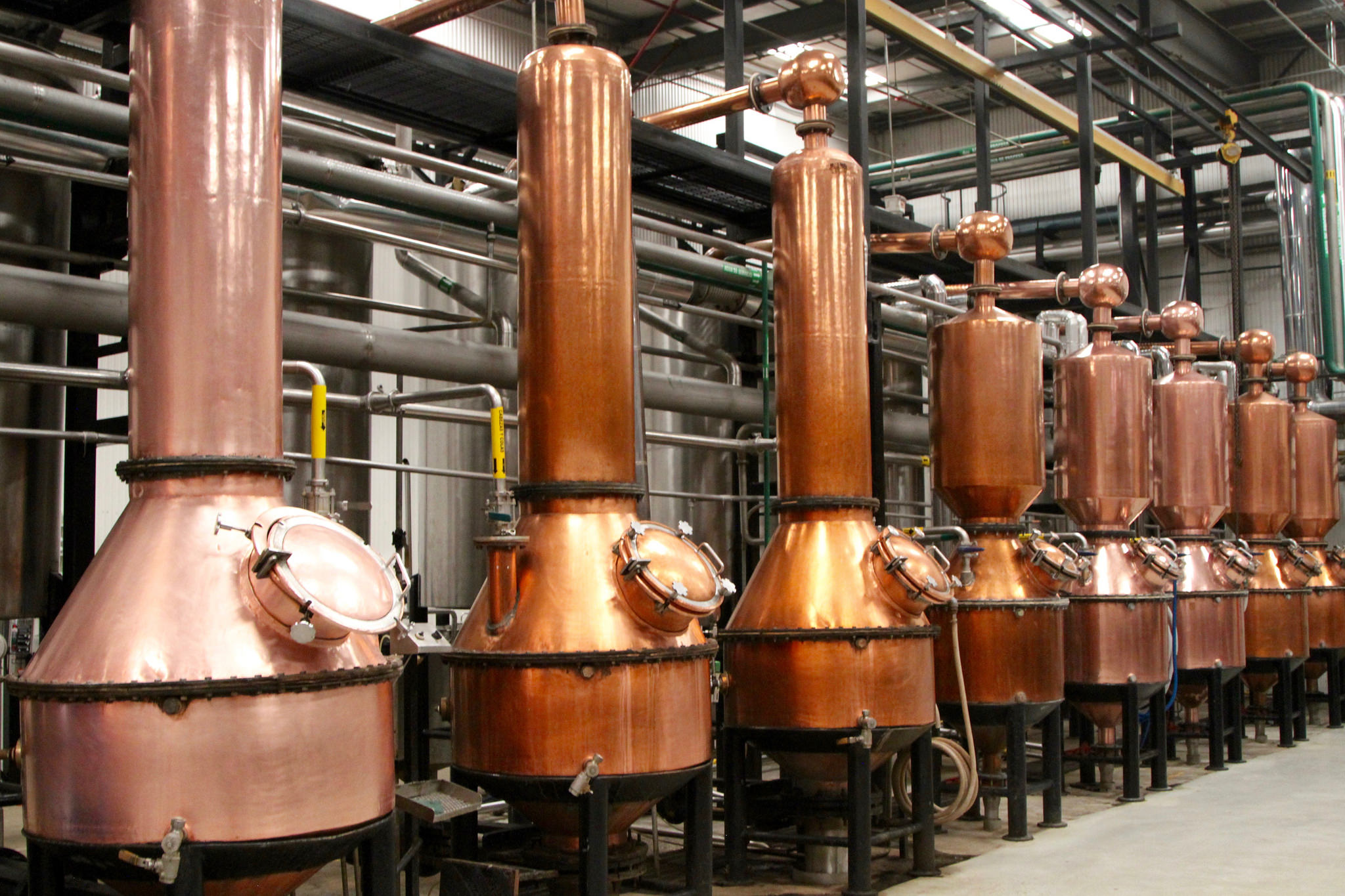 Photo Credit: Jared Paul Stern
Patron uses a time-honored method of cooking agave, slow-roasting small batches for about 79 hours, then macerating it, fermenting it and distilling the result using two uniquely separate processes, the centuries-old tahona (volcanic stone wheel) process and the more modern roller mill process, Both produce distinctive tequilas, with unique combinations of distillation with and without the agave fiber, that are ultimately blended together to create the various expressions of Patrón.
Photo Credit: T photography / Shutterstock.com
One of the oldest and most recognized tequila brands, the Cazadores distillery is perched high above the town of Tequila, in the Highlands of Jalisco. It elixirs are created using a small batch approach overseen from start to finish by the Maestro Tequilero, which is based on the brand's original 1922 recipe. The cooked highland agave is double fermented and double distilled, and is only ever matured in smaller than usual virgin oak barrels.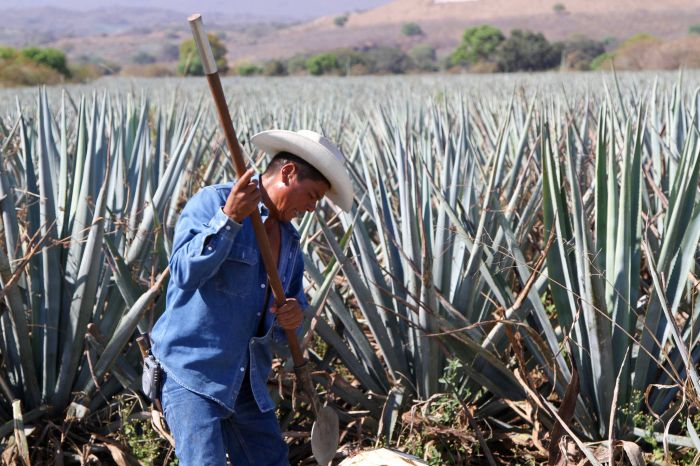 Photo Credit: Jared Paul Stern
Unlike most brands, Cazadores' Maestro Tequilero selects tequila from only the top one percent of these barrels for each batch he creates; not the most profitable method but one that ensures an extremely high quality product. That's further guaranteed by a panel of 15 experts which reviews each batch to ensure that it meets the selective standards of quality and taste and is worthy of the Cazadores label—smooth, flavorful and redolent of the highlands, the heart and soul of tequila country.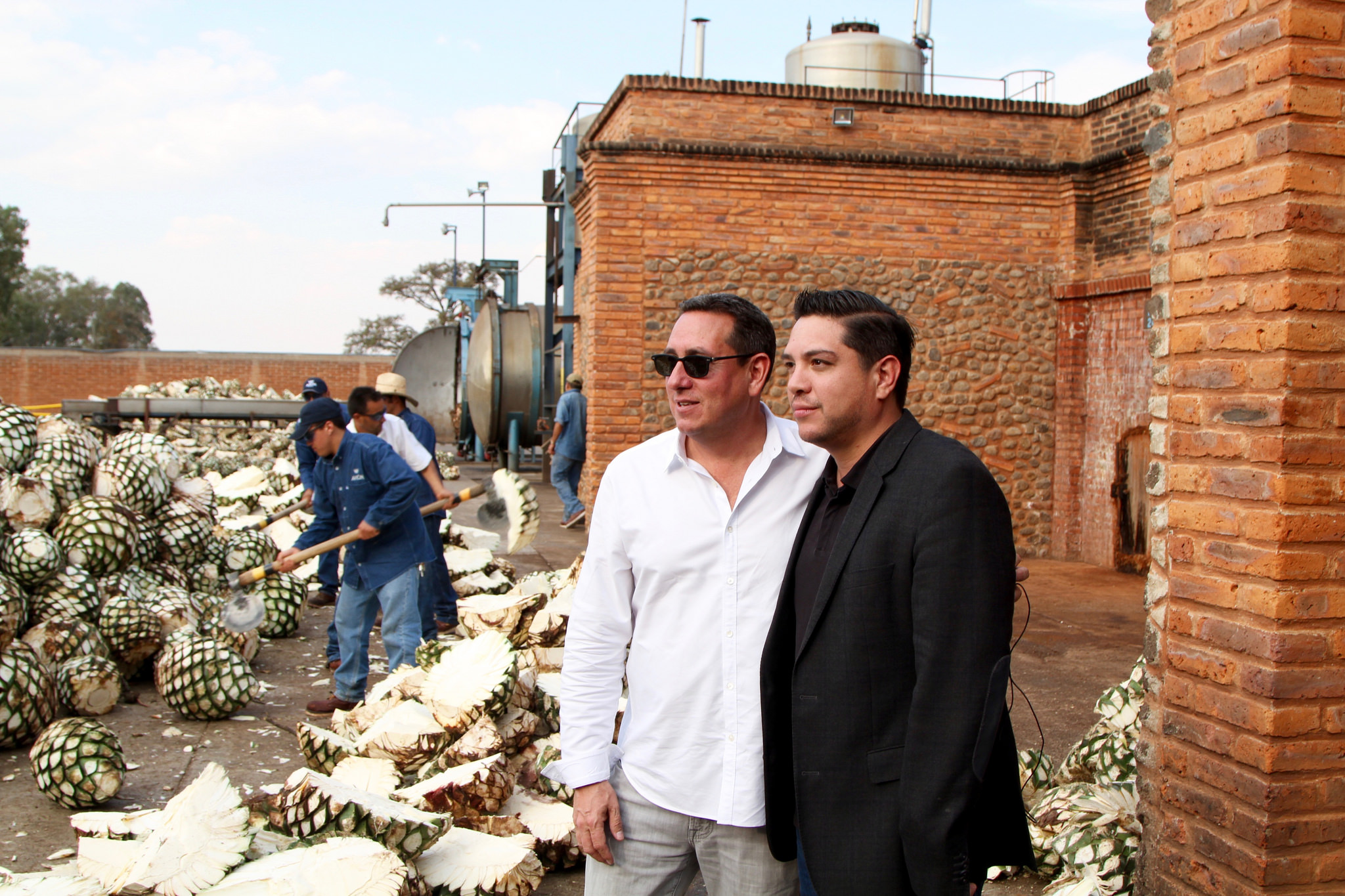 Photo Credit: Jared Paul Stern
If anyone can be considered a "disrupter" in the modern tequila industry, the honor goes to Avión founder Ken Austin. The tequila's name, meaning airplane, comes from his background in the private jet industry. Avión agave is grown at 7,000 feet above sea level, an elevation that "creates stress on the piña that in turn leads to more depth and sweetness," in Austin's view. It is then slow roasted in brick ovens at low temperatures for three days; the Master Distiller then focuses on the "heart" of the distillation, a highly selective trait which means it takes 25-30% more Agave to make each bottle of Avión.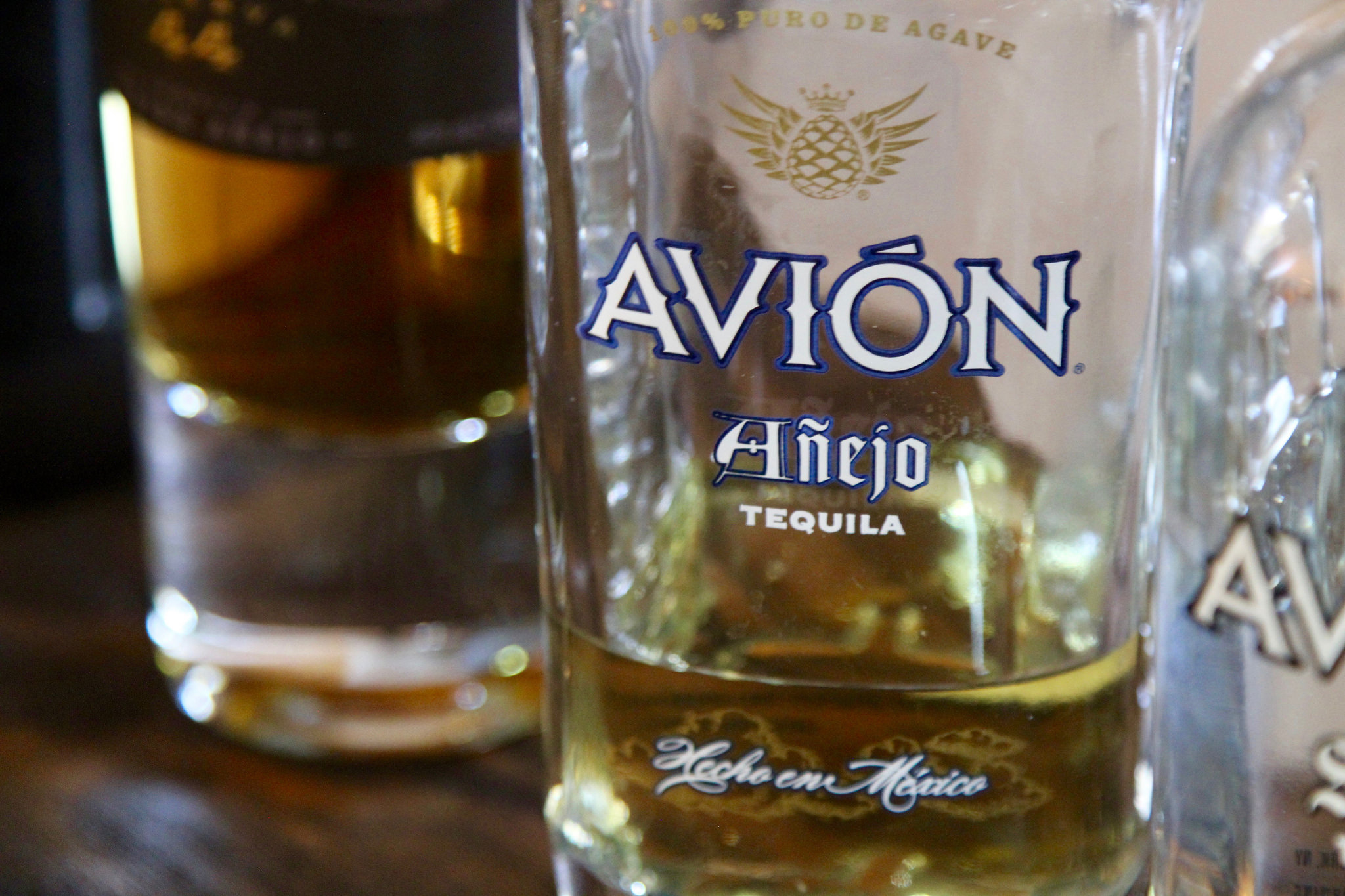 Photo Credit: Jared Paul Stern
After distillation, Avión is filtered through its proprietary ultra-slow filtration system, another hindrance to efficiency that is up to ten times slower than other tequilas, but that results in a surprisingly smooth and "agave forward" tequila. Avión is currently available in five expressions: Silver, Reposado, Añejo, Espresso and Reserva 44—but Austin and his team are continually experimenting with special finishes and are never satisfied with creating something that is merely "good enough."