Photo Credit: Carin von Berg
The 35th annual FOOD & WINE Classic in Aspen kicked off summer in style over Father's Day weekend in scenic Aspen, Colorado. Celebrity chefs, celebrity guests, locals and international foodies gathered in beautiful downtown Aspen to experience culinary delights in the form of seminars, private parties, winemaker's dinners, VIP luncheons and the always popular Grand Tasting Pavillion where vintners showcase their finest wines and spirits.
Attracting more than 5,000 attendees from around the world, the inaugural classic was established in 1982 as the Aspen/Snowmass International Wine Classic by founders Gary Plumley of the Grape & Grain in Aspen and Bob and Ruth Kevan of Chez Grandmere in Snowmass Village. In 1986, Food & Wine magazine became the official host of the event, while American Express later hosted the American Express Restaurant Trade Program providing a unique educational and networking opportunity for professionals in the hospitality world.
Ticket holders could experience a range of seminars that took place over three days, such as celebrity chef Ming Tsai's Shrimp Five Ways, Master Sommelier Andrea Robinson's Affordable Agers, Bryan and Michael Voltaggio's High Steaks and Andrew Zimmerman's The Art of Seafood. In between seminars, everyone moved over to the Grand Tasting tents to sample gourmet cuisine, wine, Champagne and spirits from over 300 wine and luxury lifestyle brands.
As day turned to night, the parties were in full swing with Bravo Top Chef and Copper Cane Wines & Provisions hosting a welcome reception at the St. Regis Resort on Thursday night and the Wines of Spain celebrating 25 years at the FOOD & WINE Classic in Aspen with an invite-only party hosted by 2015 Food & Wine Best New Chef Katie Button at Aspen Kitchen. On Friday, lucky guests were treated to acclaimed Chicago chef Stephanie Izard's homage to Chinese cuisine with a taste-around dinner reception inspired by Duck Duck Goat that took place at the uber-chic American Express Platinum House. Emirates presented Dubai In The Sky at the top of Aspen Mountain to celebrate 35 years with the FOOD & WINE Classic in Aspen.
Saturday night saw the most action, with the addition of musical entertainment featuring music by The Spazmatics and a tasting by Jamie Bissonnette and Ken Oringer at Belly Up, while DJ and electronic violinist Kat V wowed guests at the St. Regis where the Nomad Magic Show with Dan White and exclusive after-party hosted by Starwood preferred Guest Card from American Express took place. We ended the night at the GOAT After-Party with Stephanie Izard back at the American Express Platinum House.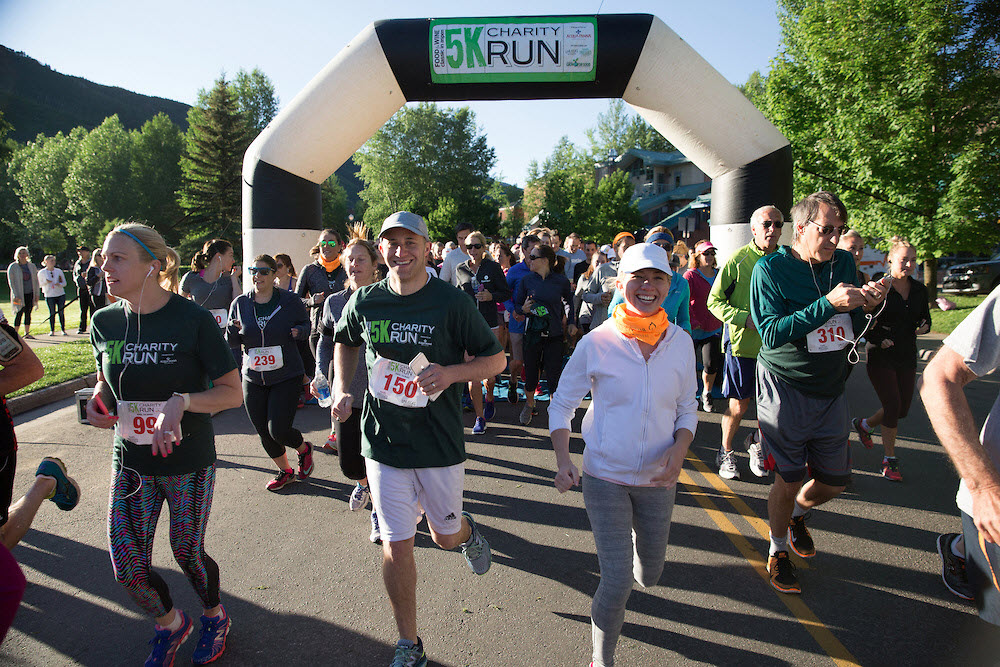 Photo Credit: Aspen Chamber of Commerce
For those wanting to detox and commune with nature, San Pellegrino and Acqua Panna sponsored a charity 5K run on Friday with chefs bringing attendees through the city streets and parks of Aspen to raise money for Wholesome Wave Rio Grande Park. Over at the American Express Platinum House, guests were treated to SoulCycle classes, mediation, blowouts from DryBar and manicures from Olive & June.
Sunday had a slower (but no less fun pace) with a handful of seminars, a final Grand Tasting at the tents and the Farewell Feast: A Bubbly Brunch sponsored by Mionetto prosecco at the historic Hotel Jerome. We were greeted with an icy cold mini-bottle of Mionetto upon arrival and treated to a classic line-up of featured dishes from Eggslutt and more.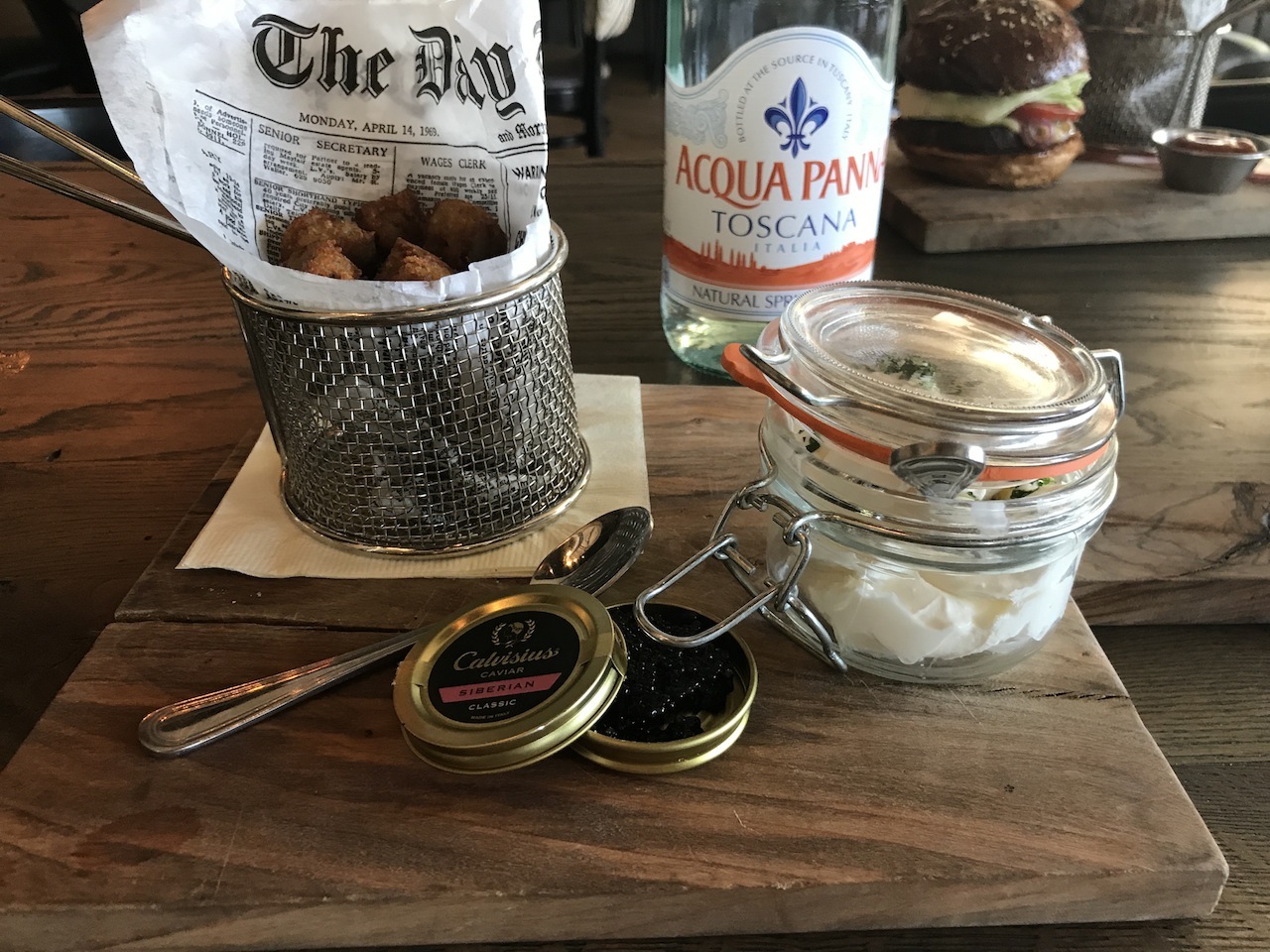 Photo Credit: Carin von Berg
A note on where to stay and dine in Aspen, the next time you plan a visit to the charming mountain town:
Eat: Aspen Kitchen
When in Aspen, brunch at Aspen Kitchen is an absolute must. The warm and inviting restaurant boasts a contemporary yet rustic décor, sprawling open kitchen, 180° views of the town and lush mountains. Three walls of windows lined the space, as well as a glass-enclosed dry-aging room, an expansive patio complete with a 'garden' and an elegant bar that showcases an extensive, wall-mounted collection of wines. Executive Chef Matt O'Neill developed a contemporary American menu that had our mouths watering.
As we were slightly hungover from a weekend of drinking at the FOOD & WINE Classic in Aspen, we were in desperate need of the 'hair of the dog' and started with a spicy Red Mountain Bloody Mary and a detoxing Garden of Aspen made from spinach, cucumber, green apple, carrot, ginger, and fresh lemon (that we amped-up with a shot of Breckenridge vodka). We then devoured the ridiculously delicious and satisfying Tots & Caviar and Escargot Fritters with garlic aioli. For the second course, we moved on to the light and fluffy Asparagus Frittata with potato, pea greens, spring onions and ricotta cheese, the comforting Spicy Prawns & Buckwheat Grits, and the hearty Saltbrick Burger. Some additional items worth mentioning are the Kitchen Eggs Benedict with biscuit, prosciutto, green garlic, chimichurri and hollandaise sauce and an inventive Fried Chicken & Waffle Sandwich with bleu cheese slaw and a spicy sriracha maple glaze.
Photo Credit: Carin von Berg
Stay: Hotel Jerome
For visitors to Aspen, there is no better place to call home than the historic Hotel Jerome. Perfectly situated in the heart of Downtown Aspen between the base of Ajax mountain and the Roaring Fork River, the idyllic Hotel Jerome remains an Aspen institution and has been an important part of Aspen's social and cultural fabric since its opening as the town's first hotel more than 120 years ago. Following an extensive remodel in 2012 (overseen by famed designer Todd Avery Lenahan), the stately property has managed to maintain its Western, small town charm while simultaneously offering visitors and guests unique amenities on par with the world's leading luxury hotels and resorts.
Part of the Auberge Resorts Collection, the Hotel Jerome boasts the world class in-house Auberge spa as well as two full-service restaurants and bars that are extremely popular with visitors and locals alike. As if the amenities weren't enough, the decor of the Hotel Jerome is the star attraction. The well-appointed lobby embodies Aspen's eclectic Americana aesthetic with vintage Western art and mining-era artifacts juxtaposed with subtle European motifs and rich jewel-toned hues. "The new Hotel Jerome honors the past but is squarely living in the present," says designer Todd Avery Lenahan. This sentiment is underscored by details such as the vibrant Navajo textiles, tile floors inspired by Ute Indian weave patterns, and the signature large antique American flag with 38 stars, which was created in honor of Colorado's statehood in 1876. These are just some of the unique touches that make the Jerome one of the most Instagram-worthy design destinations in America.
The feast for the senses doesn't end at the lobby. The 93 rooms and suites feature original tile work and Western photographs as a friendly nod to the hotel's notable history. For the tech saavy, rooms are equipped with iPads that allow guests to make dinner reservations and book spa treatments with ease. The complimentary treats that come with the fully stocked mini-bar (disguised as leather chests) are just icing on the cake, as are the Hermes Eau D'Orange Verte personal care products. A stay at the Hotel Jerome will leave you feeling pampered, refreshed and inspired.