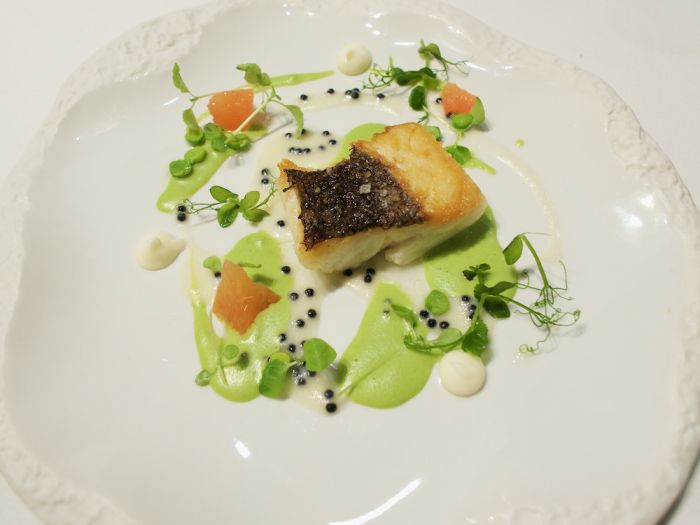 Photo Credit: Columbia Hillen
Set within the walls of a former 17th-century convent, Marc Fosh restaurant in downtown Mallorca's Hotel Convent de la Missió has a feeling similar to that of a cloister.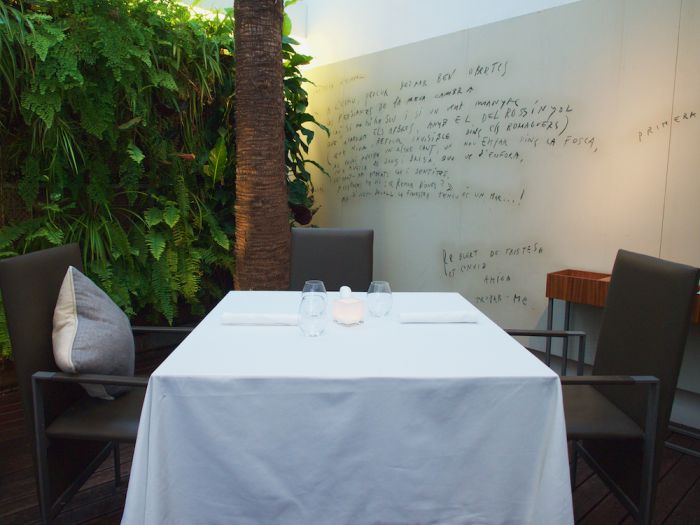 Photo Credit: Columbia Hillen
A peaceful ambience permeates the space, with abundant light, a vertical garden and palm tree trunks stretching through a transparent skylight above. One white wall is adorned with a graffiti-style design by artist Guillem Nadal, featuring the words of a love poem by German romanticist Johann Hölderlin. In short, this restaurant conjures images as a promising place for food to be prepared as art and an uplifting experience.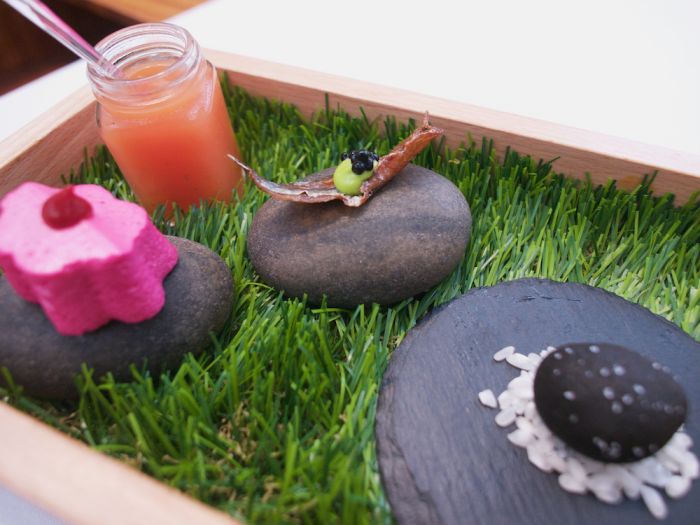 Photo Credit: Columbia Hillen
Head chef Toni Martorell wastes no time in capturing one's attention. He did so for us with an amuse-bouche of truffle with chickpeas, anchovies cracker and caviar, beetroot marshmallow and fennel, all set lovingly like small jewels in a wooden box layered with artificial grass. Lingering over its presentation and flavors gives one time to decide which of the three tasting menus to choose: Degustation, the newest addition, Marc or the vegetarian option: Natural.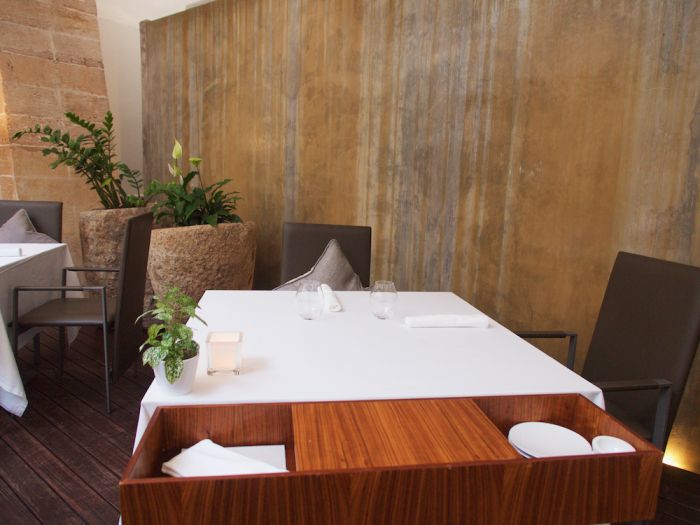 Photo Credit: Columbia Hillen
Marc Fosh was the first British chef in Spain to have his cuisine awarded a Michelin star. For 2015 and 2016, a star was also awarded to this restaurant, so we decided the Degustation option, with paired wines, was the perfect way to indulge in his broad range of culinary innovation.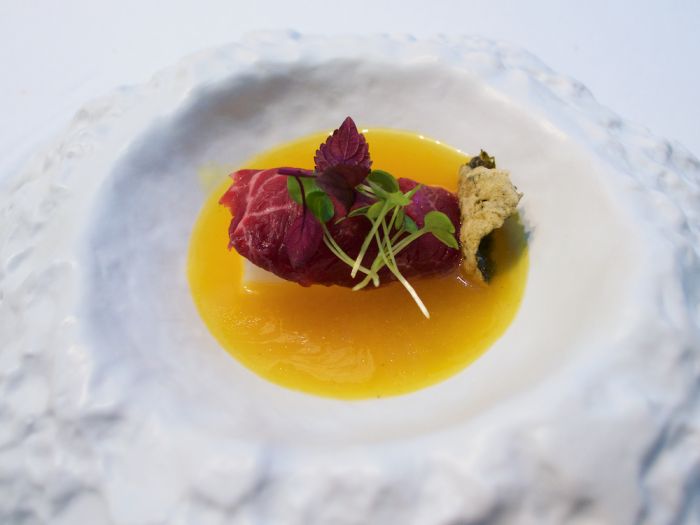 Photo Credit: Columbia Hillen
Bite-size creations showcased the rich natural diversity of Spain's culinary heritage, its abundance of fresh ingredients wrapped in the cloak of contemporary artistry. Memorable dishes included marinated scallop with carrot, served with a Catalan Riesling, with a hint of orange blossom and sea-fennel, as well as a refreshing surf-and-turf combo comprising cod, a traditional staple of Mallorcan cuisine, steamed and coupled with an aged beef fillet, in a broth of wild herbs, sea vegetables and saffron.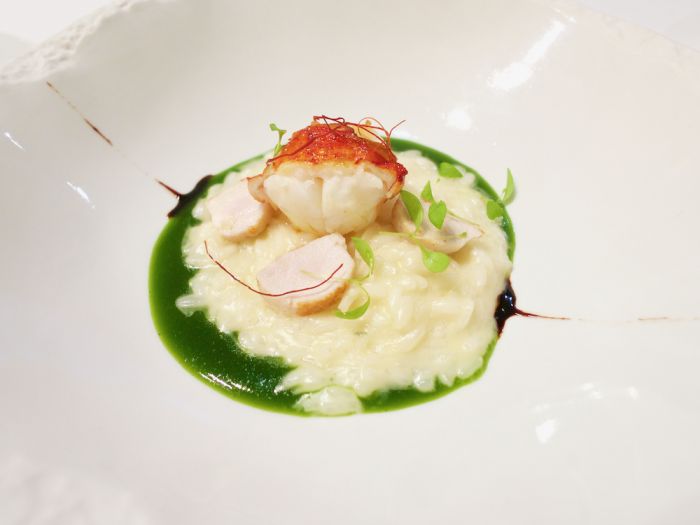 Photo Credit: Columbia Hillen
As a staple of quality Spanish cuisine is a refined rice dish, it was interesting to note that Marc Fosh uses the Bomba variety, cultivated by hand in Murcia and almost extinct until gourmet chefs recognized its suitability for paella. His sauce for a succulent rice dish comprises a caramel of prawns, topped with slices of lobster and rabbit with a moat of parsley chlorophyll. A chilled rosé from Aragon made a perfect complement.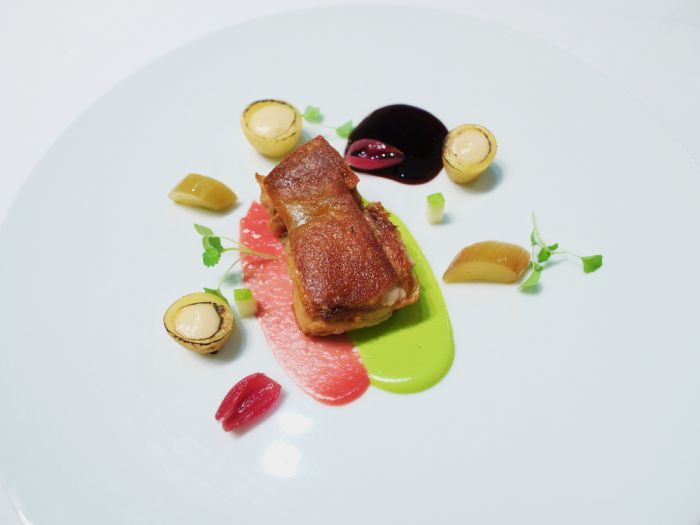 Photo Credit: Columbia Hillen
Traditional suckling pig (each fine Mallorcan restaurant seems to boast its own superior version) was served just as I like it, with crisp skin and soft middle, accompanied by smoked rhubarb, a dark anise sauce and potato-chive skins, all paired with a Mencia red from Galicia.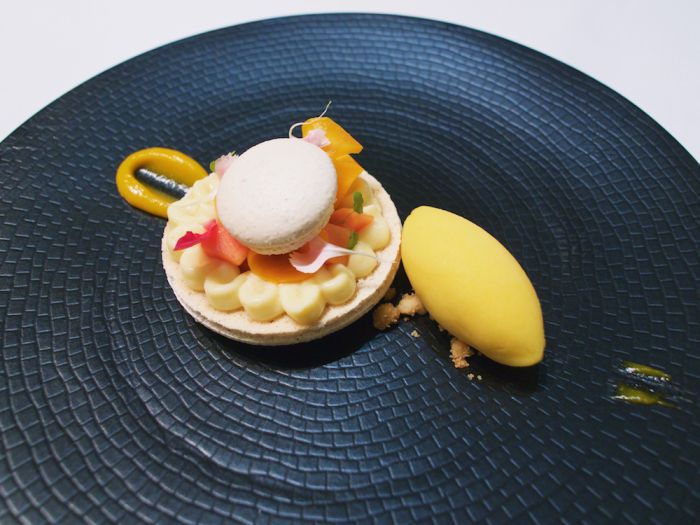 Photo Credit: Columbia Hillen
Reflecting the restaurant's boldness, Mallorcan soft cheese arrived in the company of loquat fruit (Japanese plum), a common tenant on the island, bay-leaf ice cream and crispy barley. Our colorful dessert of vanilla macaroon and lime-leaf cream reflected more than a hint of tropical indulgence with a mix of refreshing mango, papaya and passion fruit.
With a stylish bar and a central courtyard for fine weather al fresco dining, Marc Fosh serves lunch and dinner daily and has capacity for around 60 people.