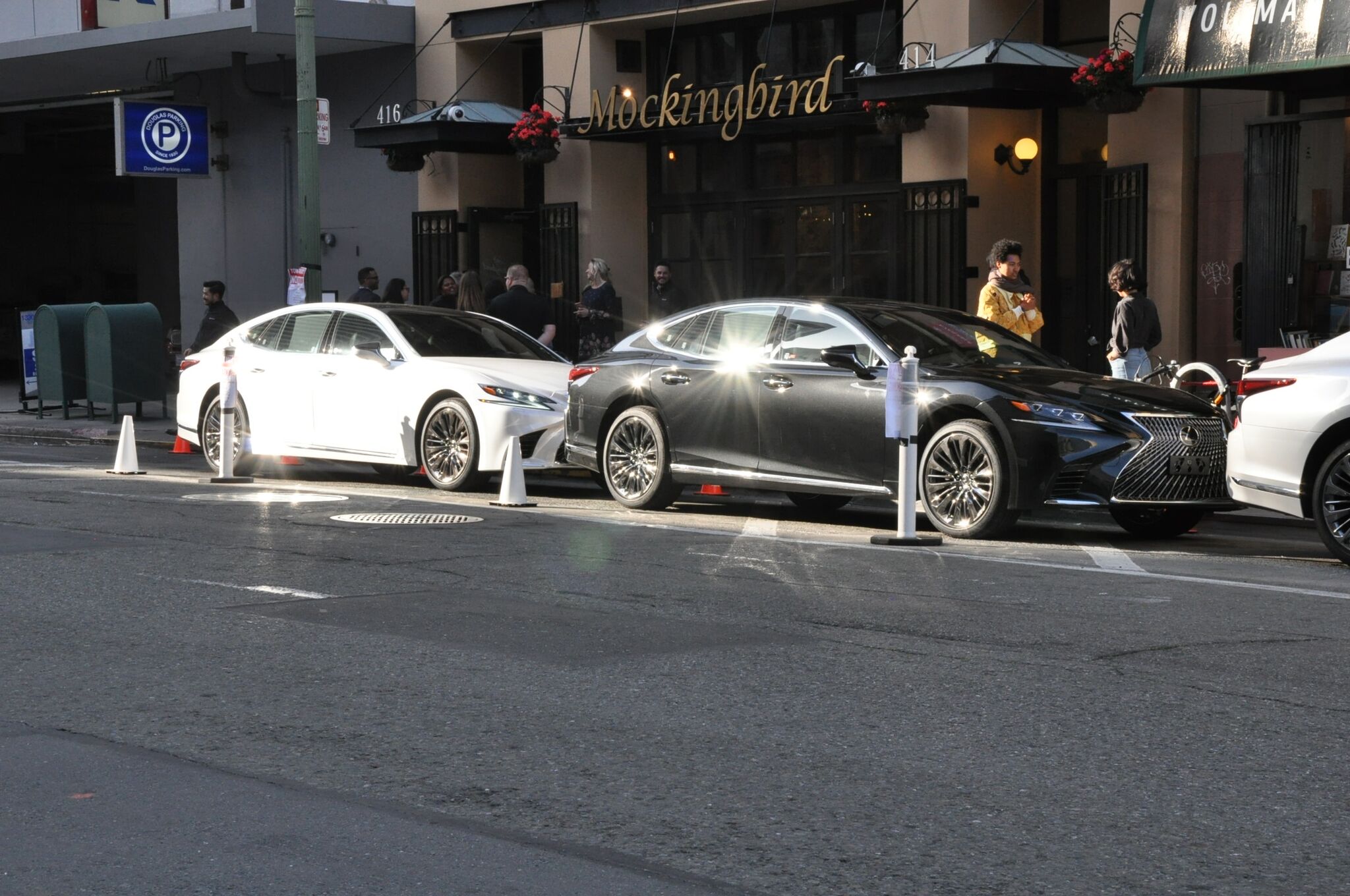 Epic cuisine and luxury cars collided last week when 125 lucky guests flocked to Oakland, CA to enjoy seasonal eats at Mockingbird restaurant and test drive the all-new 2018 Lexus LS. The aptly named Dine and Drive VIP event was thanks to a partnership between Mockingbird and Lexus, meant to inspire and reward the select fine dining and car enthusiast guests.
Upon arrival guests were primed and ready to not only visually feast on the stunning all-new 2018 Lexus LS, but to also experience it for themselves with a 15-minute test drive. Featuring the first-ever twin-turbocharged engine for the luxury vehicle maker, the sedan flaunts 416 horsepower, 442 lb-ft of torque and a zero-to-60 time of 4.6 seconds. With a powerful engine that leverages Formula One® technology – such as straight intake ports – it also has a longer stroke and laser-clad intake-valve seats. Additionally, the premium sedan offers three different wood trim designs that are so unique that they can take up to four months and 32 steps to finish. The LS also boasts Kiriko cut class, which was designed by hand to catch the light just right. Using a laser-scanning technique that creates data from 10,000 different cuts in order to capture the uniqueness of this very human touch, each piece of glass requires up to 147 points of polishing, which can take a whopping two hours to finish.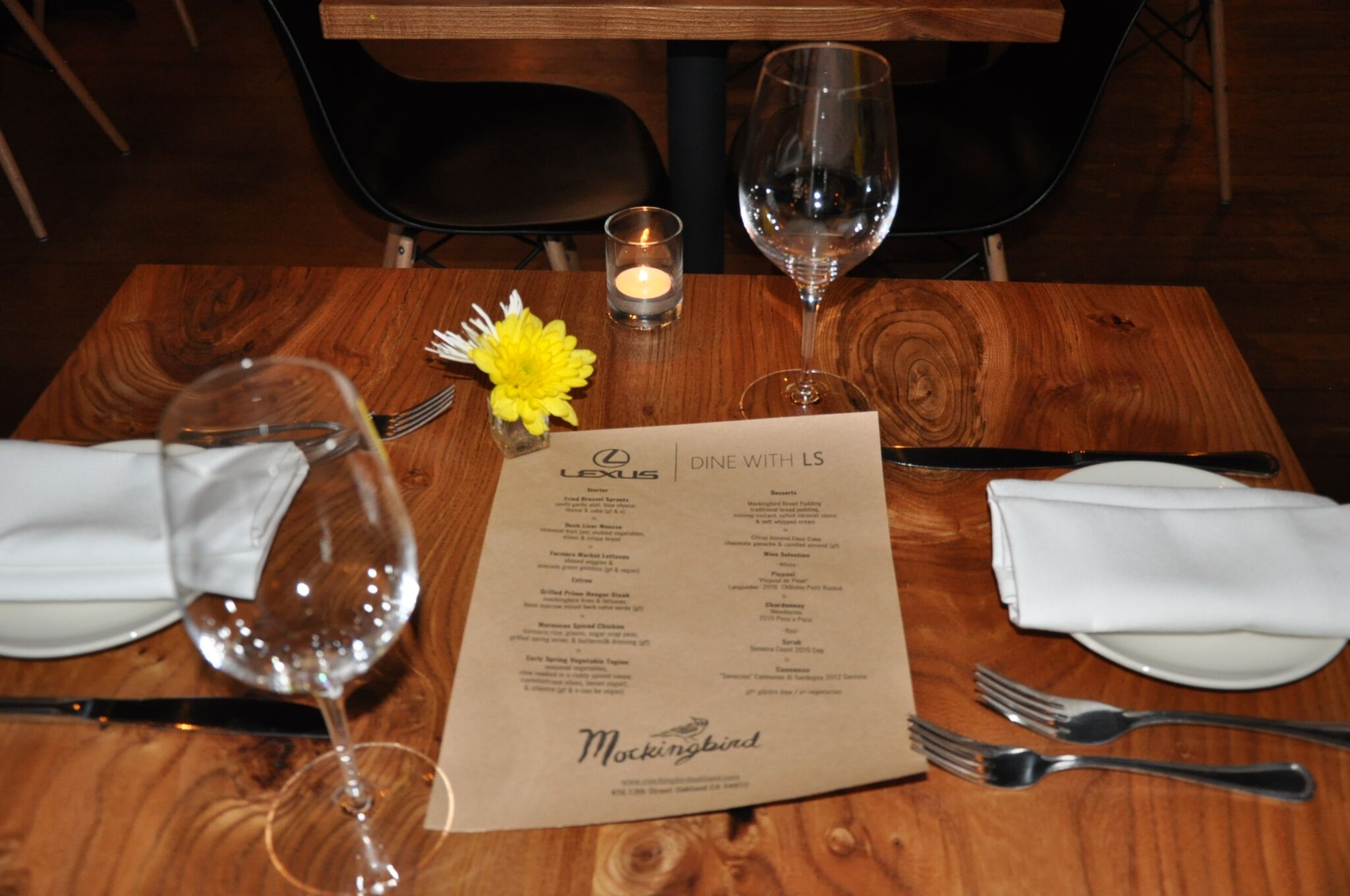 Following the test drive guests were presented with an exquisite complimentary dinner at the sophisticated Mockingbird restaurant, which is co-owned by chefs Melissa Axelrod and William Johnson – who were also present to mingle with the guests and answer questions anyone had regarding the special menu. With 25 years of experience between the two of them, the owners took inspiration from classic cafes and bistros when designing Mockingbird, which can be found in Uptown Oakland. The modern restaurant is known to locals as a neighborhood gathering place that offers sophisticated (yet approachable) seasonal cuisine, generous and friendly service, and a warm, convivial atmosphere. Careful to stay true to fundamental techniques, Axelrod and Johnson utilize modern inspiration when designing their menus.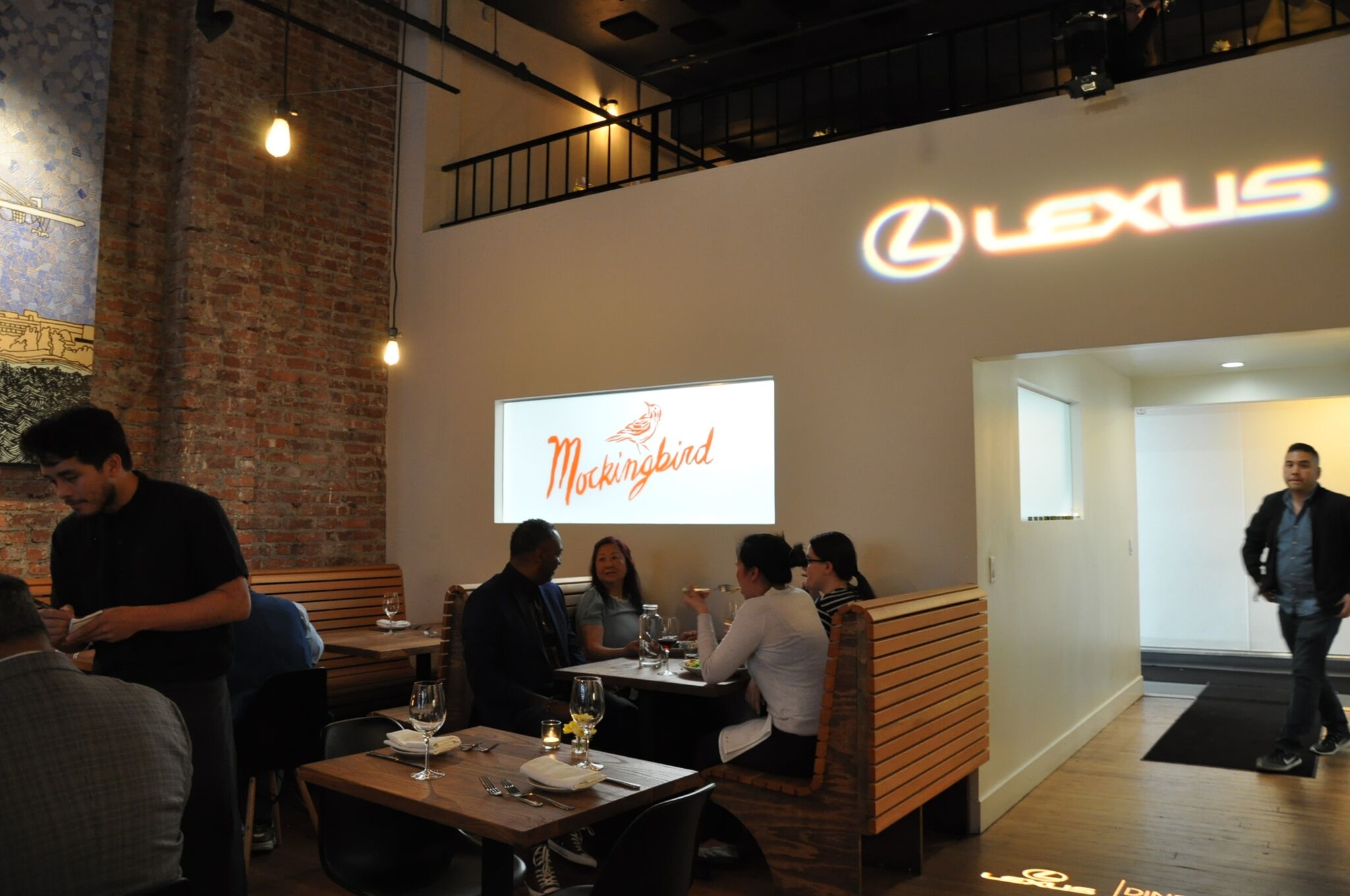 Making full use of Mockingbird's friendly atmosphere, Axelrod and Johnson created a special menu centered around wholesome seasonally driven dishes for the Dine and Drive's VIP guests. The starters included Fried Brussel Sprout, Duck Liver Mousse and Farmers Market Greens, while the delectable main course included Moroccan Spiced Chicken, Grilled Prime Hanger Steak and Early Spring Vegetable Tagine. Of course, no dinner is complete without an unforgettable dessert, which just so happened to be the restaurant's signature bread pudding and a Citrus Almont Flour Cake.
After a night like that, we wouldn't be surprised if Mockingbird and Lexus left with 125 new clients to add to their roster.
Make your reservation here for the next Lexus VIP Dine & Drive event on May 24th at the elegant Jardiniere in Hayes Valley with Chef Traci Des Jardins, whose Californian-French cuisine will be sure to make your taste buds asking for more.