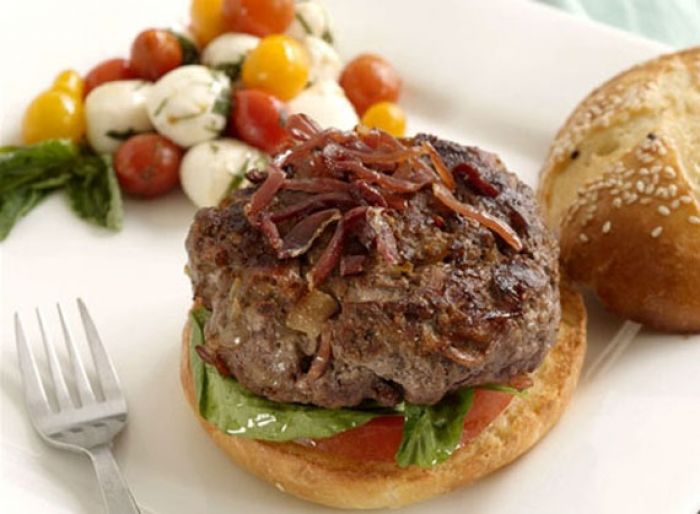 Food Reviews:
With summer well on its way, everyone is looking forward to barbecuing, family get-togethers and entertaining outdoors. Burgers and sausages are a staple in backyard entertaining and while everyone loves a classic, we can't think of a better way to mix it up than to surprise your guests by serving up the gourmet fare produced by
BuiltBurger
. Easy to order and shipped straight to your front door, BuiltBurgers and the company's newest endeavor BuiltSausages, are delicious. In fact, with flavor-packed options like Pinnacle Bleu and Thrill BBQ Pork, it's not really necessary to add a host of traditional toppings, so you can get away with less prep and clean-up.
The JustLuxe staff sampled an array of sausages and burgers from BuiltBurger and when the feedback came in, there wasn't a negative comment among them. In fact the positive reaction was so impressive, it can be summed up by one of our own who said, "Oh. My. Gosh. I think that was the best burger I have ever had." Liz was referring to the Heavenly Lamb burger at the time, but rest assured her opinion is shared across all of the flavors.
BuiltSausages are also mouthwatering and bursting with flavor, plus there is a myriad of ways you can cook with them. Of course, classic preparation and serving them hot off the grill is what first comes to mind, but these delicious eats will turn almost any dish into something special. Toss a handful of chopped BuiltSausage into scrambled eggs for a gourmet breakfast; even add them to your favorite paella, gumbo or pasta sauce. With so much stand-alone flavor you could even present them sliced on a platter as small bites or hors' doeuvres.

Sophisticated enough to pair with a glass of wine, yet unpretentious enough to serve-up at a casual BBQ: regardless of how you choose to serve them, BuiltBurgers and BuiltSausages are sure to have your guests talking – if they can stop eating them.

Our Top Picks:
Pinnacle Bacon Bleu (All natural beef, bacon, caramelized onions and blue cheese)
Thrill BBQ Pork (All natural pork, roasted red peppers, caramelized onions and chipotle)
Utopia Chicken (All natural chicken, mint, lime, panko and cilantro)
Heavenly Lamb (All natural lamb, feta cheese, kalamata olives, Mama Lils Sweet-Hot Peppers)
Pancetta Pork (All natural pork, roasted pancetta, sautéed chopped kale and red wine)

Side Dish: BuiltBurger offers a variety of gift packs as well as the Monthly BuiltClub: a perfect idea for Father's Day this year.

Throw another on the Barbie: Do you have an amazing gourmet burger recipe? Currently, BuiltBurger is taking suggestions for new Builts! If you are lucky enough to have your recipe chosen, BuiltBurger will ship you a complimentary 12-pack of your creation as well as give you all the credit. Now the world will know what a true BBQ connoisseur you really are.

To Order: Visit BuiltBurger.com or give them a call at 888.72.BUILT

Heavenly Lamb

Pancetta Pork

Pinnacle Bleu

Thrill BBQ Pork