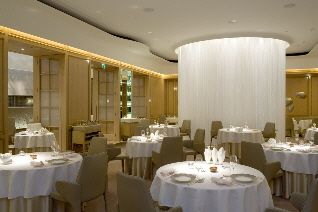 Food & Spirits:
Want to cement a new deal with a business contact or celebrate winning a new contract? Here are the places to do it discreetly across Europe.
Alain Ducasse at The Dorchester, London
Recently awarded three Michelin stars, Alain Ducasse at The Dorchester offers a selection of private dining options, including the intimate Salon Prive and the Salon Park Lane, which has glorious views over Hyde Park and can accommodate up to 28. To celebrate an important deal, the Table Lumiere is ideal for up to six guests. Cocooned by a luminescent oval curtain, it is surrounded by 4,500 shimmering fibre optics that drop dramatically from the ceiling. While diners are able to hear the buzz of the restaurant, they are partly screened from view, giving a sense of intimacy without any loss of atmosphere. Private dining menus start from £55 for lunch and £75 for dinner.
The Balcony at Galvin at Windows, London
Situated on the 28th floor of the London Hilton on Park Lane, "The Balcony" is surrounded by floor to ceiling windows offering peerless views across Hyde Park, Buckingham Palace and London beyond. Guests have the option to tailor their own menu based on the restaurant's modern French inspired a la carte dining option. The Balcony can seat up to eighteen guests on one private table and menus start at £58 per person.


Owners' Salon at Bob Bob Ricard, London
Bob Bob Ricard in Soho, designed by David Collins in the style of an Edwardian train, oozes Art Deco decadence and the curtained private dining carriage still feels a part of the main restaurant and its buzzy atmosphere. Bob Bob Ricard offers all day dining and is one of the few restaurants to open until 3am, so the business meeting can turn into an after hours party as well!

The Chef's Table at Marcus Wareing at the Berkeley, London
Marcus Wareing's cooking presents haute cuisine at its finest with dark and seductive decor and impeccable service. The Chef's table, in its own luxurious and intimate air-conditioned space at the heart of the restaurant, is ideal for a celebration with business colleagues.

Dining at The Chef's Table is an interactive experience for up to eight guests where a surprise bespoke menu is created based on your preferences. For up to 14 guests, the elegant Pomerol Room, adjoining the main restaurant, is available for lunch or dinner. Menus start from £65 for the Pomerol Room; For the Chef's Table, lunch is £105 and dinner £150 per person.

The Gherkin, London
40|30 at the top of the Gherkin offers five elegant private dining rooms that are ideal for a business meeting or special celebration, offering incredible views of London and beyond with a great location in the heart of the City. Accommodating up to 16 guests, menus start from £50 for lunch and £65 for dinner.



Taillevent, Paris
Taillevent is small, intimate and elegant and widely regarded as one of the best restaurants in Paris, with an extensive, award-winning wine list. The Guimet room can accommodate up to 10 guests and the larger Saturne room can accommodate up to 32 guests. Conveniently located off the Champs-Elys√©es, Taillevent is a great place to celebrate an important business deal. Menus from £120.

Vivaldi at The Schlosshotel, outside Berlin
For something a little different, the Vivaldi restaurant offers refined dining in the palatial and glamorous setting of the Schlosshotel just outside Berlin, which is surrounded by small lakes and wooded trails, which all adds to the enchanting atmosphere. The Oval room can accommodate up to 10 people, with menus from £55 per person.

La Tour d'Argent, Paris
Located on the fifth floor, the private rooms at La Tour d'Argent are luxuriously elegant and offer a unique view of Paris, Notre-Dame and the Seine. Accommodating between 15 and 50 guests, with menus starting at £135, La Tour d'Argent is the ideal location for private events, business lunches and dinners.

Senderens, Paris
Alain Senderens famously relinquished his 3 Michelin stars before closing his restaurant, Lucas Carton, to open Senderens in its place, with the aim of offering a more relaxed and informal restaurant, which was later awarded 2 Michelin stars itself.

La Salon La Madeleine is a beautiful and stylish private room from which to experience the finest French cuisine in a refined yet unstuffy atmosphere.




Laperouse, Paris
Set is a 17th century townhouse on the bank of the river Seine, Laperouse is famed for its rather debauched past catering to politicians and their mistresses. Today it offers refined French cuisine and is famed for its cosy and intimate private dining rooms, the largest of which can accommodate up to 55 with great views of the Seine.

Cracco, Milan
Cracco, which holds 2 Michelin stars, is undoubtedly one of Milan's best restaurants, featuring classic Italian dishes with a contemporary twist. In a contemporary dining room of cherry wood walls and cool earth tones on Milan's central square, Cracco boasts an extensive wine list of nearly 1,800 labels and is ideal for a celebratory lunch or dinner. The private room can accommodate up to 10.


Tantris, Munich
Tantris is widely considered to be the best restaurant in Munich, if not Germany in its entirety, due to its subtle, uncomplicated and original food. With its striking 1970s design with Oriental influences, the restaurant is refreshingly relaxed and unstuffy with seamless service.


ABaC, Barcelona
ABaC is a chic and intimate hotel on the outskirts of Barcelona, which has been developed around its restaurant, offering an avante garde culinary experience. Private rooms can accommodate up to 20 guests with menus from £125.

Sea Grill, Brussels
The Sea Grill is a spacious and elegant restaurant with an Art Deco design in the Radisson Blu Royal Hotel in Brussels, which is considered by many to be the best seafood restaurant in Belgium, if not Europe. The Sea Grill has two intimate private rooms, one can accommodate 8 people, while the other can accommodate up to 16.

By Emyr Thomas
JustLuxe Contributor
Bon Vivant