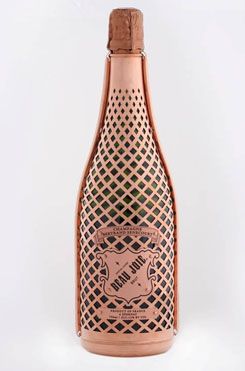 Food & Spirits:
BEAU JOIE (pron: bō-jwah) is getting ready to launch in the United States and break all boundaries of the luxury Champagne.
Dubbed the first true luxury Champagne, Beau is made from the highest quality wine — 60 percent Pinot Noir and 40 percent Chardonnay — naturally derived from the finest grapes of Epernay,
France
. Without the added sugars of other champagnes, Beau is a unique, zero-dosage Champagne with a "perfect level of sweetness and a clean taste from start to finish."
Encased in a 100 percent copper, hand-crafted suit of armor, the design is functional as well as striking. The copper casing keeps the Champagne colder longer, and also provides improved grip when opening and serving, while its rubber punt ensures enhanced stability when pouring. With the hospitality industry in mind, the copper is made from second-generation materials and allows for decorative enhancements such as flowers or plumes to complement the distinct design aesthetic of individual venues.

"BEAU is a statement-making luxury Champagne unlike anything previously available," said Jon Deitelbaum, President and CEO of Toast Spirits. "Infusing qualities like romance, chivalry and fun into a stagnant Champagne category, BEAU presents consumers an unparalleled luxury experience. The allure and sexiness of the product is unmistakable, and its price point delivers obtainable luxury. When you order a bottle of BEAU, expect heads to turn."

Beau is launching in Las Vegas with other markets soon to follow.