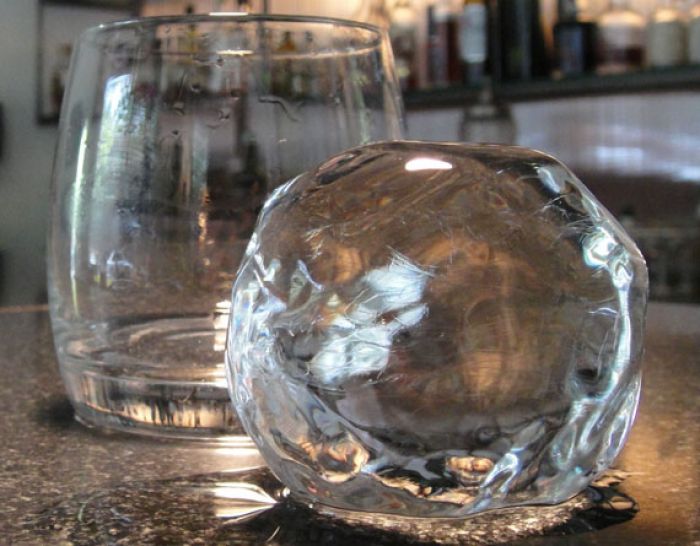 Food & Spirits:
What do the phrases peanut butter and jelly, Oreos and milk and corn flakes and bananas have to do with ice in Scotch? Well, nothing, actually, except that there's another iconic phrase ingrained in our language: Scotch on the rocks. Everyone get their soapbox out, and let's talk about ice in
Scotch
.
You'd think that the way the folks in Scotland who make, live, cherish, and nearly elevate the stuff to holiness would be the ultimate authority on "the right way" to drink it (neat, with a wee bit of water), but no. Everyone seems to have their own, sometimes very vocal, opinion about how to enjoy Scotch, most of which involve ice, or the absence thereof.

Let's assume all ice to be added to our Scotch is God-made perfect – freshly made, no chemicals, and no aromas of what's lurking in the freezer. Maybe it's an American thing to chill our drinks. After all, when was the last time you had a nice room temperature beer? Most professionals in the whisky industry usually approach the ice issue with the politically correct "no rules – anyway you enjoy it", regardless of their own view; and some are very vocal – NO ice. More opinions.

It's a fact that the more surface area of the ice in a drink, the faster it will melt and dilute the drink. So, with ice cubes, bigger is better because there is less surface area on one large cube than on a few smaller ones. And, there is even less surface area if the shape is a sphere! Enter retailers, and at least one distillery that promotes ice sphere molds. Some creative bartenders even hand-craft an ice sphere from a large cube while you watch! This very cool procedure (pun intended) takes about four minutes, so tip accordingly! Jim Romdall, Manager of upscale Vessel in Seattle, WA hand-crafts an ice sphere in this hi-def video:





Daiso, the international Japanese home products chain, sells a mold that makes three 2.25-inch diameter ice spheres at a time. Daiso has stores in the Pacific Northwest and the San Francisco Bay area.

At japantrendshop.com is what appears to be the gold standard of ice ball molds (search for "ice sphere mold). They even offer a mold that makes soccer ball spheres! So elegant is this mold, made by the Japanese company Taisin that Macallan has branded its own version, and offered it in a kit. Andy Gemmell hosts another demonstration on YouTube.

In Los Angeles, mixologist and bartender Michele Dozois' Neve Luxury Ice Company, offers pre-made ice in a variety of shapes and sizes, all made with super premium quality water. Neve's shapes include a rocks/old fashioned, a sphere, and even a collins/high ball "spear".

In San Diego's Gaslamp District, bartender Anthony Schmidt at the speakeasy called The Nobel Experiment advocates use of the large cubes, hand carved from blocks of very pure ice. He insists that perfect ice is essential in crafting the classic cocktails his bar is famous for. The speakeasy is actually a bar within a bar, and is accessed through a secret door (not really so secret – just push on a wall of faux beer kegs near the restrooms for entry) in the rear of The Nieghborhood Restaurant.

Back in Seattle, James MacWilliams, head barman at the renowned Canlis restaurant, is also a fan of the larger, slower-to-melt pieces of ice for Scotch, but goes for a more "organic, natural shape", and uses mini-iceberg-shaped chunks that have been frozen to the inside of the glass. This results in a phenomenon not usually seen – the ice does not move when one drinks.

So there you have it – a glimpse into a few opinions about ice in single malt. And now you, connoisseurs that you are, can make up your own minds about your personal way to enjoy your single malt Scotch.