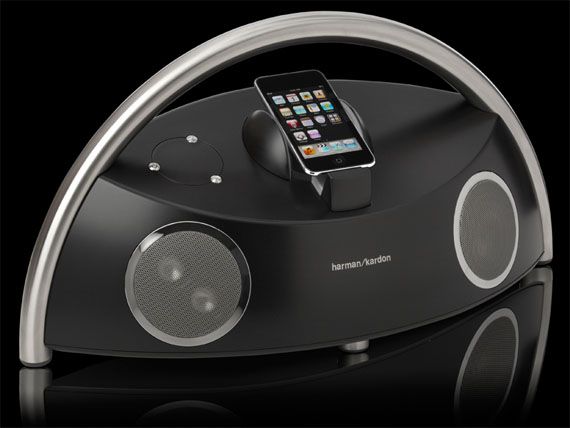 Photo Courtesy of Harman/Kardon
Before you groan and move on to the next article thinking "Oh great. Another
iPod/iPhone
dock with speakers," bear with me. The Harman/Kardon Go+Play Micro is actually something special. It's not without it's issues, to be sure, but it's worth your time to take a listen.
Pros:
Sounds great

Handle is ergonomic and easy to hold

Portable (mostly)

Cons:

Heavy

You must remove any cover from you device before docking

Requires eight "C" batteries to be "portable"

Short Version: Audio products are fairly difficult to review, but the Harman/Kardon Go+ Play Micro is easy. It has good range, the remote works, it has decent bass but it is lacking an FM tuner. The tuner thing is a minor quibble really, as with most iProducts you can simply stream audio most the time; or you don't really want a radio station to interfere with your carefully crafted playlist. And honestly for $300, you could do much worse.

The Go+ Play Micro is the natural evolution of the classic "boom box." It's fairly large, black with a brushed aluminum handle and able to take the show on the road. The fact that it's got a nice IR remote gives you pretty much the perfect dorm room sound system (though I use mine in the den).

Sound-quality wise, I'm very impressed. I recently had the opportunity to compare the Go+ Pro with a similar Bose product and I have to admit that the Harman/Kardon was quite a bit better. This is achieved via the two forward facing mid/high tone speakers and the bottom firing subwoofer. This subwoofer is why the Go+ Pro is so large and requires so many heavy batteries to go portable.

The Go+ Pro is not perfect though, there are a couple of things that will annoy. First up is the docking port; forget being able to use an aftermarket case with your iPhone or iPod, the dock won't allow for it. Harman/Kardon has set the tolerances so close that it won't fit with a case on. The other issue is weight. It's not a truly portable device. Plugged into the wall it weighs in at a fairly hefty 6.7 pounds and once you add in the eight "C" cells required to power it, it'll about take your arm off when you go to pick it up.

Conclusion: Despite the issues, the Harman/Kardon Go+ Play Micro is a great device. Retail is $300, but if you're a smart shopper you can probably find it significantly less and you won't be sorry about your purchase. Now if there was only a way to make my iPhone fit without taking the case off.

Visit www.harmankardon.com to learn more.