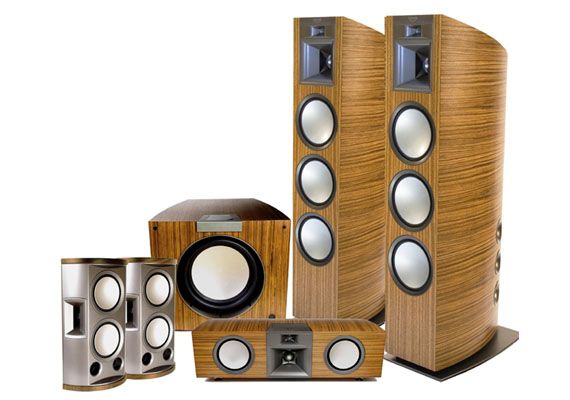 Photo Courtesy of Klipsch
Those who take their sound seriously should consider Klipsch's Palladium P-39F home theater system series speakers - a $31,500 sound system offering unsurpassed audio quality and precision. Indeed, the flawless acoustics and dynamics of the Palladium P-39F home theater system are unrivaled in the industry today.

Music and sound are all about the details, from the soft notes, the easy crescendo, the loud staccato and other nuances. This system has a transportive effect, allowing listeners to not just hear but feel the music, no matter the genre - from loud rock to a classical symphony.

While each component can be purchased separately, the entire Palladium P-39F home theater system comes complete with two floor-standing speakers, one center channel speaker, two surround speakers and one subwoofer.

The system comes in three exotic zebra-grain veneer finishes that blend perfectly with, and even elevate, any interior design. The sophisticated dark espresso finish is refined and classy, while the vibrant merlot is bold and sassy. A contemporary, clean natural finish is also available to match any décor. These are not speakers meant to be tucked away, but rather displayed proudly, front and center.

Bearing a sophisticated, modern design, incomparable craftsmanship and proprietary new horn technology, this Palladium P-39F home theater system is more than the ultimate expression of Klipsch sound. It is the triumph of passion over the impossible.

Visit www.klipsch.com to learn more.