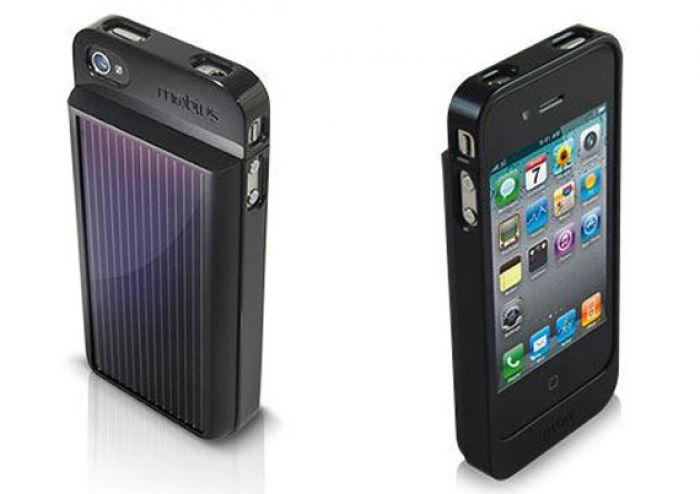 Photo Courtesy of Eton Corp
Each year the holidays usher in a novel assortment of gadgets sure to thrill the techno-phile in your life, whether at home or at work. Here are few of this season's favorite
gift ideas
.
GoFlex Slim Portable Drive
$89.99
Here's a perfect gift for the tech-savvy looking for a practical storage solution. The ultra–sleek GoFlex Slim portable drive — the world's thinnest at just 9mm — slides effortlessly into a pocket, purse or messenger bag. This go-gadget, which is roughly the width of a pencil, enables transport, access and enjoyment of your digital content from anywhere, making it a great complement to today's mobile lifestyle. The GoFlex Slim portable drive can store up to 320 GB of digital content and comes in a super sleek, black, anodized case that helps resist against damage, especially when traveling. 
NeatReceipts
$199.95
NeatReceipts is a portable scanner and digital filing system that helps you manage all of your paperwork from the computer. NeatReceipts includes NeatWorks scanner software that identifies and extracts the important information from receipts, business cards and documents and automatically organizes it for you. Developed by The Neat Company and weighing less than a pound, NeatReceipts provides business travelers with a simple way to organize and archive receipts, travel expenses, and business cards while on-the-go. You can also scan itineraries, airline and hotel confirmation, visas and international travel documents as a back-up, and travel information and maps to create an electronic travel guide.
Livescribe Echo Smartpen
$99
This year, wow the tech enthusiasts and kids on your holiday shopping list with a back-to-basics gift — one that adds a high-tech punch the last bastion of low-tech activities: putting pen to paper. The Livescribe Echo Smartpen digitizes what you are writing and drawing in your notebooks and syncs those pen strokes with audio — what's being said around you. You can then upload your notes and audio, save them to your computer or mobile device or send them to online destinations including Google Docs, Google Sites, Evernote and Facebook by using its micro-USB connector.
Mobius
$80
Mobius is a new eco-friendly rechargeable battery case with solar panel from Etón Corporation designed to keep your iPhone powered-up wherever you go. Differentiating itself from other solar phone-charging solutions on the market today, Mobius features a quick charge time and the ability to store charge until you need it. The high-efficiency, monocrystal solar panel re-charges the 1800 mAh lithium ion battery pack on the back of the case. Only one hour of solar charging provides an additional 25 minutes of talk time. Mobius can also be charged via the included Micro-USB cable and will sync with iTunes for maximum convenience. It features a standby switch to turn off direct power transfer to the iPhone 4, allowing the case to charge and store energy in its own battery so it only uses the power when you need it.
Iomega SuperHero iPhone Backup and Charger
$59.99
The Iomega SuperHero Backup and Charger for Apple iPhone 4S, 4, 3GS, 3G and 4th generation iPod touch can provide invaluable peace of mind should your device be lost or stolen. Also extremely efficient and convenient, this gadget lets you secure your contacts and photos while simultaneously recharging. The Iomega SuperHero sits easily on your counter or desktop and simply plugs into your wall outlet. Just insert your phone or touch and it will automatically backup your contacts and camera roll photos while re-juicing the i-device. A progress bar lets you know when your backup is complete. If your device is lost or stolen, you can easily restore your contacts and photos from the included 4GB capacity SD card for transfer onto your new one.
OnLive Game System
$99 plus subscription costs
OnLive delivers high-end video games from the cloud at blindingly fast speeds, so you can play the games you want, the second you want them. No discs. No downloads. No fancy hardware. Just you, the Internet and the games you love. Play on your PC or Mac through a simple browser download, on HDTVs via the OnLive Game System and even on mobile devices. OnLive games are available across all devices with no additional charge, so your games are available where you are, on whatever device is at hand. With a comprehensive library of well over 150 games, there's amazing options in every genre: shooter games, action/adventure, driving, sports and family. OnLive will also be launching its service into select TVs and Blu-ray players later this year and is delivering its AAA quality games to some of the hottest gadgets, including the iPad and Android-based tablets. Virtually every game on the OnLive Game Service has a free demo available.
Mint Plus Automatic Floor Cleaner
$199.99-$299.99
The Mint Plus is a robotic appliance that automatically dusts and wet mops hard surface floors using popular cleaning cloths, such as Swiffer brand dry and wet cloths and other similar products. Guided by NorthStar technology and featuring an innovative square design that breaks the mold of traditional round robots, the Mint Plus cleans all the way into corners while tracking where it has been and where it needs to go. Building on the award-winning first generation of the product, the Mint Plus offers an enhanced wet cleaning system, including a self-dispensing reservoir, faster recharge and a larger battery providing up to four hours of run time.