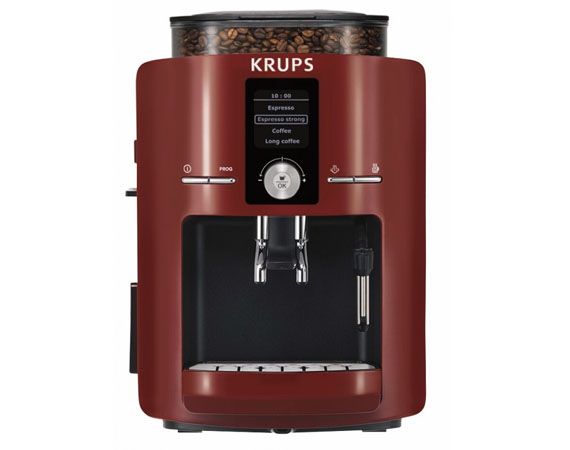 Photo Courtesy of KRUPS
Sometimes all you want in the morning is a fresh cup of good old coffee. But sometimes you might be feeling a little frisky and want something more exotic, like a cup of espresso. With the newly introduced KRUPS EA82 Espresseria Automatic, you don't have to have a bunch of coffee makers cluttering up your kitchen like a busy coffeehouse.


The Espresseria Automatic is a compact Full Automatic Espresso and Coffee Machine that does the work of five similar machines at the touch of a button. Still deciding between coffee and espresso? Why not try both? Available in black or red, the carefully crafted compact combo machine grinds beans, steams milks and dispenses hot water so that you can have the perfect cappuccino each time you hit the button. Unless you opt for tea, coffee or espresso — the Espresseria can do that too.

"The new KRUPS EA82 is a machine that we are extremely excited to share with our customers — both those on-the-go coffee drinkers looking for a simplified technique for brewing the best cup of coffee, as well as the seasoned connoisseur who is always experimenting with new flavors and methods," said Michele Lupton, Marketing Communications Director for KRUPS. "This machine allows owners to indulge in an experience that blends lifestyle, performance and the appreciation for a superior cup of coffee or shot of espresso."

With over 50 percent of Americans drinking multiple cups of coffee a day, having a machine that can keep up with the demand for better brewed coffee becomes essential. If you are like most Americans, then having a different kind of caffeine jolt in every cup can be a luxurious way to perk up your daily routine.


The streamlined machine not only brews the perfect cup every time — it also requires very little maintenance and cleanup thanks to automatic rinsing, cleaning and descaling programs — and the bottle of cleaner that comes with the machine. Other features of this spiffy gadget include an LED "one-touch" screen that allows you to tailor your cup of Joe to your own personal taste with a central "one touch button."

There are also a bunch of special technological enhancements ("thermoblock technology") to make sure that the temperature is precisely monitored for your steaming cup of tea, coffee, espresso or cappuccino. The technological advancements mean that each cup of coffee or espresso tastes as good as the last, with drip trays eliminating the excess water build up that can affect the temperature and brew of the perfect cup.

To make the Espresseria even tastier, KRUPS has also launched KRUPS Elite Service, a coffee program that provides coffee drinkers with special deals from tea and coffee brands from around the world. The Espresseria is available for $799 and can be found at Macy's, Bed, Bath and Beyond and Amazon.com. Visit KrupsElite.com to learn more.

See more Luxury Gadgets on JustLuxe.com.
KRUPS
KRUPS Coffeemaker EA82