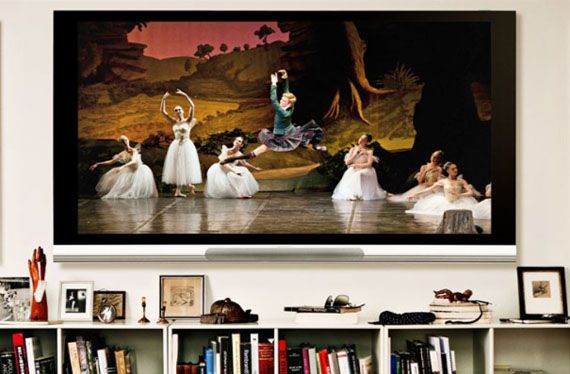 Photo Courtesy of Bang & Olufsen
Luxury electronics house Bang & Olufsen announced that its new ultra-flat, 3D 65-inch plasma television is available in all B&O showrooms in Canada, Mexico, and the U.S. The fresh BeoVision 12, presented at the 2012 Consumer Electronics Show in January, is now entering the marketplace worldwide.

The company claims that its BeoVision 12's new adaptation features, which include an automatic picture control and color management, establishes a new plateau in the delivery of a true-to-life viewing experience. "The arrival of the BeoVision 12 solidifies our commitment to the premium segment of wide-screen home cinema solutions," states Zean Nielsen, president of Bang & Olufsen America, Inc. "Furthermore, it strengthens our 3D large screen TV portfolio and complements our home integration and personalized installation services."

The design of the set is as elegant as its picture is lifelike. B&O tapped David Lewis Designers to design its new BeoVision 12 65-inch plasma TV. It has two aluminum profiles that make it appear to be very thin and light. The frame of the unit itself is only millimeters thick. At first glance, it appears to be a glass surface sans any visible joints.

The automatic-color management compensates for the effects of aging, which is reported to be common for the plasma technology. Additionally, it ensures the highest quality picture under any lighting conditions. There is a special light sensor built into the TV that automatically adjusts the picture to the level of brightness that is similar to how our eyes would react to changes.

The placement of the BeoVision 12-65 TV is directly on a wall only. However, with the wall bracket's design being integrated into the set's rear cabinet, the thickness it adds to the appearance of the set is minimal. It retails at $11,350, and it will be in B&O showrooms in March 2012. For more information, visit Bang-Olufsen.com.