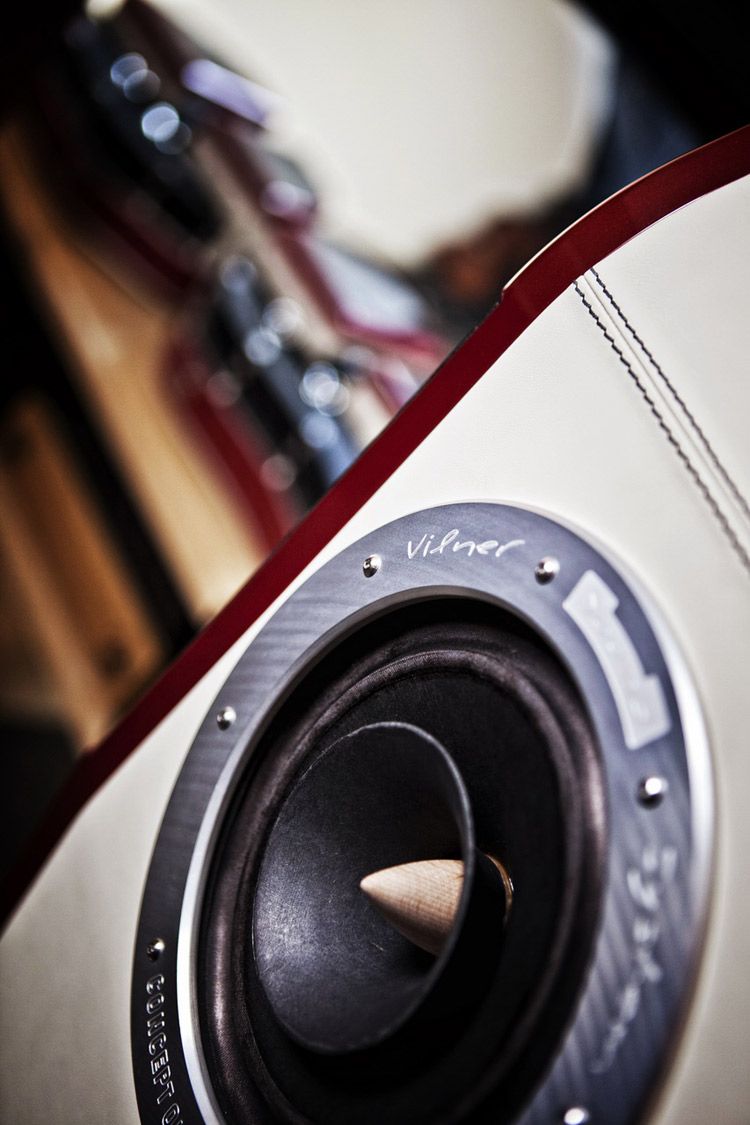 From the designers behind of Croatian super vehicle "Concept One," comes the Rimac Automobili Sound System by Vilner. This remarkable home
audio system
is a collaboration between Concept One carmaker Rimac, and Vilner, the team responsible for the interiors of the vehicle. An obvious spawn of the exceptional automobile, the sound system is outfitted with the same leather, aluminum, and carbon fiber used in the car.
The team of cutting-edge designers over at Vilner have fine tuned every detail for an experience of a lifetime. According to the designers: "Horns have certain specifics that differentiate them from the most commonly used sound devices. As a result of thorough calculations, through a perfect impedance and acoustic concordance with air and environment, horns give the sound waves their energy with lots of speed, refinement, detail and realism in the low frequencies – where the classical bass-reflex or closed volume give up.
Aero Horns are with optimum length (339cm), classical, back-loaded horns, calculated with precision of 0.01 mm. Their massive bodies are made of Ukrainian first-quality birch plywood. The contour is with a perfect aerodynamic shape and a minimum number of curves for faster, more accurate and controlled low frequencies. Special attention is paid to the workmanship and type of used materials, so that the construction could turn into a massive horn, as free of resonance as possible. "
A class A push-pull vacuum tube amplifier is offered in combination with the horn loudspeakers. While the cosmetics mimic the horn loudspeakers design, it is actually constructed with a three-stage scheme and a monoblock. Only silver wires were used within the circuitry.
Vilner Studio has stated, "only 10 Hi-End audio systems "Concept One" will be made, so that the owners of Rimac Concept One could carry over the unique experience from the vehicles into their homes for the price of EUR 50,000."
Vilner's designs continue to cater to their luxury consumers matching their appeal for unique, perfectly crafted and one-of-a-kind products. Find out more at
Rimac