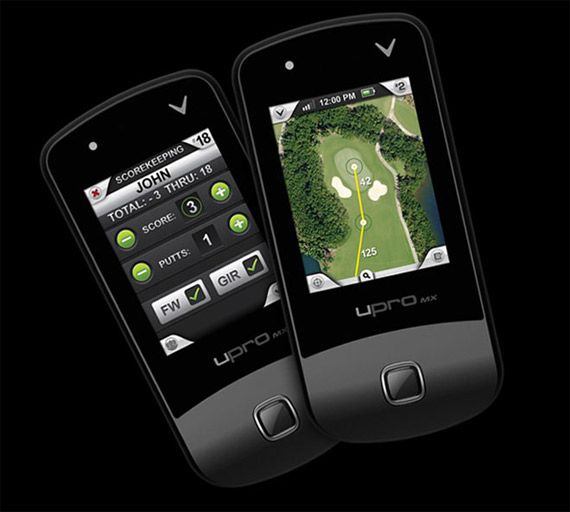 Photo Courtesy of Callaway
Upping your game on the biggest and
best golf courses
has never been easier with the Callaway uPro MX+. The GPS device is used exclusively on the course to help you golf at the highest level. It assists players using different modes that give distances to the green, warn of hazards, keep track of progress along the way, and more. With 25,000 preloaded courses, it's quick and easy to head to the greens prepared to play with confidence.
Before you tee off, go into ProMode and get actual aerial shots of the entire hole complete with accurate yardage to any given hazards or chosen key points. You can zoom in or out to view the hole in more detail using the touchscreen to see real photography of the area, not just renderings.
ProMode comes with two features: Aerial Video Flyover and AnyPoint Technology. Aerial Video Flyover lets the golfer preview the layout of each hole from a bird?s eye view. AnyPoint Technology displays yardage to your selected target or yardage to the green, allowing you to plan your next shot with precision.
Put your uPro MX+ into GoMode and view extremely detailed renderings of the green and surroundings hazards with exact length around the green to the hole. Use your AnyPoint Technology here to measure any distance from your chosen location around the green.
BasicMode shows the golf enthusiast the precise yardage to the green or possible hazards on each hole you play. Displayed in easy to read font, distances from the front, back, and middle of the green are given and listed in order of closest hazard to furthest away.
The uPro MX+ also contains a Digital Scorecard which helps track of your overall score on the course played and stats on shots taken on the fairways and greens. Synching up with the Callaway Uxplore site gives an even more specific look at your performance to analyze after uploading your info following each round.
Additionally, when you download the course you wish to play on, you can preview the layout before you head out and even receive online support when needed. The Callaway uPro MX+ has no annual fees or subscription charges and will be available on May 30, 2012 starting at $249.99. For more information, visit
CallawayGolf.com
.