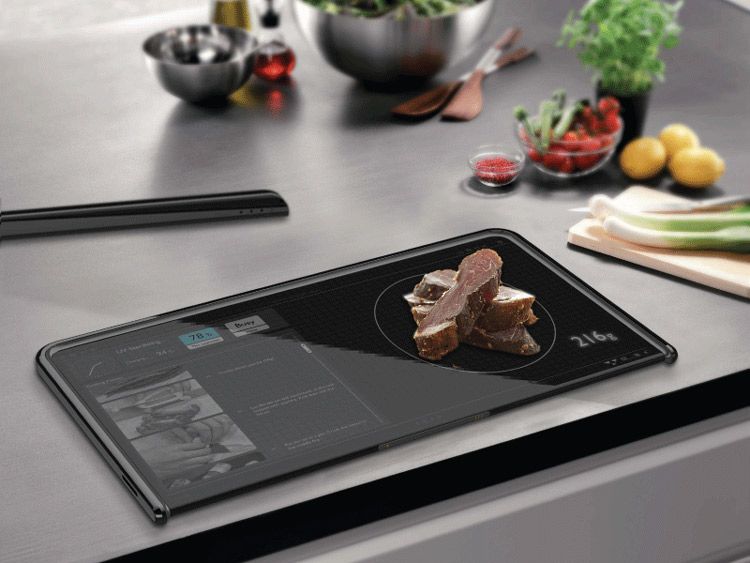 Photo Courtesy of Jaewan Works
While the cuisine of the Jetson's may still be far into the future, technology and tablets are bringing forward-thinking home cooks just a little closer.
Cassandra Daily
reports that there are more than a few ways to use your tablet to make cooking a little easier (and technologically advanced). Check out some of these
electronic gadgets for home
that will take your cooking to the next level.
Designer Jaewan Jong is reportedly creating a tablet just for the kitchen called
Almighty Board
. This super duper multifunctional piece of equipment will do everything from serve as a cutting board to keep things clean by detecting the presence of bacteria in undercooked foods. It also provides step by step instructions for home cooks that might need a little guidance around the kitchen.
If you're one of those people that starts something and then gets distracted, only to find that your pot has boiled over and your stew has burned, then you may want to check out Gorenje's
IQcook
. It's a self-cooking stovetop that allows you to boil, fry, steam and grill from anywhere, without burning or boiling over. Just choose from one the five preset options (IQboil, IQpro, IQsteam, IQfry, and IQgrill) and the system will control the timing and temperature for you.
For the full technological kitchen experience, Italian kitchen manufacturer unleashed their
Prisma Smart Kitchen
, by Toncelli which uses the Samsung Galaxy Tab Technology. The futuristic-looking kitchen design has a tablet embedded right into the kitchen counter, giving cooks the ability to connect to the web and search for recipes and view demos while cooking. It also controls basic kitchen functions like fridge settings and stove temperature. It's not quite instant, but it is definitely closer to how the Jetson's serve up a meal.