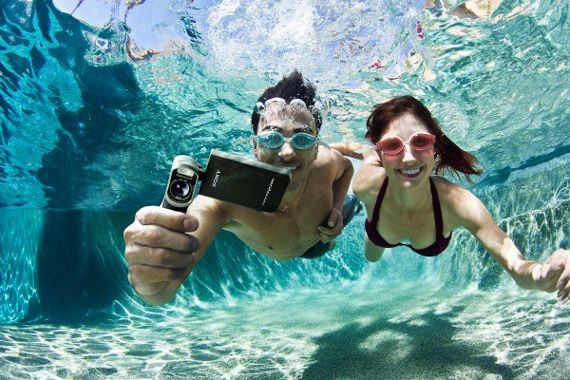 Photo Courtesy of Sony
No matter where you are, you want to make sure your memories are captured for years to come. The Sony Waterproof Full HD Camcorder is assuring that every step of your journey is stored and ready to share. This
high tech gadget
is waterproof to 16 feet, shock proof from falls up to five feet and practically dust proof. You can bring it almost anywhere, whether it's the top of the mountain or below the ocean, and be worry-free.
This clever device weighs less than eight ounces, has a three inch LCD touchscreen and captures full HD video as well as 20.4MP photos. The 17 times extended zoom helps you get closer to the action without physically being there. If you need to film a lengthy event, have no fear, you can record up to four hours of HD video with the built-in 16GB flash memory.
If you're shooting at night, you can be sure the Sony HDR-GW77V Handycam will still be able to capture clear footage with its back-illuminated Exmor® R CMOS sensor. It improves image clarity and reduces grain by maximizing the light in each pixel even when there is a very low light source. To reduce any blur, the 3-Way Shake Canceling system adds stability to the shot in active situations like surfing, running, or biking.
Another fun feature is the geo-tagging ability with the built-in GPS —perfect for those who love to travel and reminisce about where they've been. You can display a map of your current location and tag it with the NAVTEQ® maps. With the included PlayMemories Home™ software you can view a map of your tagged photos and videos on your PC.
There's endless possibilities to capture the biggest and most exciting times in your life no matter where you are. The Sony Waterproof HD Handycam retails for $699.99 and is available on or about June 30, 2012, but you can pre-order yours now. Visit
Sony.com
for more information.