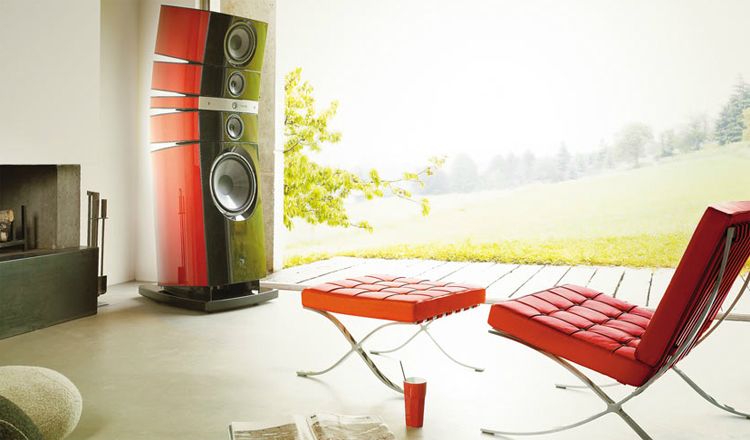 Photo Courtesy of Focal
Luxury electronics
brand Focal knows that music is pretty integral to society and getting the right speaker system can make all the difference, which is why they're offering their Grande Utopia EM as the answer to high-end speakers. With a whole line of speakers, the French company thinks of Grande as the ultimate shining example of what design and creativity can accomplish, hailing it as one of the world's best speaker systems. At 573 pounds and nearly six feet tall, this set-up certainly won't be for the casual electronics fan, but with its electro-magnet woofer, four-way sound, and sleek design, we definitely think music aficionados will jump at the sight of it.
Focal is known for the pricey materials they use in their products, such as Beryllium in their tweeters, which was chosen for its ability to stay rigid and dissipate heat. The loudspeaker makes good use of the company's 16-inch electro-magnetic woofer design, its 11-inch mid-bass woofer, two 6 1/2-inch woofers and of course, their 1-inch IAL2 Beryllium inverted-dome tweeter. They're still employing their W cone design, which was first crafted in 1995 and combines glass coats of various densities and layers to avoid any sound warping.
The Grande Utopia EM has a frequency response of 18Hz to 40kHz, meaning that it can easily be used in a large theater without the need of a subwoofer. The luxury toy also has an Optimum Phase Crossover (OPC) that enables owners to "adapt the loudspeaker response curve to the room acoustics, to personalize the tonal balance according to reverberation time, linked to the room size, the nature of clear or mat surfaces, furniture or only the sound preferences of each individual." The controls are within a hidden back panel, allowing you to change the settings (bass, mid-bass, midrange, and tweeter) while listening to music so you can instantly compare the different sounds.
One of the neatest features of the speaker is the shape. Focal likens it to that of a spine and we agree (although the curve also makes it look as if it was picked last for dodge ball). The company apparently designed it that way to orientate the device towards a specific listening point. It can also be manipulated by hand through using an attachable handle that allows one to spread the four upper enclosures of the speaker system out farther, helping to gain the perfect listening bubble.
The Focal Grande Utopia EM's retail for around $180,000.
For more information visit
Focal.com