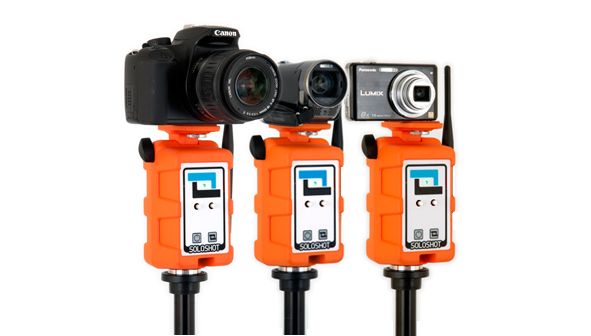 Photo Courtesy of SOLOSHOT
If you've ever been surfing or snowboarding (or skateboarding, windsurfing, motorcycle racing...you get the point) you've probably wondered what you look like while doing it and maybe even wished there was an electronic gadget that could capture your movements without having to rely on a friend's shaky camera style. SOLOSHOT is planning on being there for you in those moments. Hook your camera up to the handy little electronic device and it connects to an armband, tracking your movements from up to 2,000 feet and allowing you to relive choice crashes or soaring achievements with your friends and family.


SOLOSHOT is the brainchild of Chris Boyle and Scott Taylor, two guys who couldn't find a way to track their surfing without needing someone to hold the camera for them. After deciding to make it possible themselves, they rounded up a team of 23 engineers, scientists, artists, and designers to help them make their idea a reality. lltitle=SOLOSHOT Automatic Camera Operator### llcontent=SOLOSHOT is a great little device that allows you to capture every exciting move you make while you enjoy your favorite outdoor sports. Since you don't need anyone to operate it, all you do is set up your tripod and let SOLOSHOT do the rest by directing your camera to follow your every move.