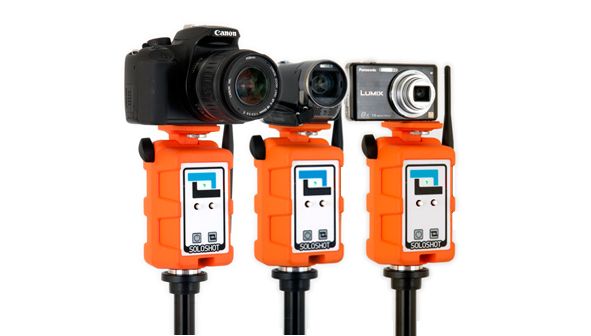 Photo Courtesy of SOLOSHOT
If you've ever been surfing or snowboarding (or skateboarding, windsurfing, motorcycle racing...you get the point) you've probably wondered what you look like while doing it and maybe even wished there was an
electronic gadget
that could capture your movements without having to rely on a friend's shaky camera style. SOLOSHOT is planning on being there for you in those moments. Hook your camera up to the handy little electronic device and it connects to an armband, tracking your movements from up to 2,000 feet and allowing you to relive choice crashes or soaring achievements with your friends and family.
SOLOSHOT is the brainchild of Chris Boyle and Scott Taylor, two guys who couldn't find a way to track their surfing without needing someone to hold the camera for them. After deciding to make it possible themselves, they rounded up a team of 23 engineers, scientists, artists, and designers to help them make their idea a reality. lltitle=SOLOSHOT Automatic Camera Operator### llcontent=SOLOSHOT is a great little device that allows you to capture every exciting move you make while you enjoy your favorite outdoor sports. Since you don't need anyone to operate it, all you do is set up your tripod and let SOLOSHOT do the rest by directing your camera to follow your every move.
SOLOSHOT seems pretty foolproof; all you really need is a tripod (which comes with the device) and any camera able to attach to a tripod. Once you fasten your camera onto the orange box and set it up within range of your activities, the SOLOSHOT will rotate to keep your camera pointed at the armband you wear (which is thankfully waterproof). Due to the unique pairing of the device to the armband, you won't have to worry about getting lost in a group, as the device will always be able to stay with you. You can also be around someone else's SOLOSHOT without the two getting confused, since each is uniquely connected with the band that comes with it.
We love the idea of being able to capture whatever moments you want to, without having to deal with a camera operator. However, there's always the possibility, since no one has to be with the camera to operate it, that someone could steal the luxury gadget while you're enjoying yourself. The company has thought about that and has tried their best to prevent it. There's a bright green LED light that will remain within your sight as long as the camera is pointed at you, so if you suddenly don't see it anymore, the device has been moved. The company also included a security feature that lets you lock your camera to the base, as well as lock the tripod to a stationary object (similar to how you would lock your bicycle). The best method of keeping your SOLOSHOT safe though is using common sense and only setting it up in places where it's in less danger, like near a kind sunbather who is willing to keep an eye on it.
The battery will last around five hours, according to SOLOSHOT, and the maximum pan speed is over 40 degrees per second. While the range is up to 2,000 feet, the company suggests you keep it within 100 to 1,500 feet for the best footage. It's also not waterproof, so position it under an umbrella or awning if you want to film something in the rain.
Costing $479, each SOLOSHOT is made by hand and usually takes around 30 days to complete and ship. The company has made plans to streamline, which they will soon take to Kick Starter for funding, which will enable them to get you your new electronic toy the day after you order it.
For more information visit
SOLOSHOT.com
.