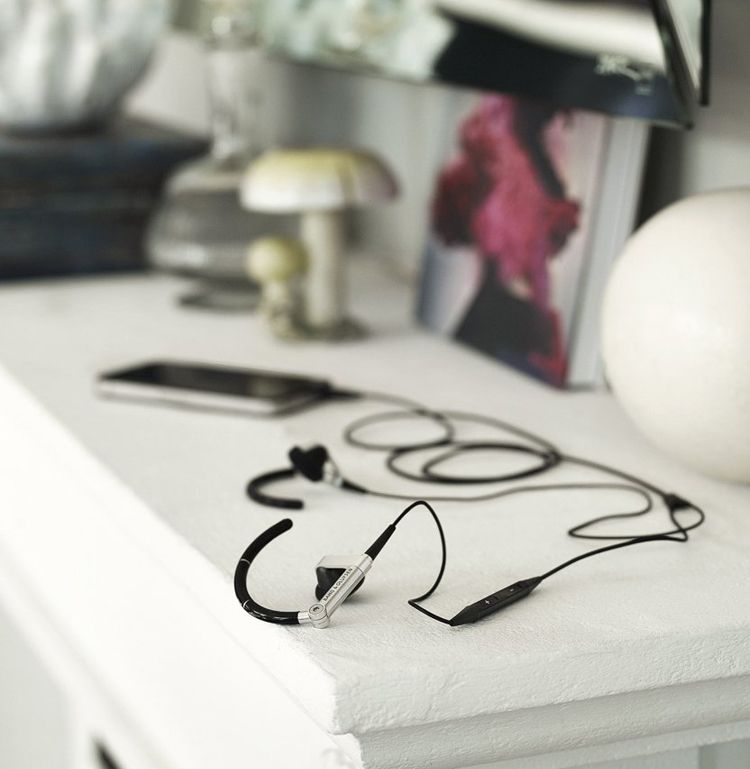 Photo Courtesy of Bang & Olufsen
Heading back to school is a pretty big deal, especially if you live in University dorms, and there's always
luxury electronic
essentials every college student should definitely have, from a refrigerator to a television. Even if you already have everything you need, a new school year is the perfect excuse to freshen up that speaker system or replace some wall art. To help you out, we've compiled a list of some great electronics that you shouldn't pass up.
Bang & Olufsen Earphones
A good set of earphones are a nice thing to have with you between classes, or even during class if it's boring enough, and Bang & Olufsen's small earbuds are a great answer to your music needs. Designed by Anders Hermansen, who has been working closely with B&O since the 1980s, these earbuds apparently deliver a better sound than most. The company assures that the earbuds were specifically designed to hug the curves of your ear, giving a cleaner sound than conventional sets. Made from anodised aluminum and hard rubber, the headset promises flexibility and durability. Costing $165, the B&O earphones come in black, white, green, orange, and yellow, enabling you to color coordinate effortlessly with any outfit.
The Braven 650
These sleek, sophisticated and powerful Bluetooth speakers with dynamic APTX high-fidelity system seem like they would be great additions to a dorm room, office, home parties, BBQ's, movie nights, etc. The Braven 650 unit delivers 20 hours of battery time and comes with a soft carry bag and USB charging cable. Priced at an attractive $189.99, this device promises it's built for long term performance, making it great for many years of studying. The sleek exterior is made of aircraft grade aluminum which nicely compliments the smaller size. This multi-use product can be used anytime you want music, and is also able to receive hands-free calls through the built-in speakerphone.
Photo Courtesy of Braven
Livescribe.com
If there's one thing going back to school means, it's studying, which is pretty difficult to do if you lose your class notes. Using a Livescribe smartpen eliminates that worry because as you write, the pen actually records what you're writing and stores it away on your computer. The handy device also records any speaking so you can have the lecture on hand as well if you forgot to note something. With various pen options, the pricing ranges from $119.95 for a 2GB Echo Smartpen to $149.95 for the 8GB Echo Smartpen.
Photo Courtesy of Livescribe
Samsung LED 6580 Series Smart TV
A good television is a pretty important addition to college lifestyle, giving students the opportunity to unwind with their favorite video games or shows. Samsung's LED 6580 Series Smart TV is 54.6 inches and 3D capable, with a 1080p display that promises to deliver an image so clear you'll think it's reality. Not only will this TV keep you on track with "Game of Thrones," it will also keep you connected with the world via built-in internet and TV apps, such as Facebook and Skype. We also love the Eco Sensor feature, which helps save energy by detecting the light levels in the room and calibrating the screen's brightness to offer the best image. Meaning, if it's pretty bright in your room the TV will get brighter so you can see it, and if it's dark in your room, the screen will dim automatically. At $1,819.99, it may be steep for some students but perfect for those that consider a quality television a top priority.
Photo Courtesy of Samsung
Smeg 50's Retro Refrigerator
Refrigerators have been a popular staple in dorms for years but the most commonly used compact versions are too small to really hold everything you need. Smeg makes retro refrigerators (costing around $1,999) that are not only really cool in appearance, but are almost five feet in height, barely two feet in width, and a little over 2 feet in depth, giving you 9.22 cubic feet of storage capacity. It's actually pretty impressive how much Smeg has fit in these functional little appliances, because there's even an ice box, as well as egg bins, dairy box, storage bins, and adjustable glass shelves. With ten colors, ranging from a bright lime green to a sophisticated cream, these babies will certainly make a statement in your room. Nearly every color has the option of the door's hinges being on the right or left, making it super easy to into the tightest of spaces. 
Photo Courtesy of Smeg
Fagor's Portable Double Induction
Unless dorm rules have changed recently, we're pretty sure having stoves in your room is still frowned upon, with the hot objects being confiscated. Instead of dealing with trying to hide your hazardous cookware, try out an induction warmer, which cooks without actually generating heat. It works due to a powerful electromagnet within the unit which responds to magnetic material, like a cast-iron pan, to induce heat into the metal and cook the food within. Fagor's Double Induction model ($299) is portable and compact, featuring a child safety lock and the ability to be used with standard electrical outlets. There's also a built-in digital timer that gives a variety of warming and cooking options. Without any open flames or heating elements, an induction cooker is incredibly safe and eco-friendly, making it perfect for late-night grilled cheese sandwiches.
Photo Courtesy of Fagor