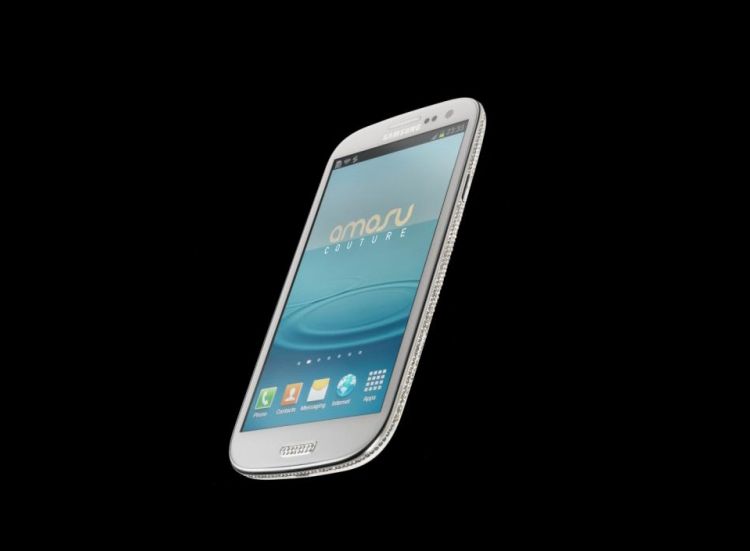 Photo Courtesy of Amosu Couture
Ladies, hold on to your hair extensions, because UK-based and international brand for adorning your most treasured possessions, Amosu Couture, has just created the world's first Samsung Galaxy S3 Swarovski Edition. Specializing in the customization of prestigious and
luxury gadgets
, Amosu Couture is known for being able to transform the ordinary into extraordinary, and the Samsung Galaxy S3 is no exception.
Decorated in 500 Swarovski crystals along the curved edges of this sleek phone and with no less than 16 clear crystals on the home key, this glistening phone certainly makes a statement. Those interested in the S3 Swarovski model of the handheld device can get it in the standard as well as the usual white and blue colors.
The Samsung Galaxy S3 Swarovski Edition is priced at ?2,099 (approximately $3,377 USD). For even more bespoke options on this already extravagant purchase, Amosu gives buyers the option of adding your name or company logo printed on the back of the handset. If you already own a Galaxy S3 but simply can't live without this extra dazzle to your device, Amosu will gladly embed your current phone with crystals for ?1,599 (close to $2,573 USD).
Aside from the bedazzle, this Samsung handset has the exact same specs as the original Samsung Galaxy S3, with the quad-core Exynos processor inside with 1 GB RAM, a 4.8-inch Super AMOLED HD display, an 8-megapixel rear camera and Android 4.0 Ice Cream Sandwich augmented by the Samsung TouchWiz 4.0 interface. This also includes S voice, Samsung's answer to Apple's Siri, and Smart Stay which keeps the phone unlocked if it detects you are viewing the screen.
Along with your purchase of this luxury item, you will also receive a complimentary Amosu Couture calf leather case (originally retailing at ?200, approximately $322 USD) in any color of your choice.