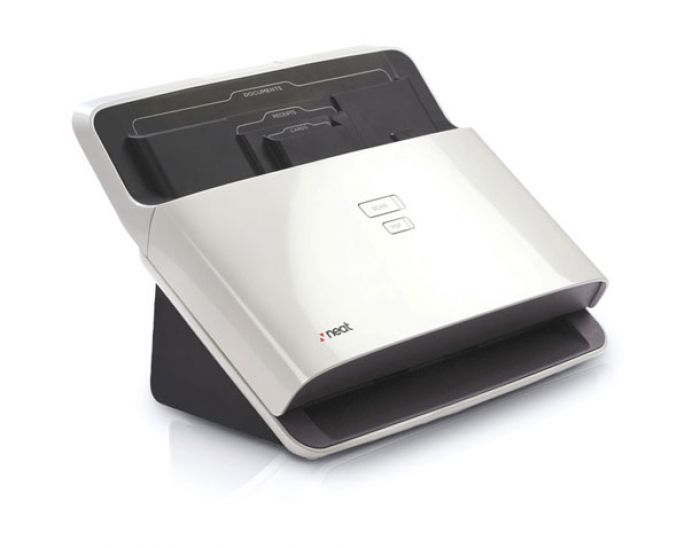 Photo Courtesy of The Neat Company
Some people have a genuine need for those endless boxes of receipts ó mostly business and financial. Others (like me) keep them around just in case...I stash them in old purses and shoeboxes, never knowing when I might need to calculate how much I spent at Chik-Fil-A in 2008. A few years ago, I tried the NeatDesk scanner and was able to throw out an enormous amount of paper clutter. This machine scans documents, receipts, and business cards, and then, using Neat Digital Filing System software, reads and sorts the information into a digital file. From then on, all the information is available in a searchable, digital file for easy reference. With two scanners and multiple services, The Neat Company specializes in digitizing and organizing information stored on paper.
The NeatDesk scanner is designed simply, with an easy layout (only two buttons), and stylish touches. Finished in matte black and white with rounded edges, it is compact and does not take up much desk space. NeatDesk uses Intelligent Text Recognition technology to extract and sort information and the Neat Digital Filing System Software organizes and stores it. Somehow it is able to identify all the textual information printed on a receipt. NeatDesk scans double-sided, color and B&W, as well as multi-page documents ranging from business card to legal-letter size. One wonderful thing about the
gadget
is that it can scan multiple documents at a time. The company claims it is capable of scanning 50 pages at once, 24 pages a minute. However, I noticed, and other reviewers also say, that sometimes the scanner grabs more than one receipt. I found that if I reduced the stack, this was less likely to happen, after all, some receipts are pretty thin and crumpled. Another issue is that the scanner does not have an adjustable paper guide, so occasionally the receipts scan crookedly.
Files can be downloaded at any time after scanning using a PC or MAC. Reviewers mention the MAC software is slightly better than the PC version. I was surprised at how smart the software was because it extracted key information like vendor, type of business, time, amount, and sales tax. Info is categorized and labeled so that it can be grouped multiple ways. Neat software lets you sort through documents easily and by keyword. If you need to know how much you were taxed during a transaction months ago, it is just a click away. Neat also allows you to export information to other software like ExCel, Quicken, and Turbo Tax in order to create expense or tax reports. Business contacts can be synced and images can be scanned with Image Capture support. On PC, you can drag and drop files, and Neat for Mac creates IRS accepted copies of receipts.
For those on the move, the smaller, portable NeatReceipts can be connected and powered by a USB port and scans 3-4 receipts per minute. Its advantage is size. It fits in bags, carry-ons, and briefcases. Both scanners come with a 30-day free trial of NeatCloud + NeatMobile letting you back up, sync, and share from anywhere. NeatCloud keeps your digital filing system synced across multiple mobile devices and browsers. With NeatMobile, you can snap a photo of a receipt or document and info will be extracted and sent to the Cloud as if you had scanned it from home. Additional options include NeatCare, a phone support and accidental damage protection service. And with NeatVerify, info can be scanned with a mobile device and sent to a team of Neat specialists who will verify information in a few minutes. This might work best for faded receipts and older documents. If you want the ultimate service, send in a box of documents with NeatScan, and let them do everything for you.
NeatReciepts has been organizing paper since 2002. Working to
free the information thatís trapped on paper
, they have been steadily developing their services, adding MAC software and business card and document scanning. In the last years, they have completely redone their product line. In October 2008, the company became known as the Neat Company. For at-home or a small office, this scanner is good for managing digital conversions. NeatDesk costs $399.95, but eliminating messy receipt collections is priceless.