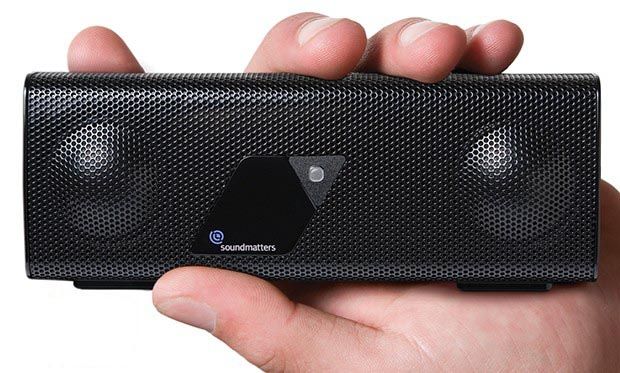 Photo Courtesy of Soundmatters
With the International Consumer Electronics Show (CES) underway - it lasts from January 8 to January 11 - there are so many new
gadgets
being revealed and tested that it's tough to keep up. From the amazing 4K TV's to the flexible touch displays, this year's CES is proving to be a good one. One electronic device that never goes out of style are speakers, and Soundmatters has just debuted their latest offerings: the portable Bluetooth speakers, the foxLv2 aptX and the Dash 7.
The new foxL fits in your hand and builds off the previous foxL model, adding aptX (which gives CD-quality sound to a wireless Bluetooth connection). Retailing for $199, the device has a built-in mic that cancels noise while in use, a rechargeable battery, and an audio output of between 80Hz and 20kH. The company promises that the foxL gives an "open and airy listening experience that provide tablets, smartphones and other devices with the superior sound quality they need to allow you to enjoy movies and music to the fullest." The device also features dual 1-inch Linear Magnetic DriveTM "Twoofers" and settings for deep bass.
If the foxL isn't appealing, check out their new Dash 7, which is a small soundbar that can be used as a speakerphone. Costing $249, this speaker claims to have omnidirectional sound and comes with an angled stand for "higher resolution on-axis listening." At 200g, this luxury gadget is 18mm tall and is meant to go unnoticed, nestled below your tablet without blocking the screen. The company promises that the small Dash 7 was designed with "characteristically wide bandwidth, remarkable bass, clear open high, and loud sound." The speaker will come in red, black, white, and silver.