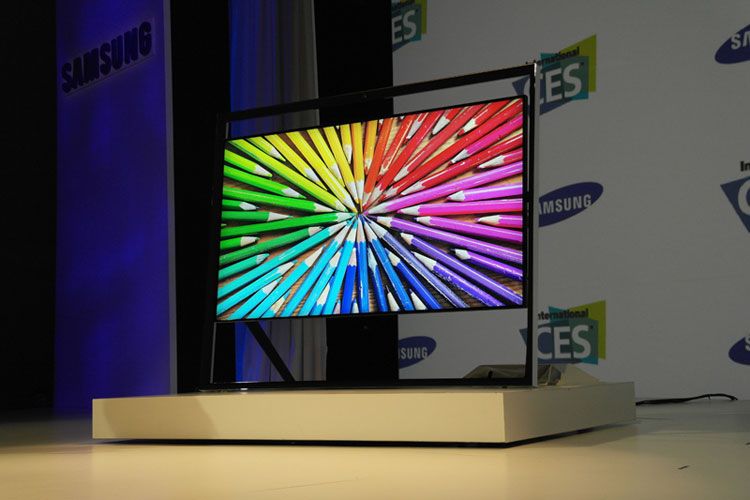 Photo Courtesy of Samsung
Just when you think your fancy new hi-def TV is the envy of the neighborhood, Samsung steals your glory with its new 85-inch S9 4K
luxury television
. Watchers awaited the unveiling of the device, as Samsung had released a teaser describing an "unprecedented new TV shape and timeless gallery design" to come.
The electronics giant kept its promise with the S9 making its appearance at this year's
International Consumer Electronics Show
, wowing spectators with its unique design and hefty price-tag. Samsungís television is not high definition, it is
Ultra
High Definition, as part of a new generation of 4K TVs with 4 times the pixels (4,000) of a traditional LED tv ó spread over an impressive 85-inch screen.
Held in place by an easel-like frame with a 'stand' that supports it almost like a photo, the screen is intended to 'float' and can be tilted up and down. The design places the 120-watt speakers in the legs, so as to keep the screen thin. Wondering where to get Ultra High-Def content? Until it becomes more common, the TV 'upscales' regular, old HD content, converting it to Ultra High-Definition.
The S9 comes equipped with Precision Black Pro backlight optimization, voice control, and Smart TV apps. It will probably include a pretty hefty instruction book to help navigate all its super advanced and techie features. You might be able to revel in the glow of your own wimpy TV for awhile longer, because at the price tag of $38,000, even the Joneses may drag their feet in buying one. The Samsung S9 will be released in late 2013, arriving first in Korean markets.