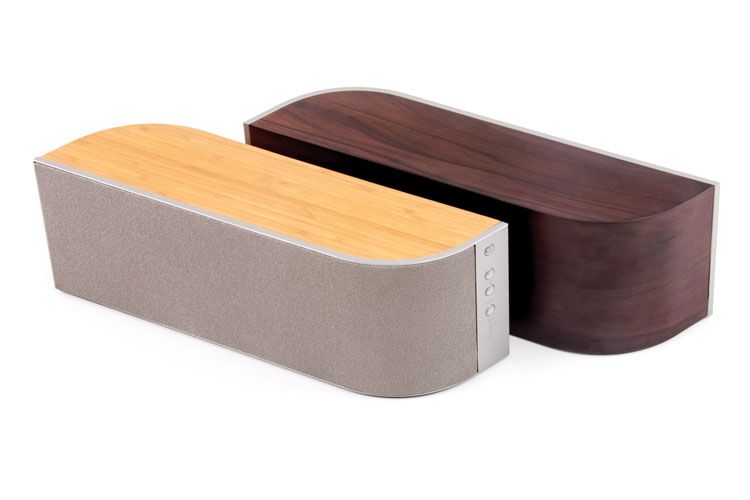 Photo Courtesy of Wren Sound Systems
Pennsylvania-based Wren Sound Systems, which was founded in 2011 by industry veteran Mike Giffin, has released a new
luxury speaker
that streams music via a wireless connection, featuring the standard simple-to-use buttons and control management from a device or wireless remote. There are already a ton of wireless models on the market and without a proper listen, the only noticeable difference between them is their design, which includes slick veneers that could blend seamlessly into any room's decor. Another notable advantage for the V5 is the Wren business plan which is centered around a direct-to-consumer sale.
The V5, Wren Sound Systems' first product launch, was designed by a team of engineers to stream music from devices enabled with AirPlay. Unfortunately for PC and Android users, the V5 only syncs to the Apple family of iPods, iPads, and iPhones, and of course computers. However, Android and Bluetooth-friendly speakers will be launched this quarter so you won't have to wait too long if you don't have an Apple device.
The concept the team sought to achieve combines the latest wireless and audio technology with sleek design and "old-school materials." Whether the bamboo and rosewood veneers are old-school is up for debate, but one vintage feature is a 30-pin USB dock connector, which allows the older generation to connect their 1st generation iPods and even the original iPhone.
Wren promises "detailed, room-filling sound" with the V5, and some of the specifics include an internally braced, resonance-free chassis and an Intersil D2 50-watt DSP amplifier. The bass is supplemented by two 3-inch long throw drivers, while a pair of edge-driven, wide dispersion 19mm soft dome tweeters powers higher frequencies.
Eliminating retail mark-up, Wren only sells the V5 on its site, allowing them to use higher quality materials and design while keeping the price affordable. Buyers might be hesitant to try a speaker they've never heard, so in answer to this concern, Wren offers a "no-risk" guarantee and the "strongest (3-year) warranty in the industry." The V5 comes with a pre-paid return shipping label for a full refund within 30 days.
The V5 is available at
WrenSound.com
for $399. While it may seem like yet another wireless speaker, we can only hope that Wren uses the extra profits generated from selling directly to consumers to engineer a model that stands apart from the rest.