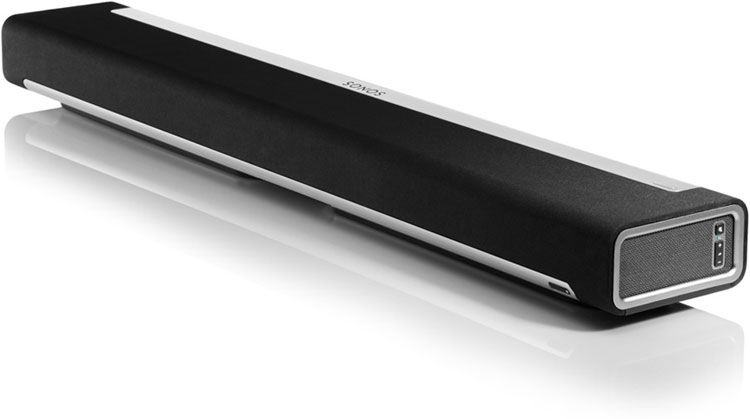 Photo Courtesy of Sonos
With so many wireless speakers out there, each trying to outdo the other in performance, design, or connectivity, consumers can have a difficult time picking one out. The new
luxury speaker
by Sonos, the PlayBar, is another simple and sleek soundbar to reach the market as of late. This slim electronic is marketed as being able to play "all the music on earth", meaning it can stream music wirelessly from various sources, including satellite radio, without needing to boot up a computer. Even better, the
PlayBar
doubles as a hi-fidelity speaker for your HDTV.
The PlayBar apparently connects seamlessly to an HD television via an optical cable, and can play any source connected to the TV — including a cable box, Blu-Ray, and various game consoles. 
Sonos houses its speakers in one slim bar, designed to sit above or below a TV, or to be mounted on the wall. The audio device is covered in high-grade speaker material, and a thin aluminum plate runs along the length of the bar. As a whole, it resembles a sensor bar and might blend in well with its surroundings.
Surround sound is achieved by the placement of nine speakers along the bar, and specifically by the angled left and right tweeters on the ends. Unlike other systems that use one amplifier to drive multiple speakers, the PlayBar matches each of its speakers to its very own Class D amplifier. Some reviews say it does very well in mid to high-ranges, and although fine on its own, could sound even nicer (especially the bass tones) paired with a subwoofer.
Set-up is supposedly simple for the PlayBar, with its functioning kept easy as well. It can be controlled by a free Sonos app and also by a TV remote. If you end up wanting to add additional speakers — like a Sonos subwoofer perhaps — the PlayBar will sync with them wirelessly, which would be great when arranging speakers throughout the house.
Sure the PlayBar streams wirelessly, but that doesn't distinguish it from countless other speakers on the market.
The real seller for PlayBar, according to Sonos, is that the device can play "all the music in the world."
It comes equipped with pre-loaded internet stations, and has access to over 100,000 radio stations and podcasts. The best part is this is all free and can be accessed without ever turning on a computer. The Playbar streams from most online sources including Amazon Cloud, Pandora, Sirius, Spotify, and Last.fm. Of course, it also plays music from iTunes as well as from an iPod or iPhone. Such capability is not surprising considering the PlayBar operates with a Linux computer and loads of RAM.
Retailing for $699, the PlayBar will be available for purchase online and at various retailers worldwide beginning March 5th. We don't know about you, but it might be worth a test run to at least see how easy it actually is to tune in to so many radio stations for free.