Having luxury toys or recreational items in your life is like a "business casual" day at work. It is an opportunity to show off your lighter side. It is indication that being playful is important, too. Well, at least it should be. However, regardless of the tone, true luxury lovers always want and seek the best offerings. Whether it is the finest residences, automobiles, boats, vacations, jewelry, apparel and toys, there is one common denominator. Only the best will do.
Perhaps it is even more important when the objective is to relax and enjoy. Living a life of success is a great reality, but it too can have its accompanying pressures. Since it is somewhat impractical to vacation 24/7 year round, it is absolutely vital to have a few easily accessible ways to temporarily escape from it all. This is where a few frivolous deluxe toys or items can really hit the spot.
It is for those times that we have put together a few frivolous lux» items for those special recreating times. When is the last time you looked in your toy chest?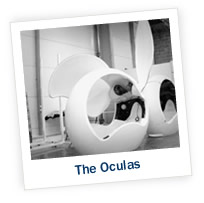 The Oculas Eggs You On
The Oculas just may be the most original item we have encountered for the eclectically minded collector of the latest in multifunctional gadgetry. It is a world apart and ions advanced. This egg-shaped sphere, with its from-an-another-galaxy presence, may soon find itself uniquely positioned in both business environments and households worldwide.
The Aquatic Pod Suite Is a Wet Dream!
If a cluster of these spherical-disk-shaped pods appeared in the water next to your boat one morning, it may prompt fear that the aliens are here. However, at a cost of $91,000, you could at least be assured that the spacemen have money. The aquatic pod suite is not the answer to California's astronomically soaring real estate market (not yet anyway). However, it could fit in well with nearly any water-related ventures and be quite the value-added gadget to enhance and enrich such outings.
A See-Through Canoe and Kayak, Too!
Anytime you mention the word "see-through," it is a good bet that you likely have immediately captured the rapt attention of most men (including myself). It is probably a genetic thing that most women call a "flaw." However, this made-for-two, see-through hybrid kayak-canoe snared all of us. It is made of a polymer akin to that used for cockpit canopies of supersonic jets. Its anodized aluminum frame makes it lightweight and easy to transport.