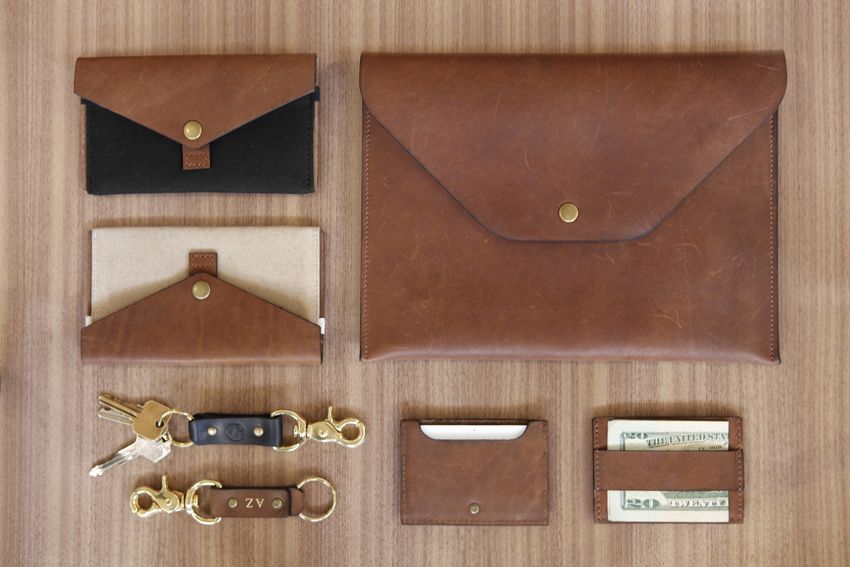 Photos Courtesy of DODOcase
Yesterday DODOcase announced their partnership with Thiele Tanning Company (one of the oldest tanning companies in America) by unveiling a brand new collection called LeatherCraft. The line has four products, all made using tanned leather that is meant to reflect a balance between "rugged durability and stylish functionality." Known mainly for making book binding-inspired cases for iPhones and iPads (as well as several other brands), DODOcase's LeatherCraft marks a shift into minimalist lifestyle accessories that encourage us all to put our phones away for a little while and enjoy the company around us.
With this new line, DODOcase thought about how people use their phones to give customers products that have evolved with lifestyle trends. "How are people using their phones…when they go out? How are we using tablets? And how can we apply these traditional materials and craft techniques to almost add humanity back into these advanced technical gadgets that we're so passionate about?" poses Craig Dalton, CEO of DODOcase. "The leather that we've chosen has this beautiful smell to it and beautiful texture. It's just super durable leather that's classic: looks good, feels good, smells good."
One of our favorites is definitely the Leather & Canvas Phone Clutch ($69.95). Giving you the choice between natural or black waxed canvas to offset the leather, this clutch has an antique brass snap closure and internal webbing to hold your cash and cards. Though it's small, it's still roomy enough to fit an iPhone, Google Nexus, or Samsung phone.
It may not be obvious in the pictures, but you can either put your phone in the outside pocket or within the clutch. "I think that mirrors how you act out in public," explains Dalton. "At certain points in your evening, you know you're going to want quick access to that phone; you're still catching up with your friends, coordinating…so, having it in the back while your cash and cards are securely in the enclosed section is the way to go. But once you settle in at that dinner, you can put it in the secured section and put it away."
Unlike the clutch, the Leather Card & Cash Wallet ($49.95) isn't meant to hold a phone at all. It can hold up to four cards in the center pocket, has an exterior leather strip to hold cash, accent antique brass, and can be custom monogrammed with initials. Classic in design, this one is for someone who doesn't like having a lot of junk in their wallet, instead keeping it simple with only the essentials.
"I've really been pleased with the way it performs in my pocket, as a man, because it keeps the cash organized," says Dalton. "There's definitely a trend over the last few years towards slim wallets and this is an acknowledgement that as much as there are a lot of parts in the industry pushing towards a cashless world, we more often than not find ourselves with still some cash on hand. This is a really slim lined way of carrying both your cash and some cards."
The Leather Tablet Portfolio Case ($129.95) is a surefire way to keep your professional life organized while looking like you may build log cabins on the side. Able to fit an iPad Air and mini, a Nexus 7, and several other smaller tablets, this portfolio has a waxed canvas organization pocket inside that can holds pens, a phone, cards, and cords. In keeping with the rest of the collection, it also has a brass snap closure (though no metal is inside, so don't worry about scratches). According to Dalton, you can even fit a pad of paper or a moleskin journal in there too.
The LeatherCraft collection is rounded out with the Leather & Brass Key Ring ($24.95) that comes in either brown or black. Like the wallet, you can get this monogrammed too, giving your keys a nice personal touch, whether you're attaching them to your belt or to your handbag.
In fact, perhaps in the most demonstrative fashion, we may have already bought the wallet as a gift and we may be this close to buying that clutch too.