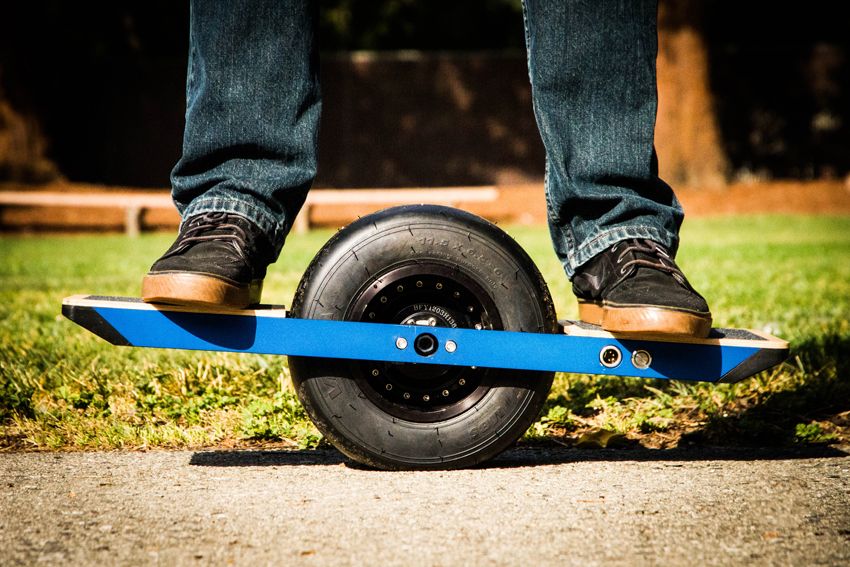 Photos Courtesy of Onewheel
You may be a little unsure of what to think about the Onewheel (we were too), but it's actually a super cool gadget that mimics what it would be like to shoot around on a hoverboard like Marty McFly. Granted, there's one wheel too many to make it an actual hoverboard, but we take progress wherever we can get it.
Coming off a successful Kickstarter (which raised $630,862 for a goal of $100,000), Onewheel is a self-balancing electric skateboard that started with a vision of the future. Inventor Kyle Doerksen had been mulling the idea over for a while, working on building hardware for everything from children's toys to medical devices before he finally made his dream a reality.
Coming in at 25 pounds, Onewheel's frame is made using solid billet aluminum and the deck is Canadian maple. It balances itself with onboard gyroscope and motion sensors, and while you have to level it yourself when you first hop on, the board will quickly kick in once it detects your weight. How you shift your body dictates the speeds of the board — lean forward and you go faster, back and you slow down (or stop).
The experience of riding Onewheel is like other boardsports (like surfing and snowboarding), only it doesn't take as much effort or talent. According to the company, most people can learn to ride Onewheel in only a few minutes because of the "powerful sensors and sophisticated algorithms." And if you're used to boardsports, you can pretty much master Onewheel immediately.
The gadget uses lithium iron phosphate (LiFePO4) batteries, promising a 20 minutes charge time with the ultra charger and two hours with the standard - compatible with any standard outlet so you can give your board a boost in Starbucks if you need. The hub motor gives power and stability to the wheel, helping it move up to 12mph and gives a range of four to six miles (depending on terrain and riding style, of course).
The toy even has its own app for iPhone and Android, which allows you to lock it, choose different riding modes, limit the top speed (perfect for kids), track your riding activity through GPS to share with friends, turn on integrated LED light for night riding, and much more.
Units will be available in September and the price is set at $1,499.