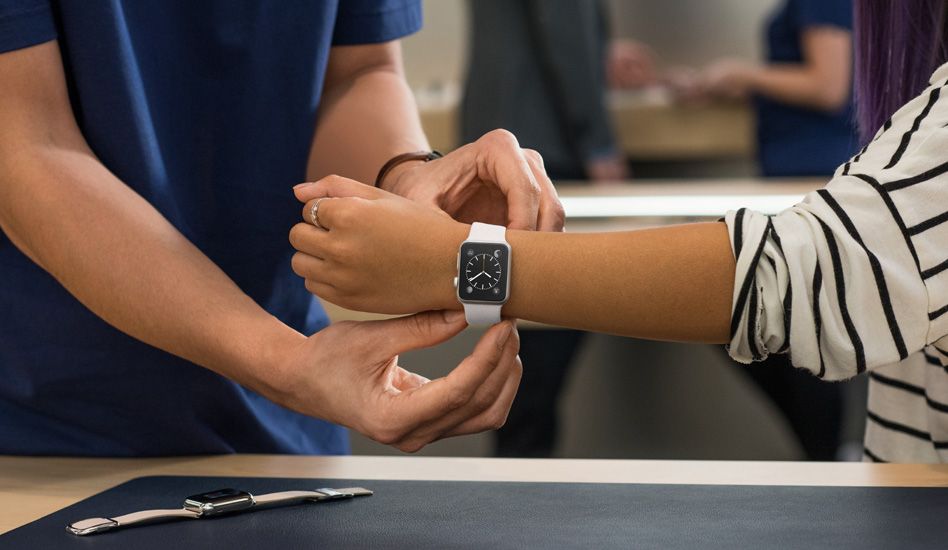 Photos Credit: Apple
Apple made some highly anticipated announcements regarding their Apple Watch this morning in San Francisco, leaving some excited and others shrugging. The JustLuxe team is definitely divided on the matter and I may be in the minority on this, but in terms of wearable technology, I don't think the Apple Watch has really delivered anything groundbreaking. Instead, the company seems to have followed established trends to give us a gadget that we've mostly seen before. It may be cool looking as a fashion statement, but it doesn't do the one thing I would personally want it to do, which is to replace the smartphone.
The Apple Watch starts at $349 (pre-orders begin April 10), come in three versions, and will communicate with the iPhone over Wi-Fi and Bluetooth. It promises to have 18-hour battery life, and can be connected with other Apple Watches so you can send messages (like heartbeat info and doodles) to your buddies. It's at once a music player, a health tracker (it will tell you when you've been sitting for too long—is this what we've come to?), and an app portal. You can use it to control your Apple TV and to make payments through Apple Pay. And oh yeah, it also tells time.
Aside from a few commonalities, the Apple Watch isn't really a watch—it's a wearable computer that needs the iPhone to work. It also seems to be suffering from an identity crisis, unsure if it wants to appeal to the fashion-forward or to the techies. Unfortunately, it may not hit either strongly enough to really make its mark. Timepieces make up a substantial market and those who really love collecting watches probably won't like having to stick with just one, which is what Apple wants. Sure, you can switch wristbands and the interface layout, but it's still the same gadget strapped to your wrist. It may be hot for a few months, but the Apple Watch could just end up being another accessory that is rotated out. And for those who gave up wearing a watch in favor of their smartphone, now you're expected to go back to wearing a watch, in addition to that smartphone.
On the tech front, what Apple needs is a gadget that will redefine wearable technology in the way their iPhone redefined the computer and cell phone (and camera)—something that will render the iPhone unnecessary as a paired item. The Apple Watch just isn't it. To be fair, the gadget will make commmunication a little more seamless and cause less interruption. In situations where it's rude to have your phone out, it will come in handy to have alerts pop up on your wrist. Plus, there are some neat features that will definitely entertain us and some pretty cool third party apps, but there just doesn't seem to be enough to be groundbreaking.
I have no doubts that the Apple Watch will sell (especially its luxury and sport versions)—if there's one thing Apple is good at, it's coming up with new gadgets you didn't know you needed. The company is built around the ingenious business model of a new release ever year, making the newest gadget a must-have item and rendering the older version obsolete. As consumers, we've been trained into believing that with every release, Apple ups the ante. People—myself included—are already thinking about what is in store for the Apple Watch 2.
There's also that pesky problem of unplugging. The Apple Watch promises to give us our time back, touting the wearer's ability to quit looking at their iPhones as much. But that won't really be the case. Instead of our pockets or purses buzzing from a text, our wrist will be. How is that any better? So, while I'm sure the gadget will do well, I'm not buying one until Apple pushes more boundaries and delivers a piece of wearable tech that's truly worth my time. Maybe I'm putting too much pressure on the company to wow me, but that's not necessarily a bad thing. We're the hardest on those we love, right?