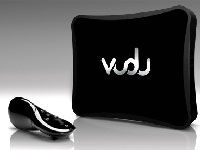 Luxury Electronics:
Imagine not only having the convenience of renting a video but the entire video store right at your fingertips. That's exactly what the new video store in a box, Vudu, promises to provide. The set-top box plays Internet-delivered movies right on your television. Instead of having to wait several days for a movie to become available, the major Hollywood studio titles are at your disposal for rental the same week they hit DVD. Vudu offers no monthly fees and crystal clear video and audio quality.
The VUDU XL home theater product, which is sold through professional custom installers retails for $499. The VUDU XL bundle, which can store 500 purchased movies, also includes a home theater connectivity software package that previously retailed for over $100.
The setup is virtually out of the box usage with little configuration required. It doesn't get much simpler and easier for a networked home entertainment product. Using the included HDMI cable, the Vudu box can have as few as three wires total: HDMI (to your receiver or TV), power, and the network cable.
The only drawback, if there is any, is that movie downloads are limited to the one Vudu box to which you download them. There is no ability to offload the movie to a separate portable device or PC.
After the initial powering, there is a narrated onscreen tutorial that explains the setup process and ensures audio and video signals as well as network connectivity. The remote is simple to use and the tutorial also shows how to set up your Vudu account. There is no monthly fee associated with the unit but you must link a credit card to your Vudu account and preset it to charge in increments of $20, $50, or $100. Each rental is then debited against the balance. When the balance gets near zero, the credit card is charged that preset amount again.
Maneuvering through each area is super easy even for the notice. Each movie offers a full summary along with rating info, and is even sorted by genre, stars, and director. The search feature is ideal and allows you to find a movie by its specific title.
Once you have selected a movie you would like to watch, you may either rent it or purchase it. Rentals range from $1 to $4 with permanent downloads ranging from $5 to $20. Rentals range up to 30 days but once you start watching the video, the rental expires after 24 hours. If the rental period expires, you have to request the movie again and the movie will again be debited from your account.
Movies start immediately after authorization of the rental or purchase. Each video can also be paused, rewound, and (once it's fully downloaded) fast-forwarded just like a DVD. A DVR-style progress bar is shown when any of the controls is engaged, and you can rewind and fast-forward as quickly or as slowly as you spin the click wheel. If you decide to go to bed and watch the remainder of the video the following day, it will automatically resume exactly where you left off.
The Vudu box retails for $400 and allows users to rent movies for $1 to $4 or to purchase them directly to the box, which is stored as a permanent download for $5 to $20.
For LxM Kellie K. Speed