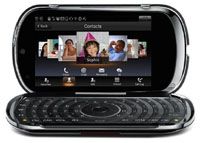 Electronics:
Lenovo recently introduced its first Google Android-based smartphone at the Consumer Electronics Show (CES) that recently concluded in Las Vegas, Nev., with a swirling keyboard. While questions have surfaced in regard to the handheld phone's ergonomic practicality, the clarity of the screen and innovative keyboard design are noteworthy.
The Lephone is entirely touch-screen (no buttons) and has a .7-inch 480 × 800-pixel resolution display. It comes with a 3.5mm headset jack and a 3.0-megapixel video-capable camera.
Maybe a derivative of the Lenovo Lephone will ultimately come to the USA. The first run of the company's smartphone using Google Android-based technology is reported to be use in China only. Lenovo is a recognized manufacturer of personal computers.