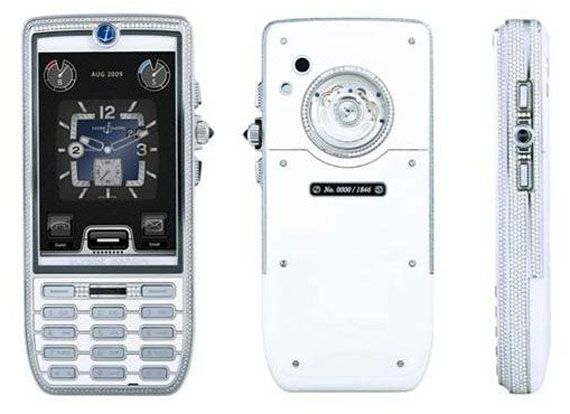 Electronics:
This is the Chairman Diamond hybrid
smartphone
by Ulysse Nardin, a renowned maker of six-figure collectible mechanical wristwatches. It is the first six-figure luxury smartphone released under the venerable
UN brand
. With more than 2,000 handset brilliant-cut diamonds in a pavé over an 18-carat white-gold casing, it is being heralded as the most expensive hybrid smartphone on the market at $129,000. SCI Innovations is the creator of the Chairman collection of luxury smartphones.
From appearance to inners, quality permeates throughout this handheld multidimensional personal entertainment center. It features a 3.2- inch scratch-resistant sapphire touch-screen, a high-definition video playback, 32 gigabytes of internal memory and an 8-megapixel camera. The Chairman also surfs the seas of the WWW on the bleeding-edge technology of Google's Android mobile operating system. It also has thumb print recognition and 3G capabilities.

The Chairman Diamond has more than an eloquently crafted face that reflects its roots. The smartphone also has a self-winding kinetic-power mechanism akin to that of a Ulysse Nardin timepiece. The Chairman Diamond is the flagship of the limited-edition collection. There are 11 variants of the Chairman priced from $13,000 up to $50,000.

The collection is a limited-edition catalog, as only 1,846 of each of the 11 models will ever be made. That number is special to Ulysse Nardin, as it denotes the year that Mr. Ulysse Nardin founded the company.