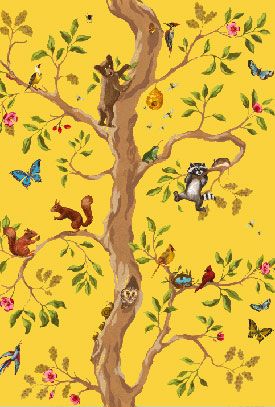 Home Decor:
Children's wallpapers have a notorious reputation for bad
design
, covered in teddy bears and copious amounts of light pink and baby blue. Thanks to french artist Alix Soubiran, those papers are soon to be a thing of the past. Her new collection for
Princes & Crows
, "Little Prince" has launched online with a selection of hand-painted designs that are meant to bring a child's imagination to life.
Alix describes herself as a dreamer and storyteller, always looking to create excitement and adventure in her art. Her imagination and understanding of what excites children is apparent in every piece she creates. With the release of her playful "Tree Party," "Major Tom" and "Sea Ballet" wallpapers Alix is sure to be at the top of every designers list when it comes to creating a nursery or playroom that children will love spending time in.

Major Tom

Sea Ballet

Artist and designer Alix Soubiran