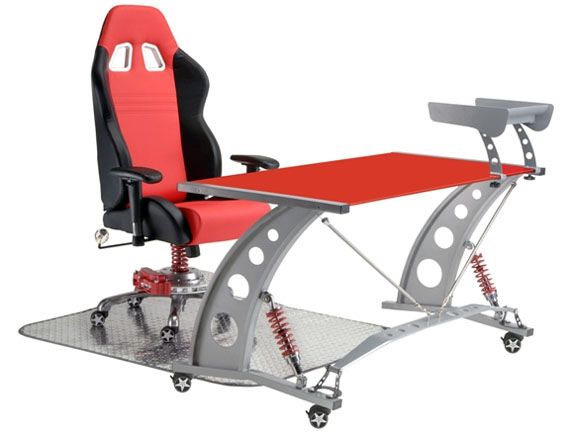 Home Decor:
Here is a hybrid design for home furnishing that will rev up the house, or garage, and be loved by anyone driven by the spirit of the Grand Prix. This is the
Grand Prix
Race Chair and Desk by PitStop Furniture. The chair and desk are sold separately, but what true Grand Prix aficionado would have one without the other?
Available in red, black and silver, this is high-performance style and functionality combined. Look closely at the components; they are the same ones that are used on sports cars and muscle machines. What workstation is complete without a tower strut bar, a racing spoiler and rim wheels? The GP Chair and Desk set is a racy expression of individuality that will get great mileage.

The bucket seat chair is ergonomically in tune and features an aluminum shifter knob, a coil-over spring suspension and brake calipers, which make it well-built and flashy. The glass-top desk, which is 58 inches by 27 inches, provides ample work space and flexible functionality.

The PitSop Furniture Grand Prix Race Chair and Desk set sells for $849.99. The chair alone sells for $399.99 and the desk sells for $499.99.

Visit www.LuxuryAutoDirect.com or check out this VIDEO to see more.