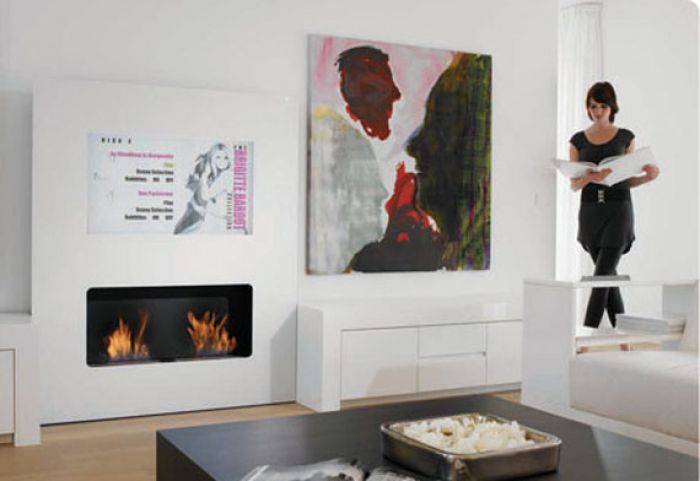 Photo Courtesy of Safretti
Bio ethanol-fueled fireplaces have been popular in Europe for sometime and are beginning to make an impact on
home décor
in the States as well.
The ultimate advantage of these highly-designed firespaces is that they enable you to add the intriguing and mesmerizing effect of a fireplace to an unexpected interior (or exterior!) space without the need of a chimney - perfect for unique design situations.
These one-of-a-kind firespaces combine the warmth of fire with modern design. Because they don't require a flue, the firespaces can be placed anywhere; indoors, outdoors, on a patio or balcony. The open fire is created using a potato-infused bio-alcohol.
Each state-of-the-art
Safretti
is created by a designer with not only aesthetic in mind, but the need for environmentally friendly fire. The cradle-to-cradle concept - a first for the branch - makes sure that fuel and materials used in the product and its packaging are officially sustainable. In addition, the firespaces are certified for fire safety by official institutes like SITAC (Scandinavia), TÜV (Europe) and (C)UL (USA, Canada).
The company recently collaborated with the Porsche Design Studio, resulting in the recently introduced, Tekto, a table-top version of its firespaces. Safretti has also worked with other leading designers, including Roderick Vos, for the handmade products.
The fireplaces can give any space, from the garden to the living room, a warm yet modern feel that makes for the perfect place to have a conservation or cozy up with a good book.