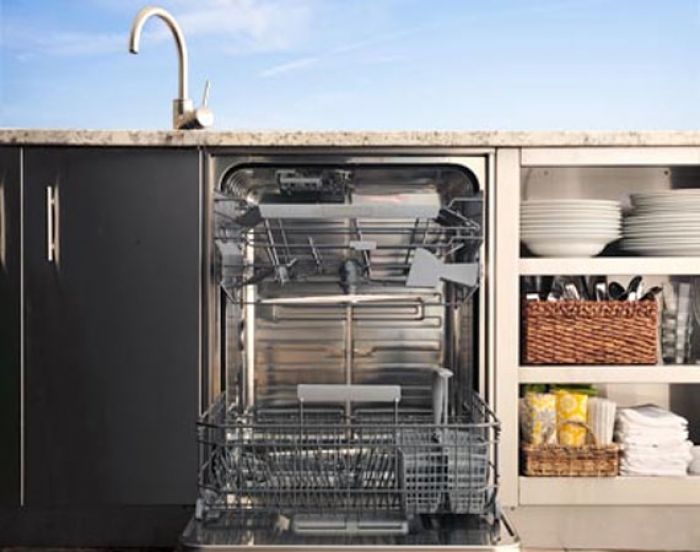 Photo Courtesy of Kalamazoo
No need to schlep your dirty dishes into the house after an outdoor feast. Kalamazoo has made cleaning up the backyard easy with an outdoor dishwasher.
Kalamazoo Outdoor Gourmet, the leading manufacturer of high-end outdoor kitchen equipment, announced their latest
outdoor luxury
convenience at the recent Architectural Digest Home Design Show.
This is the first dishwasher designed specifically for the outdoors. The stainless steel exterior is tough enough to withstand the elements, lasting through the harshest winters or summers. The interior is powerful enough to perfectly clean dishes, pots and pans with six different wash programs and six different temperature settings.
"Kalamazoo Outdoor Gourmet has always been the innovation leader in outdoor kitchen equipment, bringing to market a number of firsts that change the way people cook and entertain in the outdoors," said Pantelis A. "Pete" Georgiadis, President of Kalamazoo Outdoor Gourmet. "The introduction of the outdoor dishwasher has created the only truly complete outdoor kitchen equipment line, giving homeowners independence from their indoor kitchens."
The outdoor dishwasher sounds like the perfect companion for the homeowner who loves to entertain in the backyard. The interior has flexible racks designed to fit large pots and serving ware, while there is still enough room for 12 full place settings.
As a bonus, the dishwasher is also energy and water efficient, ensuring a leak-free cycle every time while still using a powerful spray to clean dishes without the need for pre-rinsing. A triple filtration system allows for clean water to always be flowing through the interior and still remains surprisingly quiet.
For $4,990, the convenient outdoor dishwasher will be available for purchase in summer 2011 through the network of dealers that carry Kalamazoo Outdoor Gourmet equipment, certified design professionals or directly at
www.kalamazoogourmet.com
.
See our picks for
Best Outdoor Furniture