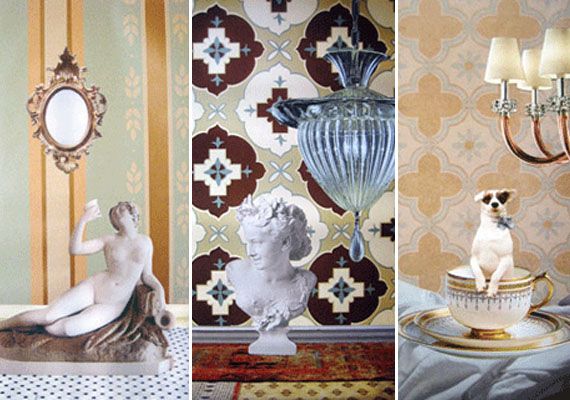 Photo Courtesy of Princes & Crows
As a muralist and wallpaper designer, Alix Soubiran creates spaces that are whimsical and inspiring, full of imagination and color. For over 12 years the Paris-born beauty has been adorning the walls of high-end residences with her murals in
London
, Paris, Mustique Island, Italy and Beverly Hills.
She cites some of her greatest inspiration as coming from her grandfather's house in the 16th arrondissement in Paris. More recently, Soubiran has translated her inspirational murals onto paper, with elegant wallpaper lines based on her artwork. In 2008, Soubiran launched her exquisite wallpaper collection called "Princes & Crows" and has now added a line for children, "The Little Prince Collection."
Unlike traditional wallpaper makers, Alix took an artistic approach to her collection by painting each design, one by one, and adding them to the wallpapers. Designs are available in a slew of different fabric choices, including vinyl (which comes in handy for wiping down when there are children present).
Although Soubiran is now an Angeleno, the native Parisian gets a lot of inspiration from her native land, which is translated onto the walls of homes everywhere. On her blog
Marvelous Musings
, Soubiran posts photos and thoughts of her travels and life that serve as her creative stimulation and also includes her sketches and photos of new projects.
All papers are printed in Los Angeles with low V.O.C. inks and in small runs to reduce waste. Her special point of view can be seen in her brand new design, "Josephine." To learn more go to
PrincesAndCrows.com
.