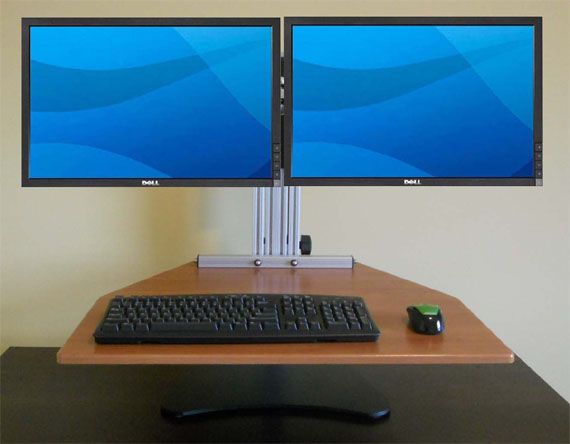 Photo Courtesy of Ergo Desktop
Sitting for extended periods of time is simply unhealthful. With more people becoming aware of this fact, standing workstations are growing in popularity. Many frequent users of computers are opting to take a stand in pursuit of an ergonomic solution that minimizes that daily grind that sitting for too long can cause.
The key to getting a stand-up desk that fits is to ensure that the measurements are correct in accordance to a user's height, per StandupDesks.com, an Ohio-based maker of stand-up workstations (right) and other
furnishings
. The tips are helpful guidelines. 
As a rule of thumb, it is suggested that the correct height of a stand-up desk be an inch or two below a user's elbow. It also is recommended that a prospective customer create a makeshift stand-up desk setup, with boxes and books, to get a better idea of a personal comfort zone while standing. All furnishings sold by StandupDesks.com are made of wood, made in the U.S., and 100-percent Amish-made by Amish Country Furniture Sales. Most models offered begin at around $1,000. However, several are available at a lower price too. 
Ergo Desktop, another seller of stand-up workstations, presents a more flexible alternative, as the height on its units is adjustable. The company claims that its adjustable height desks improve overall fitness levels and strengthens a user's core. 
The Kangaroo Elite is the company's top product. The workstation has a 15-inch vertical range of adjustment. It holds a monitor as large as 20 by 23 inches. It provides two workstations in one with easy adjustability. The list price of the Kangaroo Elite is $627.
GeekDesk, our third suggestion for stand-up manufacturers, takes the best features of the first two selections. The end result is the GeekDesk Max (left). This is a large-frame desk, a 78.75-by-31.5-inch desk surface, with adjustable height that is both sturdy and aesthetically acceptable. A desk with a smaller frame also is available. Both come in two frame colors and two finishes. The larger frame lists at $985, and the smaller unit is priced at $949.
A complementing item to pick up for a stand-up workstation is a bubble mat to stand on. A mat reduces leg fatigue and helps to keep the spring in your step throughout the day. A five-eighths-inch-thick, 12-square-foot mat is available for $84 at Ergo Desktop. For more information, visit
Standupdesks.com
,
ErgoDesktop.com
, and
GeekDesk.com
.