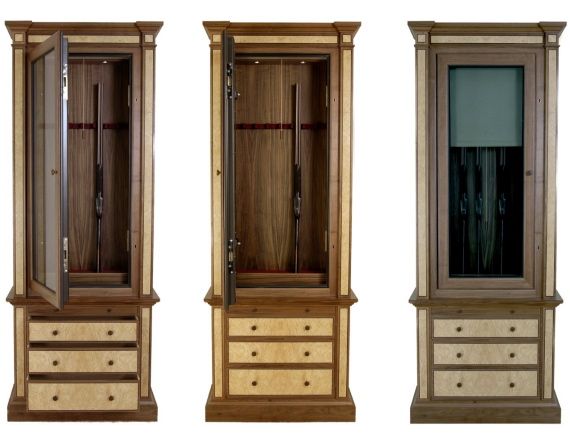 Photo Courtesy of LINLEY
Viscount David Linley, the bespoke cabinet maker who's a nephew of the Queen of England, has unveiled a gun cabinet for discerning collectors priced at about $46,000.
The LINLEY Gun Cabinet is an
elegant piece
combining practicality with a gracious appearance, constructed in American walnut with inlays of burr ash and Indian ebony cock-beading. The cabinet can house up to eight shotguns or rifles and is designed to fit in seamlessly with the furnishings of a formal drawing room or reception area. Shooting is of course a traditional aristocratic English country pursuit.
The window through which the guns can be viewed is made of reinforced glass and the firearms are further enhanced by internal lighting from above. Three drawers beneath the main body of the cabinet are used for storing shooting accessories and a further secret drawer is concealed for items one wishes to keep private.
LINLEY can also craft bespoke versions; his workshops recently constructed one of solid oak with inlays of diagonally quartered oak, bandings of sycamore and walnut stringings. With custom shotguns commanding hundreds of thousands of dollars, it makes sense to have a suitable means of displaying them to fellow enthusiasts. Visit
DavidLinley.com
to see more.