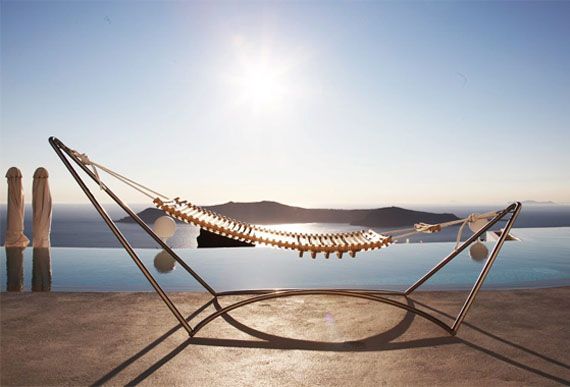 Photo Courtesy of Seora
Hammocks conjure up images of soft ocean breezes and swaying palm trees. Then comes the struggle to get in and out and suddenly the knotted netting that comprise most
hammocks
make them a lot less romantic and a lot more of a hassle. Seora hammocks take away the difficulty and leave only the comfort, whether you're lounging poolside or in a secluded spot in the backyard.
Focusing on besoke design, fine craftsmanship and quality materials, Seora creates lavish hammocks that are as beautiful as they are comfortable. Using marine plywood, stainless steel and Sunbrella outdoor material, Seora is able to customize hammocks with pillows, long cushions, pockets and other options to make the hammock fit with your needs.
The Seora hammock, with an optional stand offers armrests that can open and close, as well as an adjustable footrest to help you unwind with ease. Seora beckons users to relax in style with the addition of accessories including pillows for the head
and an attachable side pocket perfect for storing sunglasses, a magazine and even an iPad.
There's no need for the perfectly placed posts, as Seora hammocks also come with optional stainless steel stands, so you and your friends can kick back around the yard in an inviting island-style. The Seora starts at 1,200 euros ($1,600), with stands and accessories available for an additional cost. To learn more about the Seora, visit
Seora.MoonFruit.com
.