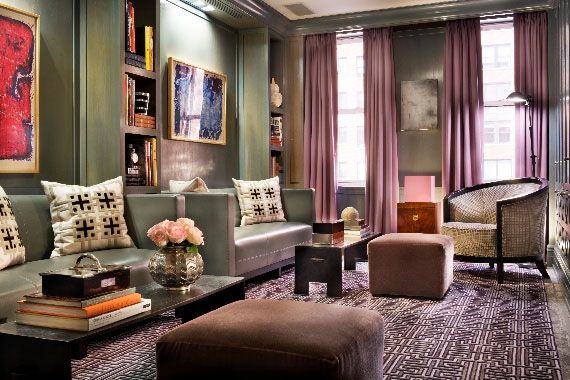 Photo Credit: Durston Saylor
Penny Drue Baird, owner of Dessins, LLC, creates design for the individual. "For young people, letís do this cool, young, free, fresh look, and for older people, letís get rid of this junk that weíve been accumulating throughout our lives and letís get it cleaner," says Baird, author of
The New French Interior
, which was released by Random House in September 2011.
Baird, who is based in New York City with an outpost in Paris, was inspired to write her book based on a common desire found within her widespread group of clients. "What I saw happening was that in Manhattan, people were coming to me more and more for the same type of thing, which was a modern approach: a cooler, calmer environment,
contemporary furnishings
, but they still wanted very fine furniture. They didnít want commercial, mass-produced furniture."
So Baird, who for the past 17 years has been named as one of
Architectural Digest
ís top 100 architects and designers worldwide, set out to provide just that. Through her travels to Paris, London, and the English and French countrysides, Penny has been able to find unique design furnishings and objets d'art.
"Iím proud that my work really represents the clients and that my jobs do look different from one to the other," says Baird. With projects such as a Bavarian style ski chalet in Telluride, Baird tailors her designs to her clients, who come from all different walks of life.
Bairdís wide-ranging talent, combined with a PhD in Psychology, is part natural ability and part training from the New York School of
Interior Design
. "We were trained to do everything in those days, and thatís what I still do. My clients are completely diverse, and what they want is just as diverse ó and thatís a lot of fun for my office."
From fresh and fun to warm with a sophisticated charm, Penny Drue Baird brings a sense of traveling the world into oneís home in a way that not many other designers can. Visit
DessinsLLC.com
to learn more.
Durston Saylor
Durston Saylor
Durston Saylor