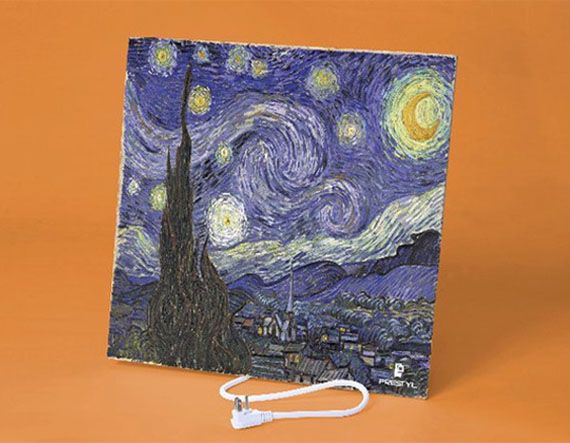 Photo Courtesy of Prestyl USA
With the high price of heating today?s homes, more and more people are looking for cost effective solutions. The folks at Prestyl USA have come up with an inventive and beautiful way to do just that by introducing radiant artwork heating panels. The customizable infrared panels are not only cost efficient, but make an elegant addition to any room.
Whether you are looking to add to your home or office, these works of art can be used in any setting. Prestyl USA has created heated panel products that use their own far-infrared technology. The unique, silent process does not heat the air, as the energy is reflected by some surfaces and absorbed by others, thus creating a balanced, multidirectional warmth experience.
When you plug it in, do not expect to hear air movement that occurs with convectional heating devices. Instead, the picture will offer silent heat distribution that is also designed to prevent moisture buildup, which reduces and eliminates mold.
Our favorite Prestyl image is
Vincent van Gogh?s Starry Starry Night
, but there are a variety of standard stock panels, including wildlife, lush landscape and serene settings as well. You can even send them your own image and they will customize an individual wall panel just for you. By simply converting electricity into usable infrared heat, the panels will provide just the right amount of added heat your room needs.
The artistic panels are very easy to install and are as simple as hanging a picture. Start off by plugging in the panel to allow the unit to heat up. After just a few minutes, you will feel the front of the panel getting warmer to the touch. Because our panel had an image, it did have a slight odor for the first four to five hours (which is normal). Once you have initiated the ?burn-in? period, let the panel cool down before installing it.
The artistic unit comes with a bracket to secure the panel to the wall. Once you have determined the right location for the image, mount it on the wall and plug it into the outlet. We set ours up plugged into a timer that is then plugged into the wall outlet. You can also have the lightweight panel plugged into a wall outlet that is conveniently controlled by a wall switch. Prestyl maintains the typical energy savings over traditional heating methods range from 15 to 50 percent depending upon placement and overall building conditions.
The panels range from 24? x 24?, 24? x 48? and 41.5? x 41.5?. Retail prices of the Prestyl units go for anywhere from $350-$700. Check out the videos for additional installation instructions and for more information, visit
PrestylUSA.com
or call (877) 817-4328.