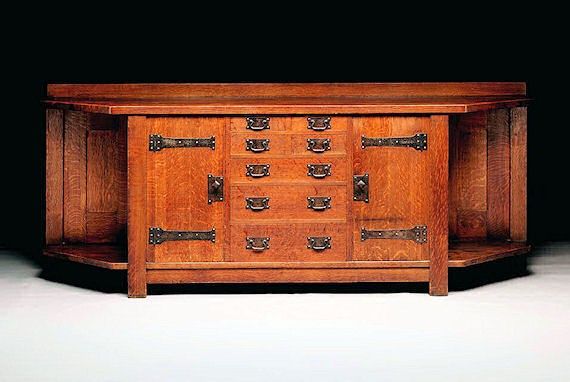 Photo Courtesy of Stickley, Audi & Company
A parallel between the mythical phoenix, rising from near extinction, and Stickley, Audi & Company is easy to draw. Remaining true to the design philosophy and quality standards established over a century ago by Gustav Stickley, today's company is flourishing as one of the leading makers of fine-quality American Arts and Crafts furniture.


Resurrection of the company that went bankrupt in the early 1900s, and nearly went out of business in the early 1970s, is an American story of respect for materials and processes, and a simple and forthright passion for design. Stickley furniture is collected and coveted by discerning clients around the world.

Gustav Stickley's interest in breaking away from the Victorians' heavily ornamented styles, some of dubious workmanship, to unadorned and straightforward furniture design was heightened in the late 1800s. A trip to England introduced him to the works of Englishmen William Morris and John Ruskin, and to Scotsman, Charles Rennie Mackintosh, all of whom were championing a return to clean lines and handcrafted styles, emphasizing wood's inherent beauty. In 1898, Gustav opened his Craftsman Shops near Syracuse, New York and by 1907 the American Arts and Crafts movement was on its way, with Frank Lloyd Wright being a major supporter of the style.


For a few years, business was good, then, changing tastes, and the ravages of World War I, forced the company into bankruptcy in 1916. Two of Gustav's brothers, Leopold and John George, reorganized and continued to make Stickley furniture for over the next two decades in the company's new plant in Fayetteville, another suburb of Syracuse. Upon Leopold's death, his widow, Louise Stickley, did her best to keep things afloat. Lacking the business acumen of her husband and Gustav's vision, the company again floundered.


In 1974, Louise reached out to Alfred Audi, whose father was the company's largest dealer, and a close friend of Leopold, with a successful plea to buy the ailing company. Within a year under the management of Alfred and his wife Aminy, sales had more than tripled as new lines were introduced and found to be popular. The company, now named Stickley Audi & Company, was well on its way to becoming a thriving international business with three factories, 14 showrooms and more than 1,600 employees (flags of employees' home countries seen below).

The company's roller coaster popularity and success was on an upward trend in the early 1980s, as interest in Arts and Crafts Furniture — especially Mission Oak — caught the attention of collectors, museums and antique dealers. The Audis moved the company into a sprawling new plant about three miles away, to the village of Manlius. A defining moment for the company came in 1988 when an original Gustav Stickley sideboard, built for his own home, sold at Christie's for the then unheard of price of $363,000. The purchaser: Barbra Streisand.

Eleven years later, it was resold for $596,000. The company produced 100 reproductions of the sideboard, known as the Columbus Avenue Sideboard, which have, themselves, become prized by collectors. During 2010 and 2011, Gustav Stickley and the American Arts and Crafts Movement has been a popular exhibit at fine art museums in Newark, Dallas and San Diego.


Alfred Audi passed away in 2007. In 2008, he was inducted into the American Furniture Makers Hall of Fame. Today, under the loving guidance of Aminy, their son Edward, and a new generation of Audis, Stickley, Audi & Company produces a diverse gallery of furniture, including Mission Oak, Mission Cherry, 21st Century Mission, Edinburgh, Metropolitan, and museum-quality reproductions in the Colonial Williamsburg series.

The Stickley workforce is a homogeneous "Mini-United Nations." The Central New York area surrounding the company is home to tens of thousands of refugees from all over the world, and the company is one of their top employers — about 200 out of a total local workforce of 1,000. As Aminy Audi proudly explains, "We started working with the refugee resettlement program and, as a result, we have a lot of people who represent 36 nationalities...very hardworking people, very committed people, and many of them have been with us for many years." Here, relationships are about people, not culture nor politics; Serbians work side by side with Bosnians, Ethiopians with Somalis, and Vietnamese with the Chinese.

As a testament to Gustav Stickley's passionate vision, his own words resonate today as they did at the beginning of an illustrious career: "We have set before ourselves the ideals of honesty of materials, solidity of construction, utility, adaptability to place, and aesthetic effect..." Visit StickleyAudi.com to learn more.

Author's note: Dalton's American Decorative Arts, in Syracuse, NY is a top-line retailer, with a large selection of Stickley furniture, accessories and ornamental pieces. David Rudd and Debbie Goldwein are the principals of Dalton's. David is president of the Central New York Arts and Crafts Society and sits on the board of trustees of The Stickley Museum at Craftsman Farms in Morris Plains, NJ.

See our picks for Best Home Furnishings
Ray Pearson
Stickley Book Cabinet and Fireplace Tools
Ray Pearson
Dalton's American Decorative Arts