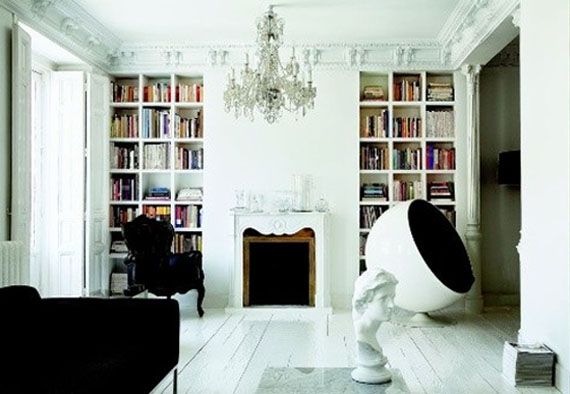 Photo Credit: Andrea Savini
The color white is underappreciated. When it comes to design, some critics may consider it blah, unimaginative, and pedestrian. Linda O'Keeffe disagrees. Her book,
Brilliant: White in Design
, explores the color and its multi-facets from a design perspective. "I think white has this ability to harmonize
furnishings
and textiles from every period, every prominence, and every geographic location," says O'Keeffe.
"White has the ability to pull everything together in a way that is kind of seductive. If you think about a white shirt — crisp, classic white shirt on a man or a woman, it's wonderful to see the character of the person who's wearing that without the distraction of pattern and color. I think everybody is flattered by a white shirt, and the wrinkles and blemishes — and that's part and parcel of the characters."
But, does the color white actually have a personality? O'Keeffe thinks so. "White has this personality to be simply unlike any other color because it's all of the colors put together. But in another way, it's no color — it's light. No other color has that kind of characteristic or quality," says O'Keeffe. "I think an all-white room becomes a texture essay. It becomes an intriguing celebration of materiality and texture. You can't say that that's true of any other color."
In her book, O'Keeffe highlights a multitude of designers. From Richard Meier to Benjamin Noriega-Ortiz, Brilliant: White in Design includes over 250 photos and descriptions of the designers' work. "I got people who are at the top of their professions. But then I also got just as many completely unknown, upcoming painters, designers, artists, a designer who'd won a local and regional design competition, or an artist who had won galleries in her life. That's a tremendous joy for me, to be able to showcase the work of so many people."
And these aren't just
interior designers
from the western world. O'Keeffe's book features designers works from all across the globe. "I was basically referring to white as this universal design language. It was very important for me to see white projects from across the world. Luckily, I found them in France, Japan, Mexico, South Africa, [the United States], Germany, Spain," says O'Keeffe. "It's timeless, it's perennial, it speaks a universal language."
Timeless indeed. "As much as we look to kitchen cabinet manufacturers, then we look to people who manufacture bathroom fixtures. Seasons change, fashions change. We might see a bright sink here or green cabinets or whatever, but white is still the color of choice for most kitchens and for most bathrooms. It absolutely is. White never dates," says O'Keeffe.
For a color to be so truly global, so genuinely enduring is quite remarkable. Perhaps that's because as Linda O'Keeffe writes in her book, "It all begins and ends with white."
Catherine Tighe
Colleen Duffley
Colleen Duffley reprinted with permission from
Metropolitan Home
magazine copyright Hatchette Filipacchi Media US
Anouska Hempel Design
Eric Striffler
Tim Street-Porter
Linda O'Keeffe