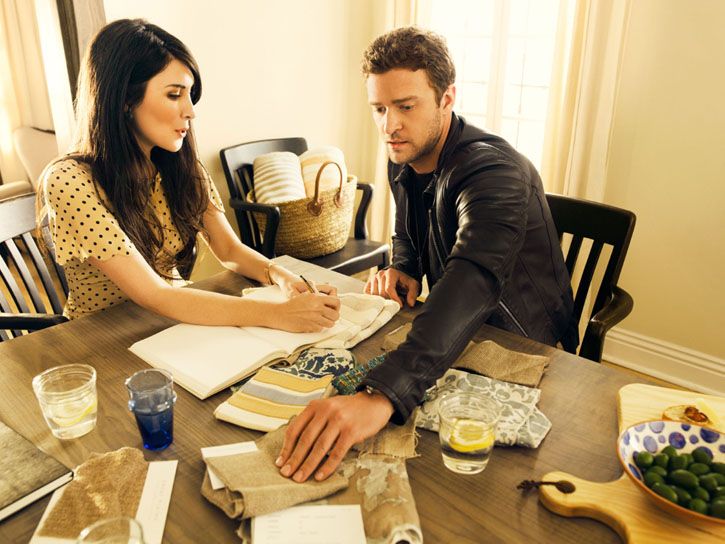 Photo Credit: Peggy Sirota/HomeMint
Justin Timberlake is one stylish dude, sporting leather jackets just as well as he wears a red carpet suit. But who knew that his interest in
style
had entered the home? Apparently it has, as Timberlake has become the latest celebrity to lend his fashionable eye to BeachMint with the upcoming HomeMint website.
HomeMint follows in the BeachMint tradition of pairing a celebrity and a celebrity stylist to curate a collection available exclusively through the site. In this case, Justin Timberlake and celebrity stylist Estee Stanley will be sharing their creative vision for home design at HomeMint.
While Timberlake may seem like an unlikely home designer, he explains, "HomeMint combines my love of architecture and interior design with my passion for technology and social media to create a brand that offers aspirational designs for the home at accessible prices."
Stanley has a long list of celebrity clients, including Timberlake as well as other BeachMint celebrities like Mary Kate and Ashley Olsen. Plus, she looks as stunning as any of her clients, so her taste must be spot-on.
In an interview with
Elle DĂ©cor
Timberlake says, "Well, this was really a collaboration with Estee. I don't think I would do it if we weren't in it together. We've known each other for a long time and have worked together on my homes; we really have a like-minded vision for design so when BeachMint [the company behind HomeMint and sister sites StyleMint and BeautyMint] came to us with the opportunity, it felt like a really natural thing for us to do together. Estee and I are great friends, so it's a lot of fun."
Unlike the other BeachMint sites, you don't have to be a member to get the designer goods. However, members will be offered discounts on products as well as other special privileges. HomeMint has a little something for every homeowner, with items ranging in price from $10 for accessories to $10,000 for unique objects and art. Visit
Launch.HomeMint.com
or
BeachMint.com
to learn more.