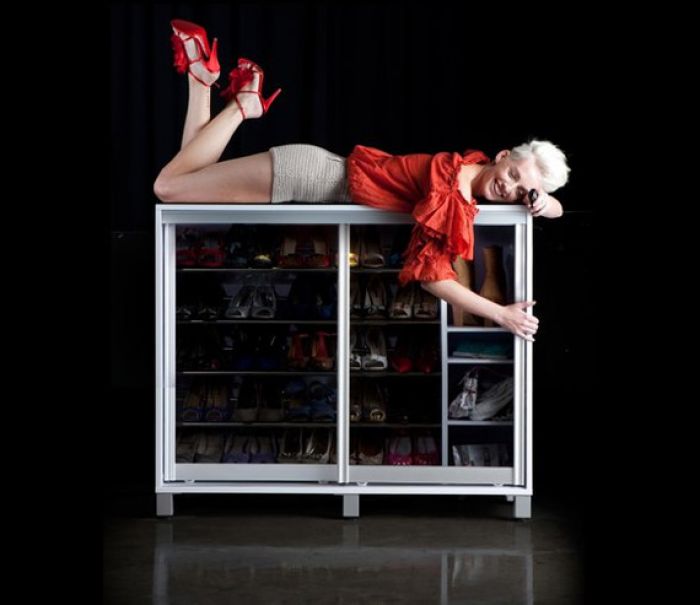 Photo Courtesy of BaBoo Shoe
If you love, and simply must own, the
best designer shoes
, then you probably have way too many pairs and far too little space. One such shoe addict from Australia had her own difficulties finding proper storage for all of her beloved footwear so she went ahead and designed one herself.
BaBoo Shoe Booths are sleek and stylish, just like their contents, but also have more than enough room to keep all of your heels, sneakers, flats and flip flops in one place. The Booths come in two sizes measuring either seven feet high, four feet wide, and one foot deep; or three feet high, four feet wide, and one foot deep. The smaller one holds 25 pairs of shoes plus boots and bags and the larger version holds 55 pairs along with boots and bags.
These cabinets might look simple, but they're anything but. They come in a gloss black or gloss white finish with aluminum door frames to blend seamlessly with other home furnishings. Lights inside illuminate your fabulous footwear and can be turned on with just the press of a remote. Sturdy 18mm rods strongly support your many accessories, while movable shelves let your store items at different heights.
Tinted glass on the outside means limited visibility so your colorful shoes don't clash with your surrounding décor and sliding glass doors give easy access to your belongings and open in tight corners in a room or closet. The large BaBoo Shoe Booth starts around $1,930 and the small one at $1,400 — a small price to pay to keep your precious shoes organized and out of harm's way. Visit
BaBooShoe.com
to learn more.